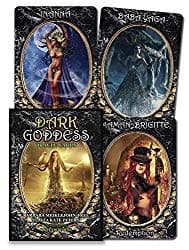 Dark Goddess Oracle Cards, by Barbara Meiklejohn-Free, Flavia Kate Peters, and Kate Osborne
Llewellyn Publications, 9780738758862, 48 cards, 108 pp., 2018
The Dark Goddess Oracle Cards by Barbara Meiklejohn-Free, Flavia Kate Peters, and Kate Osborne are designed to throw light onto that which can teach life lessons. They can be used by those who wish to gain a deeper knowledge of who they are and how to meet life's emotional challenges head on. Each card provides an intimate opportunity to embrace both the shadow and the light of a person's character.
This deck is comprised of 48 silver-gilt oracle cards. They are larger than average tarot or oracle cards, each one measures 14 cm x 9.5 cm, making them a little hard to shuffle, particularly if you have small hands. The cards are printed on quality stock with a glossy finish. Each card depicts a female figure from mythology, and they are referred to as goddesses. For example, some cards feature Skadi, Lilith, Isis, and Diti. Each figure is situated in a specific background and surrounded by a gold oval frame, placed on a background of back marble. Written on each card is the name of the goddess and the characteristic she represents.
The cards come in a sturdy box and are accompanied by a 110-page booklet. The booklet contains an introduction to the Dark Goddess Oracle, a sample spread, and two pages devoted to each card. These pages include a brief poem or incantation, an interpretation of the card in the form of dark goddess guidance, dark goddess foresight, and a brief background on the goddess depicted on the card.
The cards have an air of mystery and darkness about them. The images evoke the spirit of each goddess. For example, Cailleach is an archetypal goddess of Gaelic origin. Also known as "the veiled one," she resided on wet and windy hilltops, and outlived those living around her. She symbolizes the cycle of life. This is a card of endurance. When it shows up in a reading, this card tells you that you are a survivor who gets back up even after being knocked down. When Cailleach comes into your life, it is a sign of relief from struggle. She demands respect and advises you to practice caution, and in return, she will help you to navigate troubled times. Her foresight tells you that the worst of your experiences are now behind you, and now is the time to take stock of the lessons you have learned.
There are three samples spread within the book: a one-card spread, a three-card spread, and another spread which is called the Triskelion spread. The triskelion is a Celtic symbol which has three curling lines radiating from a centre point. Also known as the Celtic spiral knot, it often symbolizes the trinity of mind, body, and spirit. In this particular spread, the three arms represent the maiden, mother, and crone aspects of the Dark Goddess. Four cards are drawn for this reading. The first card is placed on the centre point of the triskelion and it represents the present. The next three cards are placed one on each arm of the triskelion. They represent goddess offering, past influence, and potential outcome. 
The authors each have their own connections to the goddess. Barbara Meiklejohn-Free is also known as the "highland seer," and is one of the UK's most revered wis women. She is a successful author and workshop leader. She travels the world as a High Priestess of Isis. Flavia Kate Peters is an author and High Priestess of the Morrighan. She is recognized in the UK as a leading expert in the field of elemental ancient magic. Kate Osborne is the former editor of Kindred Spirit magazine, and she founded Solarus Press 10 years ago.
The artwork on the cards is good, though I would have preferred more background detail; the frame takes up so much space. I didn't really resonate with these cards enough to do a spread. However, I did enjoy looking at the images and reading about each goddess, and I found this process inspirational. These cards are suitable for experienced or novice readers and make a nice addition to a collection. I think the Dark Goddess Oracle Cards would work well as an accompaniment to readings done with tarot cards, to clarify situations, or to use as character cards for the person you are reading for.