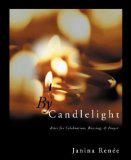 By Candlelight: Rites for Celebration, Blessing & Prayer
, by Janina Renee
Llewellyn, 0738704172, 262 pages (+ appendices, notes and works cited), 2003
This book is not about the folk magic uses of candles. It is not about religious rituals. In fact, it is rather hard to categorize this book. It is more about the use of candles to accentuate personal affirmations and acknowledgements than anything else. It should be non-threatening to folks of any (or no) religious persuasion.
Most of the "rituals" in this book are a page or so in length, so they are simple to do. They are definitely usable by anyone old enough to be burning candles without supervision.
The appendices include (Candle Care and Safety," "Colors for Candles," "Astral Candle Colors," "Choice for Candle Fragrance, Anointing Oil, and Incense," "Eclectic Home Altars," and "Candle Enhancements."
The endnotes contain some interesting bits of information, in addition to the usual citing of sources (which are included in their own separate listing).
Each of the rituals is listed in the table of Contents in the front of the book. You can find almost any ritual you want in this list. And if it isn't listed, you can probably modify one of the existing ones – which is what the author actually recommends.
This book gives a lot of ideas for incorporating candle-burning into your daily life. Because of it strict non-sectarian approach, the ideas contained herein can be enjoyed by anyone. With ideas ranging from starting your day with a few minutes of quiet time to suggestions for candle-lit baths, to using candles as a house-warming gift, it would be easy to become too involved, but the author takes an opportunity to remind the reader that one should not become so dependent on candle rituals that they neglect others aspects of life. She suggests ways to supplement your enjoyment of life through the use of candles.
Although it isn't a "must have" book, it would make a nice gift for anyone. And, if accompanied by a candle or two, may lead people to find more peace both within their own life, and with their relationships to the mundane world.