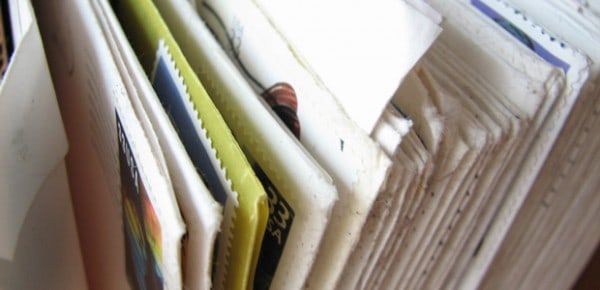 Dear Reader,
The practice of writing tarot letters has brought me joy and comfort as well as enriched my understanding of the arcana. In 2014, I came up with the idea of sending my friends and family individual tarot cards with handwritten letters for holidays, birthdays, and other special events.
First, I had to select a deck to break up and give away. I wanted to use a deck that I read with professionally and wasn't the standard Rider-Waite-Smith (as some of my friends already own it), a deck that spoke to me and to strangers. One that was field-tested and familiar. After trying out Corrine Kenner's Wizards Tarot at a couple festivals as well as in private readings, I bought a second pack of cards to mail with letters.
You, dear reader, could choose your deck differently. Epistolary tarot would be an excellent practice for connecting with a new deck before using it with clients. And it could be a way to connect with your very first pack of tarot cards.
For this project I decided to intentionally select cards, to carefully match them with people, rather than do random pulls. Some cards I chose because they came up in previous readings I had done, where my friends later noted how prophetic they turned out to be. One friend had gifted me the Morgan-Greer Three of Cups — which once sat on her altar and now marks a page in my tarot poetry journal — so I sent her a different version of the same card in return.1
Other cards were matched based on personal qualities and shared experiences. An obvious choice was The Emperor for my dad, who is an Aries. The Moon, which features a dancing woman in the Wizards Tarot, was for my belly-dancing friend who sometimes paints women like the one dancing across the card.
I recommend that you, dear reader, try sifting through the cards, face-up, and match them with your loved ones. This process can include looking up meanings in books — I consulted Corrine Kenner's book about her Wizards deck — and therein allow you to learn about a new deck. Associating cards with people who matter to you, rather than just engaging in rote memorization of card meanings, can deepen your understanding of the tarot.
Then there is the act of writing by hand rather than typing, which can help embed the significance of each card in your mind. Epistolary tarot isn't simply writing down keywords, but synthesizing your experiential knowledge of human interaction with the esoteric lessons of the arcana. In other words, magick is found in the home — among friends and family (as seen in the Ten of Pentacles).
My letters included musings about how a card aligned with a person's character and our adventures together as well as how to use the card as a talisman or charm. Kenner's Wizards Tarot companion book makes this explicit; each minor arcana card description includes a "Magic Charm," such as, "Focus on the Three of Cups when you want to develop closer, more intimate friendships." (Less magically-inclined folks can just use the card as a bookmark.)
This talismanic aspect can also be used in unsent letters. Personally, I didn't want to send cards like the Ten of Swords to my loved ones. However, a card that symbolizes being stabbed in the back is a perfect match for an enemy. Writing a letter to that backstabber, and then sealing away or destroying the letter with the card (depending on what kind of charm you are working), can help you find release from a connection.
But mostly I wrote and sent letters to my loved ones. Writing allowed me to focus on the energies of people I care about and feel their presence in reminiscence even though many live far away. This epistolary practice has offered windows of comfort — ways to see and hold my companions — that have helped me cope with my father's cancer. And the recipients of my letters tell me the comfort and joy is reciprocal.
I believe I will continue to write tarot letters throughout the years to come. And, dear reader, I encourage you to try writing a few.
All my best,
Marjorie
Image credit: Lenore Edman
Ed. note: See also Marjorie Jensen's "The poetics of love spells." [↩]