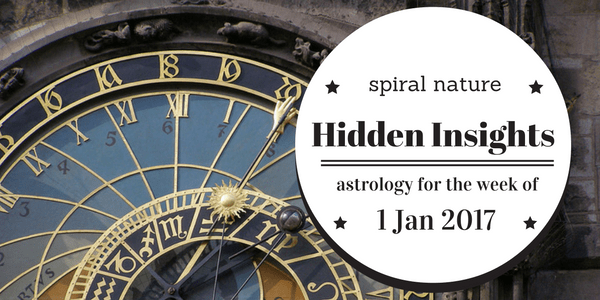 Happy New Year from Spiral Nature and Hidden Insights! What might 2017 have in store for you?
The beginning of a new calendar year can pull many of us into a time of deep reflection and contemplation. Sure, not everyone feels the need for resolutions, but the new year can still be a time of assessment. Journalling, meditation, and tarot or other oracular tools can all help us to reflect and unwind as we prepare for the months ahead.
Capricorn is always the sign that leads us into each new year. Industrious and determined, Capricorn is symbolized by the mountain goat, which fearlessly and relentlessly climbs to new heights again and again. Capricorn is rarely satisfied with itself, but it can often turn that dissatisfaction into productive energy and ever-loftier goals.
The Sun is currently putting Capricorn in the spotlight, and the Moon is waxing, both of which can help to propel us towards new aspirations for the year to come. But with Mercury still retrograde until Sunday, January 8, this week might be best used for intention-setting alone. You'll still have time to capitalize on the waxing Moon energy next week once Mercury is direct again.
And this week might feel better suited to dreaming and re-visioning. On Tuesday, 3 January 2017, Venus enters spiritual Pisces. There, she joins up Mars, Neptune, Chiron, and the Moon. If your head feels like it's in the clouds, and it's a struggle to stay focused, just roll with it. This is a week to go with the flow, feel all the feelings, and let your intuition and spiritual self lead the way.
If you want some prompts for inspiration this week, here are some questions you might want to explore in your journal, in meditation, or with your preferred choice of oracle:
What am I leaving behind at this time?
What is trying to get my attention?
What do I need to make more space for this year?
Where would I like to see myself by the end of the year?
Who would I like to become this year?
What would I like to create for myself at this time?
Here's a look at what's coming up for your sign this week:
Aries (21 March — 19 April)
With Mars, your ruler, still in Pisces, 2017 starts off in a mix of fire and water for you, Aries. Sometimes, this can create confusion or foggy headedness if you're careful that watery Pisces isn't dowsing your Aries fire. So why not blend the two elements, or flip them on their heads altogether? Be soft where you've been harsh. Be inspired where you've been timid. Be loud where you've been insecure. Upset the imbalance however you see fit.
Your tarot card for the year: The Magician

Taurus (20 April — 20 May)
What is your higher power, Taurus? What is it that drives you, guides you, and supports you? And what kind of higher purpose is becoming clearer for you as a result? You might want to set an intention to make 2017 the year of your spiritual quest. If you are already divinely guided, make it a point to recommit to your soulful self this year. And if you're not sure how to answer the questions I posed above, consider this the start of your journey.
Your tarot card for the year: The Hermit
Gemini (21 May — 20 June)
Just wait, Gemini. Postpone the start of 2017 if you have to. Pretend like you're on holiday for the week to come and just let life unfold around you as much as possible. Sure, you might have to participate due to practical obligations, but that doesn't mean your heart has to be in it 100%. If you can get away with being on auto-pilot in the days ahead, I recommend you use this week to map out your greatest, grandest plans yet. Everyone else can wait while you mastermind your destiny.
Your tarot card for the year: The Empress

Cancer (21 June — 22 July)
How do you want to be of service to yourself, Cancer? There are certain omens for you in the week ahead that suggest how you treat yourself – mind, body, and soul – in the coming days will set the tone for 2017. What kind of high note do you want to hit? What kind of standard of care are you ready to demonstrate for yourself? It's not selfish, Cancer, it's necessary.
Your tarot card for the year: Temperance
Leo (23 July — 22 August)
What are you aspiring to this year, Leo? This is the week for you to decide which aspirations you want to put into the spotlight. I would also recommend that you take a look at any aspects of yourself that have fallen into the shadows throughout 2016. This is a year to uncover neglected or hidden talents, so that they might open up new pathways for you, or fortify the ones you are already walking.
Your tarot card for the year: The Emperor

Virgo (23 August — 22 September)
Welcome to the dreamtime, Virgo. Don't fight any fuzzy-headedness you experience this week. And please, please don't guilt yourself if you decide to hit the snooze button one more time, or skip out on your usual responsibilities. This is a week to come loose, untangle yourself, and let your mind wander so that you can see the world with fresh eyes. The inspiration and ease that crops up in the coming days will be important omens for the coming year.
Your tarot card for the year: The Hanged Man

Libra (23 September — 22  October)
What do the people in your life reflect back to you, Libra? When you look at them do you see the truths, joys, and realities that are helping your soul to evolve? Do your people leave you feeling fulfilled, or drained? You might find yourself in deeper contemplation this week about who you need to break away from, and who you might want to make more space for. Whatever you decide, make sure that the people you're surrounded by are accurate reflections of your most cherished values.
Your tarot card for the year: Justice

Scorpio (23 October — 21 November)
Is there something from the past that you need to reconcile, Scorpio? If I were you, I would start this year off with as clean a slate as possible. Make any outstanding apologies (not easy, I know), repay any debts or favours, accept past lessons, squash any old regrets, and then get ready to open a whole new chapter. It's time to stop dragging the past behind you. Lose the baggage and set yourself free.
Your tarot card for the year: The Devil

Sagittarius (22 November — 22 December)
Do you know what you're worth, Sag? Do you know what kind of influence you have on others? Do you know what kind of presence you bring when you walk into a room? If not, I suggest you do an informal poll this week. Ask around for other people's impressions of you. I think this will be valuable information to have before you're able to fully enter into 2017. Your personal value is going to be what helps to shape your goals for the year to come.
Your tarot card for the year: The Sun
Capricorn (22 December — 19 January)
Don't rush, Capricorn. Just because it's the first week of the year doesn't mean you have to have your whole life planned out for the next 12 months. In fact, I think this week would be your ideal time to think about the opposite of ambition: Slack. Where do you want to be easier on yourself this year? What routine are you ready to drop? What are you tired of feeling guilty about it? Let it go, let it go, let it go…
Your tarot card for the year: The Fool
Aquarius (20 January — 18 February)
With your ruler, Uranus, finally moving direct again, you'll likely feel that 2017 is off to a different momentum than others around you. But then, you've already moved at your own pace, Aquarius, though that might not have been these last five months. Take a look at what you were attempting to make happen through the summer and fall, Aquarius. Something that stalled or fell of the radar altogether might be calling your attention now – the time to act on it has arrived.
Your tarot card for the year: The Star
Pisces (19 February — 20 March)
If your life was a job, what kind of title would you hold, Pisces? I encourage you to think on that question in the week ahead. Maybe you'd like to think you would be the boss, the high priestess, or something in between. If the title you come up with doesn't accurately reflect your aspirations, it might be time for a job change, or a promotion. Remember that people in your life can only see and respect you as an authority once you start showing them what the boundaries are.
Your tarot card for the year: The High Priestess