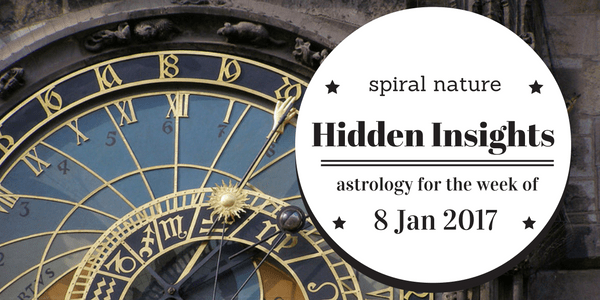 You might want to think of today as the unofficial start of 2017. That's because this year started off with Mercury retrograde, which often is a time to pause and slow down, rather than rush towards a new goal, such as a New Year's resolution.
The calendars and time constraints we follow don't often synch up with what the universe has in store for us. The world we live in wants everything to be a clear, linear line that runs from A to B, where everything stays status quo. There's little patience for error, and when the unexpected arises, we don't always know how to go with the flow.
So if you've felt like you've lost a bit of momentum these past few weeks, or you've been sidelined by delays or glitches to your plans, there may be some kind of divine timing playing out that you can't see just yet. Sometimes, we're made to wait. The universe doesn't care what day it is. The planets that influence our life here have their own course of action. Hence the rule as above, so below.
This can be your week of action, if that's what you're looking for. Mercury goes direct today, Sunday, 8 January 2017. It will stay in the fiery sign of Sagittarius until Thursday, January 12, when it moves into focused Capricorn.
Thursday, January 12 also brings us the Full Moon in Cancer. If there is a plan you've been hoping to get off the ground, or an opportunity you'd like to invite into your life, the first part of the week is the time to do it.
Here's a look at what's coming up for your sign this week:
Aries (21 March — 19 April)
It's time to bring an idea into reality, Aries. With Mercury's recent transit through Sagittarius, your energy might have felt a bit more restless than usual. While you're not one to let your determination waver, December might not have felt as productive as you would have liked. Should you worry about it? Not at all – you can turn it all around this week. Pick one of your most golden ideas and start plotting out your action plan.
Your power word of the week: Go!

Taurus (20 April — 20 May)
How might you re-invent yourself this year, Taurus? This week, the universe is going to be asking you to think long and hard about what you have yet to explore about yourself. You might have a eureka moment in the days ahead that has you tearing down some personal walls to see what's been hiding behind them. For Taureans who are creatively-inclined, this can be an epic turning point in your artistic process.
Your power word of the week: Reveal
Gemini (21 May — 20 June)
What's nagging at you, Gemini? Sometimes, changes relentlessly tug at our sleeves. No matter how much we want to ignore them, we eventually have to realize that they aren't going anywhere. In the weeks to come, you might find yourself owning up to the things you can't avoid anymore. You know that the changes you're being asked to make are for your own good, but the steps  you need to take in the process haven't been quite so clear. I think a veil is about to lift for you, and soon, you will see the way.
Your power word of the week: Change

Cancer (21 June — 22 July)
The Cancer Full Moon arrives on Thursday, January 12, making this week extra special for you. Think back to what was happening for you six months ago, as this week can be an important checkpoint for your progress. Doors can open and close during Full Moons, and with 2017 just barely out of the gate, you might want to tap into the power of this Moon to see what needs to be celebrated or released.
Your power word of the week: Me
Leo (23 July — 22 August)
Are the people you love restricting you, or freeing you? Are you harbouring old grudges and resentments that are silently eating you up? I'm not going to tell you to bury the hatchet and let all be forgiven, but I do think you should find a way to move on from anyone – past or present – that is draining your energy, confidence, and excitement for what's to come. Set your sights on new horizons, and then decide who you want to have by your side as you cross that threshold.

Your power word of the week: Light  

Virgo (23 August — 22 September)
Take it easy this week if you can. The Mercury retrograde might have hit you a little harder than the rest of the zodiac, and the Full Moon in Cancer can enhance any lingering intensity. But that doesn't mean life has to leave you reeling. Every day, do one beautiful thing for yourself. Make it something secret, that only you can have and enjoy. Spoil yourself a little bit, and trust that things are going to turn around soon enough.
Your power word of the week: Renew
Libra (23 September — 22  October)
Who is your muse, Libra? Even if you are not an artist, it doesn't hurt to have someone who inspires you. It looks to me like it will be important for you to get clear on who your muse will be for 2017. If I were you, I would have a decision in place by the Full Moon this Thursday. That day, you might want to light a candle in their honour and thank them for the inspiration.
Your power word of the week: Inspire
Scorpio (23 October — 21 November)
What's been moving slower than you'd like, Scorpio? I get the feeling that you'll have a chance to breathe some new energy into a part of your life that hasn't quite found its momentum yet. The only caveat is that you have to know what it's worth to you to see this through. You have to know your value and believe that you deserve what you're asking for. So if your foundation needs work, then start by strengthening the beliefs on which you stand, and then see what grows from there.
Your power word of the week: Grow
Sagittarius (22 November — 22 December)
What are you ready to break away from, Sag? It looks to me that in the year to come, your spirit might need more independence than it's getting from certain partnerships that are in place right now. If you feel that you're growing in a different direction than those around you, it might be time to break free. I think that this year can be a special one where you strengthen the bonds that are right for you, and forge a new identity through fresh connections.
Your power word of the week: Independence
Capricorn (22 December — 19 January)
It's time to get focused, Capricorn. Not that you need anyone to tell you that. But whatever you've been dreaming up these past few weeks can finally start to be set in motion, and not a moment too soon. The Sun will remain in your sign into next week, illuminating your brilliance and bringing light and warmth to your intentions. Make it happen.

Your power word of the week: Yes
Aquarius (20 January — 18 February)
Are people seeing the real you, Aquarius? This week can be an important one for impressions. While you are generally likeable, I think this week will be one where you can amplify your image and identity. Charm and luck can be on your side, but only if you allow your true self to shine through – and that can mean accepting that how you come across might be different than what you think you are. If you're not sure what you're projecting, ask a trusted friend for their honest opinion.
Your power word of the week: Shine  
Pisces (19 February — 20 March)
You can be an open channel this week, Pisces, and it might benefit you to use that power creatively. You might want to start a dream journal, write that poetry collection you've been talking about forever, or sign up for an art class. Whatever you choose to do, I think you can tap into something magical and ethereal in the weeks to come, and any creative process you enter into will be akin to a spiritual practice.
Your power word of the week: Open