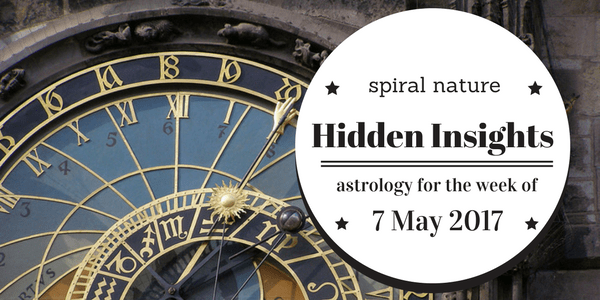 This week we are living in interesting times indeed, with a profusion of astrological happenings to keep us on our toes. A fiery flavour pervades with the ongoing aspect between Mercury, Uranus, and Saturn all still in fire signs. With so much more going on, at Hidden Insights we recommend a mindful approach — lest we be swept away by surging collective confusion.
This week's full moon in Scorpio on 10 May 2017 aspects the modern ruler of Scorpio itself: Pluto. Whenever Pluto or Scorpio is involved in the mix, we can expect transformative experience. With Taurus in the picture the focus is still on our values systems. Our level of attachment to those values which are most deeply held determines our experience of their evolution. It can be a rush of liberation for the soul, or downright sickening for the ego.
Mars in Gemini's challenging square to Neptune in Pisces lasts all week, and brings extra lessons around the stories we're exposed to: those we tell ourselves as well as the strange fictions peddled through social and mainstream media. This week there's an opportunity to find clarity through the haze. To separate facts from fantasies, and thus allow our experience of transformation to transmute. Is the world crumbling to dust, or are we already rising from the ashes?   
The best course of action through all this is to remain mindful of our own fanciful notions and retain a commitment to truth, in the knowledge that truth itself is in an awkward state of flux with new information continually arising into the light.
And those in positions of power should be especially careful they don't rely on lies to get themselves ahead in these tricky days to come. (Watch out for major verbal blunders and ignorant statements that trigger collective rage.)    
The nodes of the moon also change sign this week on 9 May 2017. This important axis is a mathematical calculation used to determine eclipses, and astrologically brings in evolutionary themes and concepts. With the north node entering Leo we begin a lengthy chapter; one in which the autonomy of the individual will become increasingly emphasized.
Here's a look at what's coming up for your sign this week:
Aries (21 March — 19 April)
Counting your blessings should be a priority this week for you, Aries. The little things can become big, important things when you do this. And what seemed major becomes irrelevant.  A sweet harvest is available to you, but you're going to need to open yourself up a little wider in order to receive it. Look to nature if you're in need of inspiration.
Your secret weapon is: Faith.
Taurus (20 April — 20 May)
You've got the chance to get very specific and granular about what it is you're craving this week, Taurus. It's healthy to both accept that it's a departure from a past value system, and that your desires will be subject to flux in the future as well. Just because your feelings might change at some point isn't a good reason not to spend the energy attempting to get some clarity now. Keep digging.
Your power object is supple and strong, like a tree or a dancer.
Gemini (21 May — 20 June)
You sheer force of will is enough to get you traction this week, Gemini, but just be mindful you don't steamroll anyone in the process. You should also be aware of the subtle ways that you're getting in your own way when it comes to picking up the speed you need. Rather than let frustration towards yourself or others get the better of you — reach out and do what you can to make sure everyone's on-board before you try to take off.
Your patronus waits until everyone's got their seatbelts on.
Cancer (21 June — 22 July)
Cancer isn't a sign with a big reputation for showy displays of firepower, but only a fool would mistake that lack of extroversion for a lack of creativity. The full moon this week gives you a chance to demonstrate your power in a way that surprises others. Use your imagination, and get as creative as possible when it comes to showing just how much you care, and you'll make a lasting impact.
Your secret weapon is: Instinct.
Leo (23 July — 22 August)
With the destiny urging north node moving into your sign, we all have something to learn about Leonine qualities of autonomy, everyday heroism and free childlike expression. For you, these lessons are going to be all the more profoundly experienced as these are qualities close to your heart. Find a safe space during this Full Moon. You need a sanctuary where you can remind yourself exactly who you want to be.   
Your holy mantra is: Who am I?
Virgo (23 August — 22 September)
Virgoan magick is strongest when it is backed by a strong sense of meaning. So, it's time to give up any regular rituals that you've been maintaining "just because," and commit to having a good reason for anything else you're planning on initiating soon. This full moon let's you connect more profoundly to your emotions than usual and reminds you that because something feels really good is as good a reason as any.

Your patronus has mastered the art of relaxation.
Libra (23 September — 22  October)
Libra, the more present that you become, the more power you have at your disposal. It's that simple, so give yourself permission to just stop. All this striving to express yourself may ultimately leave you feeling more fragmented than you were in the first place – so instead of trying to getting your point across, take the time to get quiet on purpose. Once you've re-charged, you'll be able to communicate your desires from a more balanced position.  
Your secret weapon is: Silence.
Scorpio (23 October — 21 November)
This week provides you with an important lesson about luck and just how much you're in control of your own destiny. In fact, for Scorpio, control (as well as the release of it) is an area of potential mastery. Ultimately it's all about that mysterious and occult force: power. Does being out of control in a situation make you powerless?  You're about the find out.
Your secret weapon is: Your poker face.
Sagittarius (22 November — 22 December)
The full moon this week brings new information into the glaring light of awareness, Sagittarius. This insight is so powerful that it will act as a kind of rocket-fuel for your current creative endeavours. Life hasn't had great traction recently, so this might feel kind of awkward at first, but trust me, you should go with this opportunity and use the power making itself available to you. Don't over-think it.
Your patronus doesn't wait for the starting pistol.
Capricorn (22 December — 19 January)
The value of healthy friendships is emphasized this week for you, Capricorn, as the full moon triggers the areas of your life that are associated with themes such as tribal connection. But try not to see your relationships with other people in terms of what you're getting out of it. Take the pressure off others by removing your expectations and watch your connections flourish. The flow on effect will provide you with unexpected rewards.
Your holy mantra is: Let's play.
Aquarius (20 January — 18 February)
You're likely to be feeling a lot more at home with yourself this week, Aquarius. You've got the chance to experience a sense of fulfillment without too much extra effort — as long as you can keep your cool. Your roots and how you can best nourish them is always emphasized when the Sun is in Taurus, but how you communicate and express yourself is still subject to agitation. Go steady to have a better chance of holding onto the good times.
Your secret weapon is: your ability to shrug and let things slide.
Pisces (19 February — 20 March)
Unfortunately, it's often too easy to confuse what we think about a situation, with how a situation actually is. And this week the more unwilling that you are to release an idea you hold close, the more challenging your experience of daily life will be. If you can keep in mind that we're in a period of intense flux and that the chances of confusion are running higher than usual, you might be able to let whatever it is go more readily. And while there's still time to dream up a constructive solution for everyone involved.
Your patronus thinks outside the box.