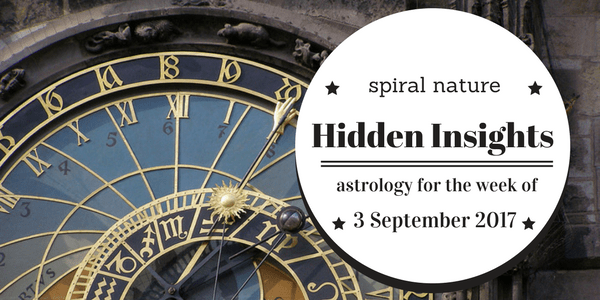 We begin the week with an exceptionally bold Mars and Mercury conjunction occurring at the degree of the Leo solar eclipse last month. I mentioned last week this may very well reflect grandstanding or unnecessarily aggressive proclamations intended to assert dominance.
Tuesday, 5 September 2017 sees the end of Mercury's retrograde period and a slow return to direct motion. Action-oriented Mars finally moves into the sign of Virgo on the same day, after over six weeks in Leo. Some astrologers would say that, now that Mars and Mercury are in different signs, that the conjunction no longer applies. Whether they're in an official conjunction or not, Mars and Mercury will remain in close proximity for the first three weeks of September.
However, once Mars moves into Virgo, and is eventually followed by Mercury next week, the qualitative shift of this dynamic will be noticeable. Our expressions, though still assertive (Mars), become markedly more measured (Mercury), and we go from bombastic and courageous to meticulous and calculated.
In the early hours of the morning on Wednesday 6 September, we experience a highly sentimental Full Moon in dreamy Pisces. It's worth remembering that this is a culmination of the solar eclipse/New Moon in Leo and of whatever regal intentions were set then.
With the Moon's close conjunction to Neptune, we could tend towards quixotic emotional ideals that strain against the pragmatic Virgoan standards that are becoming increasingly important. Here at Hidden Insights, we recommend an approach which allows you to find a way to honour both the sacred and the mundane.
Here's a look at what's coming up for your sign this week:
Aries (21 March — 19 April)
You can't rely on external validation this week, Aries. Not only is it never a great idea to base your sense of self-worth on anyone else's opinions, it's likely that other people are going to be too busy with their own lives to give you the praise that you deserve anyway. You're better off disregarding the views of others and continuing to press ahead with your own goals. Feel free to pat your own back at any time if you're in need of a little cheerleading.
Your patronus is self-validating.
Taurus (20 April — 20 May)
This could be a particularly prolific time for you, Taurus. With so many planetary players in Virgo, you should be feeling some subtle agitations that spur you on creatively. The trick is not to let a sense of perfectionism stand in the way of this expression. If you must spend time on organizational tasks to make your job easier, make sure there's a time limit. Your energy is far better spent working directly towards an end goal.
Your sacred ritual gets you out of your own way.
Gemini (21 May — 20 June)
Mars moving into Virgo will have you feeling industrious, Gemini. Use this opportunity to engage yourself in a task that not only requires focus, but also makes a significant impact on your everyday efficiency. If you were to also tap into the Full Moon in Pisces, then this task would also flow in terms of emotional fulfilment and your life's work. What could help you move towards living the life of your dreams?
Your secret weapon is: A sense of purpose.
Cancer (21 June — 22 July)
The Full Moon in Pisces emphasizes everything related to communication and higher education for you, dear Cancer. It should give you the chance to get a sense of the bigger context of the efforts that you put into those areas of your life. And I don't only mean in terms of material success or societal standing: While it's certainly nice to become accomplished, you reasons must ultimately be greater.
Your holy mantra is a two-way conversation.
Leo (23 July — 22 August)
The Full Moon in Pisces can help you tune into what's important at a deep, soulful level, Leo. Are you showing up for yourself and these visions in practical ways that reflect your values? It's always going to be difficult to meet the ideals that you set for yourself in regards to creative outputs. But it's going to be even more challenging if you don't show up and do the work.
Your patronus is action-oriented.
 
Virgo (23 August — 22 September)
They say that old habits die hard, Virgo. In terms of shaking free from particular patterns, it certainly doesn't help if you don't acknowledge the need or the opportunity to do so. Keep in mind that it may not be an overtly destructive addiction that needs addressing. Apathy, cynicism, and other fuels for inaction can be both intoxicating and severely limiting to your overall development.
Your sacred ritual gets you moving.
Libra (23 September — 22  October)
The Full Moon in dreamy Pisces encourages total submission to the sentimental, dear Libra. Meanwhile, with multiple planets in the opposite sign of Virgo, it's also necessary to maintain the rituals that bring your most transcendental visions down to earth. You don't need to choose between romance and pragmatism. Find a way to marry the practical to the poetic.
Your secret weapon is: Innovation.
Scorpio (23 October — 21 November)
The healthiest approach to struggle is to consider it an endurance test, Scorpio. Fortunately, the Full Moon in paradigm-shifting Pisces should offer some inspiration, as well as relief, from the daily grind. Keep in mind that the quest for higher meaning is not necessarily an invitation to martyr oneself. It's far more preferable that you cultivate a sense of wonder alongside your sense of duty.
Your mudra opens your mind and heart.
Sagittarius (22 November — 22 December)
The Full Moon in Pisces is a value alignment opportunity, Sagittarius. While you're busy making your mark on the world, don't forget to maintain your regular self-care rituals. One of the biggest lessons of Virgo is that success is a result of small actions taken over time. But Sagittarius has a tendency to go for big picture over minutiae. If you're looking for a big win, you'll need to be willing to play both games.
Your secret weapon is versatility.
Capricorn (22 December — 19 January)
You could find a solution for a long-standing problem this week, Capricorn. Although it may help to turn a few ideas on their head, your success doesn't necessarily come down to a need to think outside of the box. If anything, it's about persistence and sheer dogged determination. Mercury retrograde encourages reflection. Take the opportunity to chew on things for a bit longer and get ready for a breakthrough.
Your patronus is like a dog with a bone.
 
Aquarius (20 January — 18 February)
Mars' entrance to Virgo highlights issues of health and wellness for you, Aquarius. It will be a challenging time if your everyday actions are not in alignment with what's needed to maintain optimal output. Rather than struggle against this truth when it arises, pay attention. If you can manage to stop resisting the facts, your options will open.
Your rituals don't undermine your best intentions.
Pisces (19 February — 20 March)
In a perfect world you could do it all, but this week you'll likely struggle to keep all of your current commitments, Pisces. Before you let yourself get worked up about this dilemma, take a good look at your diary and aim to get a realistic overview of your available resources. With the emphasis shifting into Virgo, there's a need to practice efficiency. And if you're careful you can get more out of what you've got.
Your patronus is a master time-keeper.