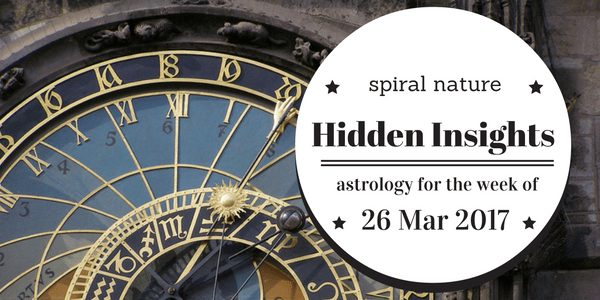 The New Moon in Aries arrives on Monday, 27 March 2017. This marks an important time to set new intentions around strength, courage, confidence, and willpower.
Remember, Aries is the first sign of the zodiac, and this New Moon is its astrological new year. The fire energy available with this New Moon can support many types of bold, creative actions, especially if they are helping to push you into unexplored territory.
What would you do if you had a little less fear? How would you feel if you had a little more confidence?
Think about an intention you might want to set for yourself during Monday's New Moon. Choose something big and bold – even if you don't feel ready for it. The waxing Moon will remain in Aries until Wednesday, 29 March 2017, giving us all a few days to let some new courage take hold.
Here's a look at what's coming up for your sign this week:
Aries (21 March — 19 April)
Happy New Moon, Aries! Make sure you take a moment to call in something special for yourself this week. This is the time to really set the tone for the year to come. Think about what you might need to build for yourself in order to get there. Think about how your independent nature can support your journey. Think about what strengths you know you can count on in the months ahead. And wherever there are gaps to fill, set an intention to fix that.
A suggested crystal for the week: Pyrite      
Taurus (20 April — 20 May)
Let yourself be stirred this week, Taurus. Let this fiery Aries Moon burn through you. What might awaken if you surrender to the element of fire? Would you feel more sensual? More impulsive? More at home in your mind and body? When you wake up each morning, let yourself simply feel your way into the world and let the elements speak through you.

A suggested crystal for the week: Fire agate    

Gemini (21 May — 20 June)
Are you at a tipping point, Gemini? What's ready to spill over for you? Where can you no longer hold back? First, let's say this: Your words can hurt, so don't let yourself become a loose cannon. But do get up close and personal with any anger, resentment, or action that feels necessary right now. Release, breathe, and move ahead.

A suggested crystal for the week: Black tourmaline  
Cancer (21 June — 22 July)
Who would you be if you could erase any damage from the past? What would you celebrate about yourself? What might you be doing these days? I dare you this week to make a promise to overcome something that's been keeping you small for far too long. You might not be able to ever let it go, but you can grow something from it.
A suggested crystal for the week: Black obsidian        

Leo (23 July — 22 August)
Is there anything wrong with having a good time, Leo? Certainly not in your world, and this week, I think the universe is giving you a free pass to kick back and enjoy whatever comes. Be sure to check in with yourself during Monday's New Moon, though, as it will be an important one for you, too. This is a time to reconnect with your deepest strengths as spring fever takes hold.
A suggested crystal for the week: Honey calcite

Virgo (23 August — 22 September)
Living on the edge lately? If you've been feeling more pent up than usual, you'll have the chance to come back down to earth as the week wears on. But just be prepared that it could feel like you are moving from chaos to calm in a matter of minutes. Remember that you are centered and steady, Virgo. Even if you can't have control over everything, you can trust in yourself to stay standing.
A suggested crystal for the week: Red garnet
Libra (23 September — 22  October)
Don't hide from the intensity, Libra. Embrace it. Perhaps that can even be an intention you can set for yourself for this week's New Moon: To love the chaos, to run into the arms of uncertainty in order to understand the fine balance that exists even within the unknown. Don't get tangled up in things that want to unravel. Let them go, and then decide to rise above it all.
A suggested crystal for the week: Bloodstone

Scorpio (23 October — 21 November)
If you could convey just one idea to the world this year, what would it be? You might want to ruminate on this as the week goes on, Scorpio. And if you can attach a creative project or manifesto to your idea, even better. I think it's time to see the value in what you can articulate. Don't let it stay hidden in the shadows for too long.
A suggested crystal for the week: Onyx  

Sagittarius (22 November — 22 December)
Whose rules are you following, and why? You might want to look at whether you are truly living as freely as you think. With this week's New Moon in Aries, it might be a good exercise to set some intentions that can help invite more freedom into your life. The ideas you dance with this week have the potential to turn into pivotal realities as the year unfolds.
A suggested crystal for the week: Smokey quartz
Capricorn (22 December — 19 January)
If you were going to be recognized for one thing this year, what would you want it to be? If you are wondering about intentions to set around this week's New Moon in Aries, I would like to offer some suggestions: Think about what kind of intellectual or professional power you want to step into. Think of how you might like to be seen an authority or expert. Think of what kind of mastery you want to be known for.
A suggested crystal for the week: Dragon's blood

Aquarius (20 January — 18 February)
If you were to lead a movement right now, what would it represent? What kind of change might it encourage? What kind of unity would it create? Think about how these visions match up to your current social status, Aquarius. Are you leading the way right now? If there is room for you to step in and make some bold declarations, this is the week to begin.
A suggested crystal for the week: Sodalite  
Pisces (19 February — 20 March)
If you've lost faith in yourself, Pisces, now is the time to regain some confidence. While the Aries New Moon can feel quite intense for your receptive soul, this is a strong energy for you to tap into, especially if you are in need of some new vitality. Set an intention for both your physical and emotional strength, to give yourself the opportunity to stay grounded in the physical while honouring the spiritual.

A suggested crystal for the week: Brecciated jasper