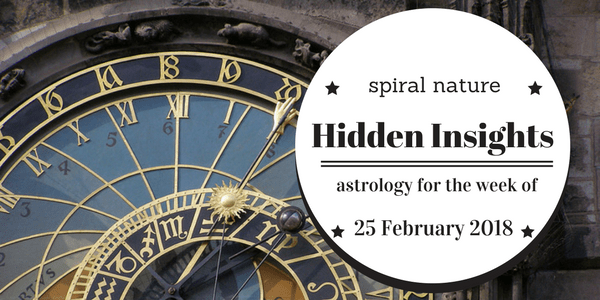 The stars have certainly been keeping Hidden Insights busy for the upcoming week with a very active sky ahead. While Sunday is typically a day of rest, the week starts off on a serious and practical tone. This is likely to make s feeling productive and more motivated than usual to take care of responsibilities we may have placed on the back burner. We will want to make the most of the energy on Sunday and Monday before the week starts to really heat up.
Tuesday through Friday will be our most active days with Venus, Mercury, Mars, Jupiter, and Pluto all playing a part to shake up the world around us. Venus gives us the opportunity to make some drastic changes in our interpersonal relationships. Her aspect to Pluto wants to change the norm, and may even create some tension with partners or friends in order to stimulate growth. Mercury's harsh aspect to Mars promises to bring this tension or drama to a head on Wednesday, and that could produce some heated arguments as Mercury also aspects Pluto. If we watch the news very carefully on Wednesday and Thursday, we are likely to see people speaking without thinking. It should certainly be entertaining to watch, but we will be scratching our heads wondering how someone could make such bold statements.
Hidden Insights' big event this week is the Full Moon in Virgo on Thursday. This will occur in exact alignment with the fixed star Zosma. This auspicious star has the potential to bring public wedding announcements, and on a personal level, you may notice others getting engaged towards the end of the week. This Full Moon occurs with Venus making a harmonious aspect to Jupiter, so if you've been waiting to pop the question, now is the time. Proposals in general will be successful, not just romantic ones. If you have a proposal at work, a bank, or to investors you can anticipate a happy outcome in your favour.
Astro Homework
Your assignment this week is all about working with the Full Moon. Nothing inspires us more than the sight of the Moon at its peak. In Virgo, we can focus on organizing, rearranging, and manifesting new order to our lives. Of course, we cannot ignore the close proximity of the Moon to Zosma, and the beneficial outcome of proposals. Use the proposal energy to make a promise to yourself this Thursday. Write out what you want to hold yourself accountable for, and make the promise to yourself and the Moon. The Moon's energy will help you keep your promise and achieve your goal.
 Aries (21 March — 20 April)
This week is all about your behind the scenes support systems, Aries, as doctors, lawyers, therapists, and dare I say astrologers will become a central theme for you. Of course, the support systems you have in place may not be professionals, but family and friends. No matter whom your support system consists of, they will be working overtime to help keep you motivated this week. This will be particularly important on Wednesday, when a challenging conversation with someone at work could push you towards the edge of your breaking point. When this occurs, it will be best if you fall back on those who support you before lashing out to defend yourself. The second half of your week will run much more smoothly, and you may even find a female figure in your life return to give you some much needed advice.
Patronus: Basset hound
Taurus (21 April — 20 May)
You're both optimistic and rather outgoing this week, Taurus. It willseem like your friends can't get enough of your attention. Of course, you can't seem to get enough of your friends either. As an earth sign, you like concrete and practical environments and conversations. However, this week you'll be surrounded by ideas and discussions that may challenge your way of thinking. While this typically isn't the most comfortable thing in the world for you, this week you can't get enough of it. While you may be a social butterfly and armchair philosopher, you will still need to make sure your stubborn nature doesn't get you into too deep a debate. Over the weekend expect to continue expanding your social circle. It's likely you'll be partying late into the evening at least one night.
Patronus: Dolphin
Gemini (21 May — 20 June)
Those around you may want to watch out this week,Gemini, as your ambition is likely to make you a bit cutthroat. Your sights are set on success, and it's possible you're looking to dethrone your supervisor at work. Remember that intellect is your greatest strength, and gossip is your worst enemy. When looking to achieve greatness, use your head, not your tongue, and you'll get much further. If you can make it to Thursday without starting or participating in idle rumours, you'll be set for success by Friday. Here you'll be presented with an opportunity to show those in positions of power what you are made of, and you will certainly impress them. This week's Full Moon may feel like it's holding you back from success, as it occurs in your sector of home and family; however, what it's really doing is shining the spotlight across the chart to your work. You can sell yourself this week, and you could be very successful if you propose your ideas and desires at work.
Patronus: Honeybee
Cancer (21 June — 20 July)
Your year of love and romance continues this week, Cancer, with the potential for flirtation from individuals from foreign or exotic backgrounds. Early this week you can anticipate gaining the attention of someone older. By midweek you can anticipate butting heads with someone, and you may have to be stern to get your point across. While it may not seem like they listened or even understood you, it doesn't really matter. The big picture here is that you did your best to express yourself, and you cannot be held responsible for what others do or do not do with information you provide. On Thursday and Friday mellow out, and playful energy will be in the air. While others were interested in flirting, it's your turn to start flirting back. Any moves you make will be received very well, and you could be on a date this weekend. Just try to come out of your Cancer shell a little, and enjoy the date.
Patronus: Red squirrel
Leo (21 July — 20 August)
This week may feel a like two separate weeks all crammed into one, Leo. The first few days you'll be riding the wave of the Sun as it dances with Saturn, bringing drive and determination to your work. You will really be able to not only be productive, but shine while doing it. As anyone familiar with you knows, you love to shine. Midweek you are likely to be presented with a financial opportunity that could greatly benefit you if you give yourself the time to do the hard digging. While we are on the topic of digging, you may want to carve out some extra time to travel the Internet, as your desire to investigate, uncover, and research will be heightened through the second half of the week. It might be a good idea to volunteer at work to do some investigating. Above all other signs, you'll be able to dig up data with precision and ease.
Patronus: Ferret
Virgo (21 August — 20 September)
Love and romance continue to be an important influence in your life this week, Virgo. Last week was all about passion, and this week is all about communication. It's likely you will find yourself having important conversations with partners or a loved one. The need to nurture and give your input overflows, and you need reestablish important lines of communication. The only day you may want to try to keep to yourself will be Wednesday, as the likelihood of a quarrel at home is heightened, and you don't want to end up saying something you might regret. However, Thursday and Friday are exceptionally peaceful, and you'll be able to work one-on-one with a partner or spouse. Over the weekend it's time to spend a little time on yourself, and you may be feeling rather selfish. That's ok, you've been commanding the show all week, and now it's time for someone else to take the reins so you can relax.
Patronus: Magpie
Libra (21 September — 20 October)
It's time to nest this week, Libra, and while you are typically social, you cannot ignore all that you need and want to get done around the house. It may even be in your best interest to work from home, if possible. We may be a few weeks away from spring, but it's time to tackle chores around the house and do some preemptive spring cleaning. The planets are asking you to focus on the fine details, and while you may be tempted to start a large project, avoid it at all costs. Your focus now needs to be about condensing. By the end of the week some cabin fever may be setting in, and by Saturday you'll not only need to get out and about, but you'll have the opportunity to enjoy some great time with friends.
Patronus: Beaver
Scorpio (21 October — 20 November)
Much like Virgo and Cancer, you too are having a bit of a romantic week ahead, Scorpio. Only for you, this is all about the sensual pleasures a partner can give you. If you are single, this week could be a really active dating period. For those of you who are taken, or not interested in romance, you'll still get your fill of pleasure and indulgence. While you're riding high this week, you can expect to also be spending a great deal of money. Look for a special offer or deal on Thursday, and try not to think twice about taking it. Money over all is good for you this month, and you can afford to splurge a little. Over the weekend you're indulgence turns inward, and you'll likely spend time alone exploring different sensations and flavours.
Patronus: Wolf
Sagittarius (21 November — 20 December)
Your home environment continues to be the centre of your focus this week, Sagittarius. Early in the week you can expect to spend some money on your home. This could come in the form of new curtains, pillows, a desk, or toaster. Along with your home itself, family also surfaces. Midweek you can expect a surprise call or visit from a family member. Don't worry, they are not calling with bad news, they just want to connect with you and see how you're doing. On Thursday, your focus will shift from your home to work, and you may be asked to take on some added responsibilities. Do your best not to make definite plans Thursday, Friday, or Saturday, as you may be working late or covering a shift for a coworker. The rest of the weekend will be much more relaxed. On Sunday you can anticipate the opportunity to sleep in, unwind, or even spend the day in bed.
Patronus: Robin
Capricorn (21 December —20 January)
Secret desires and temptations may be preoccupying your mind this week, Capricorn. While you're typically a practical person, this may feel counterproductive. It's time for you to put your earthiness aside for a bit, and embrace more of the intuitive aspects of your identity. Don't be surprised if your dreams become much more intense this week, and quite possibly sexual. It is also possible you will either need to plan for, or hear about a medical procedure for someone in your life. This is because there are also conversations with doctors in your chart. Towards the end of the week, your life becomes much more social, as friends and groups are urging you to get out and participate. Friday could bring an invitation to a gathering, and you'll want to make sure you are able to attend, or you could miss an exciting opportunity to meet someone new.
Patronus: Salmon
Aquarius (21 January — 20 February)
It's all about new horizons for you this week, Aquarius. It's almost as if you feel as though you are waiting for something big to happen that never seems to come. While I can't promise a huge event in your life this week, I can assure you that some of this tension will dissipate. Sunday and Monday could bring the opportunity for you to let go of some of your possessions. This would best be manifested by donating old items you no longer use to local charities. By Thursday, this charity could extend to friends who may need some financial assistance. Depending on your financial situation, you may or may not be able to help. Plan ahead, and see what would be financially feasible.  The last half of the week is likely to bring a social flair to your work. Enjoy the friendly environment and help coworkers feel confident in getting work done. This will not only help them, but will help you make a positive change.
Patronus: Buffalo
Pisces (21 February —20 March)
Your birthday month continues, Pisces, and the stars are being very generous towards the fish. Early this week you can anticipate the chance to be the centre of attention again. You may even take the lead in your circle of friends. On Monday and Tuesday you may find others flocking to you for advice and a sense of stability. By midweek you're not only shining socially, but may receive recognition at work. This is because your efforts and accomplishments are starting to be noticed by people in positions of authority. Thursday's Full Moon will occur in your sector of partnerships and marriage. This combined with the Moon in such a romantic position could lead to some really exciting developments in your love life. You could certainly be the one to get engaged with this Moon, and your relationships are strengthened in a way that promotes permanence.
Patronus: Asian elephant