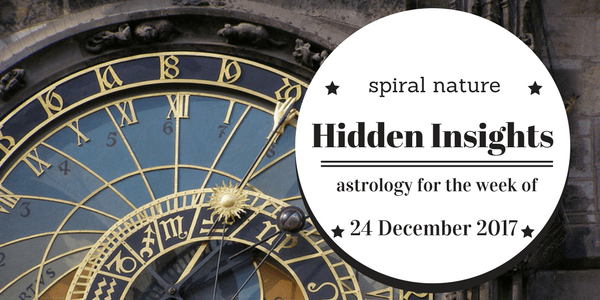 Happy holidays, you wonderful Hidden Insights readers! This week is all about the planet Venus, as it moves into a new sign and aligns with Saturn all on the same day. Most of this week we can expect to feel a sense of duty, responsibility, and possibly the harsh truth of certain realities. While it's not the most pleasant week ahead, it provides us with an opportunity to embrace responsibility.
As Venus moves into Capricorn, we see a shift towards more self-control, especially in relationships. While Capricorn isn't the happiest place for Venus, the energy has the potential to bring us a firmer understanding about what is important to us, and how we care for ourselves and others in a practical way. With Venus aligning with Saturn, we can expect this to be most evident early in the week. Here, structure and order take control of the once carefree Venus in Sagittarius. Many of us are likely to start thinking about and having conversations with partners on the more practical side of relationships. This can include how to handle joint finances, building a nest egg, or making stronger commitments.
For those in the world that are single, this energy is focused not only inwardly as we search for a way to feel secure, but make plans to put them into action. This energy allows us to idolize those who are stable, and look to them as a source of inspiration. Often times this notes a period of financial conservation, so it a good idea for everyone to budget and organize their income and debts. Essentially, it's time to balance our personal budget.
We get a bit of a break from the seriousness on Thursday when Mars makes a lovely trine to Neptune. This brings magnetic compassion, and wraps the world in a blanket of spiritual energy. Essentially, our most spiritual planet is getting a boost from Mars. For many of us, this will feel like a wave of psychic sensitivity, and we should utilize this energy properly to hold on to dreams and visions and Venus in Capricorn can help motivate the Mars-Neptune energy into manifestation.
Astro homework
This week I would like everyone to spend some time thinking about what makes you feel secure, and what you need in your life to create a firmer sense of security. Of course this doesn't necessarily need to be financial. It can be support systems, a job, a home, or honesty with friends or family. We are on the cusp of a new year and Venus in Capricorn allows us to reach for security. With Mars lending energy to Neptune this week try making a collage, vision board, or artistic representation of what you would like to come into your life to bring you stability and security. The Waxing Moon all week will only intensify our ability to reach towards obtaining security.
Aries (21 March — 20 April)
Your work comes into focus again this week, Aries, as Venus joins Saturn in your 10th house of career and reputation. You can anticipate a week filled with seemingly endless new responsibilities. On the bright side, this is an amazing time to be noticed at work. For those of you looking for a new job or promotion Venus this week makes your charming to a fault. Don't be afraid to go after what you want at work. Fortunately for you, this will last for about 20 days so get your game face on, and prepare to make your move. This weekend is likely to bring an opportunity to network in order to advance socially and professionally. Try not to say no to any gatherings, as you're more inclined to meet someone who could give you a professional step up.
Recommended reading: Challenges and rewards of leadership, by Courtney Weber
Taurus (21 April — 20 May)
Venus is your ruling planet, Taurus, and as it changes signs this week. You, above all other signs, will feel this shift the strongest. Early in the week, you may feel a sense of heaviness as it joins with Saturn. This isn't uncommon territory for you, but you should be aware that excessive tiredness and lethargy may be felt on Monday and Tuesday. Try to give yourself time to rest, and don't judge a friend or partner too harshly if they don't understand, especially if they are a Cancer. For the remainder of the Venus' movement through Capricorn it is possible you may find yourself encountering people from other parts of the world, either online or in person. Try to learn something about their culture, traditions, or customs. You never know, you might uncover something new to enjoy. This weekend your romantic side could be activated, especially if you encountered someone on Thursday that sparked your interest.
Recommended reading: Essential Oils and Aromatherapy: Do they really work?, by Victoria Anisman-Reiner
Gemini (21 May — 20 June)
It's a great week financially for you, Gemini. As Venus changes signs, you have the potential to invest, purchase, or make a wise financial decision. This is especially true if you are joining financial forces with someone else. On the topic of others, you may come to some type of resolution with a friend, family member, or romantic partner. If you have been skirting around any issues with power struggles, financial responsibility, or emotionally charged topics they could easily come to a head. Fortunately, this is a healing week, and you are more inclined to connect with someone on a deeper level by the weekend.  Thursday is the only day you will want to keep in your radar, as some confusion at work could upset your flow. Try to keep on top of responsibilities here, so you can avoid any unnecessary drama.
Recommended reading: Sex and magick, by Fra Apfelmann
Cancer (21 June — 20 July)
Love is in the air, Cancer, and it's not even Valentine's Day! This week you are bubbling over with charm and charisma. It is possible a love interest could come into focus, and you may be more inclined to enter into a committed relationship. For those of you who are romantically involved with someone, this week could bring a new level of intimacy to your partnership. This weekend your urge to explore is heightened, and you are given the opportunity to come out of your shell. Keep a look out for this opportunity to come towards the end of the week, especially if you are single. While I've never actually predicted a tall dark stranger in anyone's horoscope before, there's a first time for everything. As the lucky winner of this completely cliché prediction, you'll want to note that while exciting, it's not likely to be a long lasting romance. So just try to enjoy yourself.
Recommended reading: The Poetics of love spells, by Marjorie Jensen
Leo (21 July — 20 August)
Energy is shifting at work for you this week, Leo, and you will likely be inspired to make some much needed changes to this environment. You're also likely make the call for teamwork, and have the ability to inspire those around you to put in the extra effort. However, you will want to be cautious not to be overtaken by feelings of laziness once everyone else is in high gear. This could bring you some unnecessary attention from coworkers. On Thursday, Mars will activate your house of join resources, and you are likely to spend the weekend dealing with matters revolving around your home and money. Also, you will want to plan on the possibility of some unexpected expenses giving you a surprise.
Recommended reading: Three magical self-care rituals: Uplift, energize, and protect, by Donyae Coles
Virgo (21 August — 20 September)
While you both love and crave order, there is drama on the horizon this week for you, Virgo. As Venus moves into your 5th house and aligns with Saturn, you're likely to encounter some of the harsher side of drama early in the week. Fortunately, it will move towards an expressive personal drama that will allow you to express yourself like never before. This could be particularly true in the bedroom, so try to get your partner to loosen up with some dramatic play. For Virgos with siblings, this Thursday could prove to be a day where they seem to magnetically be drawn into your life in one way or another. This could easily manifest as a surprise visit, phone call, or request to join forces in some time of venture. Of course, with Neptune and Mars in play you'll need to be cautious not to get drawn into something you can't handle. Remember the drama energy this week? Try not to get pulled into a sibling's, cousin's, or other family member's issues.
Recommended reading: Sacred Jewellery, by Xenia
Libra (21 September — 20 October)
Your home and comes into focus this week, Libra, though it's a bit different for you than the typical holiday season family-centric events. Feeling a bit more nostalgic than usual this week, as Venus aligns with Saturn you may find yourself beating yourself up a little over regrets. Try not to judge yourself too harshly; even the bad times serve a very important purpose in our lives. You can also anticipate a bright idea to strike your brain that could allow you the opportunity to earn money from home. If this is something you have been thinking about, it might be time to put those plans into action this week. On a lighter note, Mars and Neptune activates your 2nd and 6th house. This could bring some unexpected financial returns this weekend. It's not completely out of the realm of possibility to receive a refund check for something you may have overpaid.
Recommended reading: Against amnesia, by (d)anger
Scorpio (21 October — 20 November)
While Scorpio is known for its reclusive and contemplative nature, this week will bring you out from behind the tail of the scorpion. You may surprise yourself with how social and chatty you feel this week. Others may even note a cheerful disposition. If others ask why you're in such a good mood, don't take offense. Instead, share with them what is on your mind. You'll certainly have an opportunity to surprise them. All of this outgoing energy is likely to be tested later this week, and you may need to exercise your powers of verbal diplomacy. All that time you spend observing the world around you will now be given the opportunity to be put to practical use. Over the weekend you will get another opportunity to express yourself, only this time at work. Keep an eye out for a co-worker, employee, or supervisor who will need to hear what you have to say. This will be especially fulfilling if you have felt silenced at work this year.
Recommended reading: Six principles of authentic living, by Robert Rabbin
Sagittarius (21 November — 20 December)
It's all about cozy goodness this week, Sagittarius. Where you typically like to keep moving, and need freedom to explore, this week is all about rest. If possible, take time this week to enjoy the finer things in life. Indulge in fresh bed linens, decadent chocolates, and fuzzy blankets. This is also a good week financially for you, and where many are recovering from holiday spending, you will have extra to indulge. Along with all the pleasures of the senses, you may find yourself in the romantic arms of someone by the weekend. If you are in a relationship, expect your partner to be extra attentive. For those of you who are single, this is a great time to attract someone to spend some quality time with. It's important to know that this is a week for you to take to yourself, if you don't, you could easily feel as though you are a prisoner in your own home. So, go with the flow, and enjoy yourself.
Recommended reading: Domestic magick: The lost art of homemaking, by Chrysanthemum White Adler
Capricorn (21 December — 20 January)
Where you are typically reserved, Capricorn, this week you may find it difficult to deny yourself anything. You'll be able to let loose, and enjoy some of the rewards of your hard work. This new sense of ego-centric energy could be a bit difficult to handle on Monday and Tuesday, while others around you seem to be feeling a little low. Let them take care of their own emotional issues. It's ok to be selfish once in a while, and you will need that this week. Thursday has the potential to bring some type of communication from an organization, institution, club, or gathering. Perhaps it's an invitation to a last minute event this weekend. Go for it, and completely let loose. You'll be more magnetic this weekend than you have been all year, and you have the opportunity to live in the lime light.
Recommended reading: Sacred tattoos: Temporary skin, permanent mark, by Xenia
Aquarius (21 January — 20 February)
It's a week of secrets and whispers behind closed doors for you, Aquarius. Keep your eyes and ears open, as those around you are going to want to share, if at times too much, with you. This week also brings with it a need to hide. You may feel a little less social than usual, and the darkness of night may seem to call to you. While we are on the topic of the night, you may find it more difficult than usual to get to sleep. Plan ahead and exert some physical activity before bed to avoid insomnia. It is possible one of the secrets you may hear this week will be related to romantic infidelity. Of course this is more likely the infidelity of  someone else, rather than having to do with any of your own romantic involvements. This weekend seems to demand a bit more productivity, as responsibility comes to call. So, you'll do best to use the need to retreat during the week to rest for a busy weekend.
Recommended reading: On secrecy, by Psyche
Pisces (21 February — 20 March)
It promises to be a very social week for you, Pisces, as friends may seem to be coming out of the woodwork. Try to find some time to get out and volunteer or even start a social club that interests you. While early in the week could feel like the exact opposite of what I just described, the social buzz will come alive during the second half. You also may encounter a female friend this week who either has some exciting news for you, or feels the need to profess her affections. Over the weekend, you may find yourself dreaming of a far off land, and it's certainly possible to take yourself there if you get a group of friends to go along for the road trip or plane ride. Splitting the costs is always a great way to travel in an affordable way. Try not to let your own emotional worry prevent you from going on an adventure you want to. You're only limited by your own imagination when it comes to reaching goals.
Recommended reading: How to plan a pilgrimage, by Jarred Triskelion