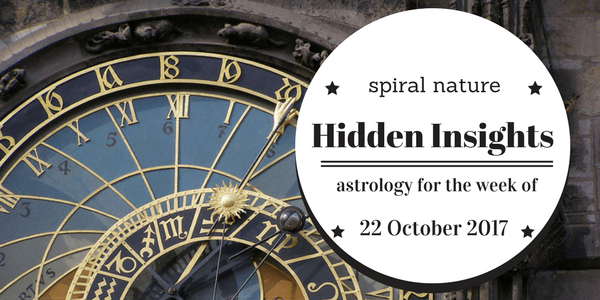 This week at Hidden Insights we see two planets change signs, indicating a shift in energy around the world. First, on the 22nd of October, Mars will move into Libra. As the planet of war moves into a sign of peace and balance, we are likely to put extra effort into our interpersonal relationships. A particularly romantic time, we can more easily pursue love. Utilizing this stark contrast between the self-centred energy of Mars and the cooperative energy of Libra, we are also likely experience more harmonious interactions with others. This is a time to be diplomatic, build bridges, and resolve conflicts.
Our second heavenly body changing signs is the Sun, which will make its yearly ingress into Scorpio on the 23rd that shines a light on the darker mysteries of life, and illuminates the way to uncovering secrets. Take time this week to satisfy your own curiosity, or get to the bottom of a mystery. Mercury also trines Neptune early this week, allowing us to not only release the fear of resolving conflict, but also to dream freely.
The second half of this week gets a boost of optimistic energy as the Sun joins Jupiter. Together they can create boundless optimism, and promote good will. This alignment, in Scorpio, has the potential to create generosity, so don't be afraid to ask for help, or be surprised if someone else comes calling for a favour. We may also noticed some inflamed ego' during this period, and larger than life personalities. Try not to judge others too harshly, it's likely they cannot help but be larger than life right now, and will come down by the end of the weekend. Used properly, you can get a great deal accomplished on Thursday, as energy runs high.
The weekend starts off with the Moon moving into Aquarius setting the stage for high winds, both mental and meteorological. Most of the weekend will seem to pass quickly, as everyone seems to be in a rush. On the 28th we see Venus and Mercury making a connection with Pluto. Venus by a square, and Mercury by a sextile. Venus' interactions has the potential to fuel some aggression, while Mercury's aspect promotes a sharp tongue. It is these two aspects that we must proceed with caution at the end of this week when dealing with confrontations, best to have important conversations earlier in the week, when the planets are sympathetic.
Here's a look at what each sign can expect for the week ahead.
A note about your horoscope: Sun sign astrology utilizes a technique called "solar houses." For this reason, it is believed by many astrologers that reading the horoscope for your rising sign as opposed to your Sun sign may be more accurate. Personally, I read both my sun and rising sign. If you are unsure of your rising sign, all you need is your birth date, exact time of birth, and location of birth. There are many free online tools to calculate your ascendant (rising sign), such as alabe.com.
Aries (21 March — 20 April)
This week your ruling planet Mars moves into your sector of interpersonal relationships, Aries. This brings a new and exciting energy to the way you meet with and interact with people. It signals a time for thrilling encounters, taking the next step in a relationship, whether personal or professional, as well as potentially bringing some conflict with others over the next few weeks. Wednesday you may notice that the darker side of your personality comes to light, along with that of those around you. Take time to accept others for their faults, and honour your own. No matter how this energy manifests for you, one thing is clear: you have the opportunity to get out and make connections. So, if you've been putting off making a move, now is the time to go for it.
Taurus (21 April — 20 May)
It promises to be a very productive week for you, Taurus, as your set of routines and daily tasks is illuminated. You now how the opportunity to get everything done around the house that you have been putting off. Remember that the quicker you get everything done on your to-do list, the sooner you get the chance to relax. Of course, it is possible that instead of relaxing, you may find yourself moving on to another task that you need to get done. However, don't get too focused on the tasks at hand, or you might miss an exciting phone call or text from someone special on Wednesday or Thursday about plans this weekend. Getting everything done will allow you to fully enjoy an exciting weekend.
Gemini (21 May — 20 June)
It may be difficult for you to focus this week, Gemini, as you seem to have lost a bit of your own self-discipline. But don't worry, this week is all about going with the flow, and finding new ways to express yourself. If you are a parent, you will want to keep a close eye on your children as they may be needing more of your attention. Those of you without children are likely to find yourself feeling a little sexier than usual. Perhaps it's time to ignite some passion in your life with a hot date night. Of course, you can always give yourself a solo date night that indulges in every pleasure of the senses. You just want to watch out for over indulgence, or it could lead to an unexpected stomach ache.
Cancer (21 June — 20 July)
You are in your element this week, Cancer, and as the cardinal water sign, you are able to navigate emotional waves better than any other sign. Don't be surprised if you are called to deal with some drama from your past. It is a great time to confront that head on, and resolve the issue. This is especially important if it involves a family member or parent. Speaking of family, have you considered adding a member from the animal kingdom to your clan? It may be time to rescue or adopt a pet. As the week progresses you will start to feel more energized, especially while the rest of the world seems to be slowing down. This is your time to shine, and you will likely be able to pick up the slack that others have left behind.
Leo (21 July — 20 August)
It is often said that the brain is the sexiest organ, and this week your intellect, wit, and charm will shine, Leo. Others will seem to hang on your every word, and you will be able to easily command the attention of those around you. However, with this blessing you will also be inclined to scattered thoughts, and a racing mind. While we are on the topic of racing, be extra cautious while driving, walking, biking, and travelling. There is no need to let your pride get the best of you when everyone around you seems to be toying with road rage. As your mind and hands seem to be working overtime this week, you want to also be cautious of minor cuts or bruises. Pay attention to where you're walking, and handling paper. There is nothing more frustrating than a paper cut.
Virgo (21 August — 20 September)
Thinking about new and creative ways to make money, Virgo? This is certainly a formidable week for you to start putting extra funds in your pocket. Of course, you will likely want to avoid get rich quick side sales and pyramid schemes. For you, this new way to manage money would best be found by utilizing your talent for organization to learn how to extreme coupon, or try any of the other countless rebate and receipt scanning programs. While you won't necessarily become a millionaire, you will certainly have the chance to pad your wallet. With that being said, your impulse to send may also feel heightened this week, and you want to watch you don't burn a hole in your pocket. Instead, try burning a candle for prosperity.
Libra (21 September — 20 October)
The world knows you live for inner peace and balance Libra, but this week you will be called to assert yourself. It's ok to walk away from a situation without a resolution sometimes, and you may have to come to terms with that this week. Before Friday, double check our bank account for any incorrect transactions. There could be either an over or under payment marked on your account that you should take care of. Much like Aries, you too may find this to be a particularly romantic period, where you can be more direct with those you are involved or want to be involved with. Treat yourself to a mini makeover this week or a new outfit, then woo your current partner, a potential partner, or a client. Go after what you want, and you'll be sure to find success.
Scorpio (21 October — 20 November)
It's the season of the scorpion this week as the Sun moves into your sign and your birthday approaches, Scorpio. You're coming out of a month of inward reflection and now have the opportunity to reinvent yourself. Unfortunately, this comes on the heels of Mars moving into your 12th house of inner reflection. Life wouldn't be normal without a bit of contradiction, would it? These two transits together forecast a week full of optimistic unravelling of your hidden powers of perception. You may also enjoy a number of kismet encounters with others that help you uncover some of your untapped potential. Sometimes it's easy for a Scorpio to forget just how powerful they are, and others this week will be there to remind you. For those of you celebrating your birthday on the 25th, 26th, or 27th, the upcoming year for you promises to be one full of either travel or pursuing continuing education. Don't put either of these types of plans off any longer.
Sagittarius (21 November — 20 December)
You will want to take your time this week, as it is likely you may take on more than you can handle, Sagittarius. It seems as though everyone wants your attention, and how can you resist saying no. However, you must be mindful of others' motives so you don't get taken advantage of. Remember, you can only help so many people before you need to help yourself. Failing to give yourself recovery time this week could lead manifesting a cold early this season. Instead of agreeing to do things for others, offer to work collaboratively. This will be of benefit to them, while also keeping your own energy reserves in check. It is also possible this week that you will hear of someone getting in or out of the hospital or even prison.
Capricorn (21 December — 20 January)
What a wonderful week for you to be recognized for your accomplishments and hard work, Capricorn! As the sign of hard work and ambition, this is a great week for you to get noticed by others. Those in positions of power and authority will be paying particular attention to you, so put your best foot forward and set the stage for that promotion or raise. The only challenge you may face this week is the potential to have unwanted attention from those in positions of power. We know you're responsible, but you want to make sure not to put yourself in a situation where you could get in trouble with the law or a supervisor. Use this energy wisely, and you will reap the reward and recognition that drives you each day.
Aquarius (21 January — 20 February)
This promises to be a very enthusiastic week for you, Aquarius. You will feel like the fates are guiding you right down the path of destiny, and you want to relish the feeling. With all of this serendipitous energy around you, it is likely you will find yourself looking for ways to expand your mind and your horizons. Have you been thinking about starting to read a new and exciting book series? Perhaps you suddenly feel inspired to visit the East, to explore ancient temples, or decide to go back to school. Use this week to plant the seeds of intent that will set the stage for spiritual and academic growth. On a more mundane level, you need to be aware that you are likely to be a bit more opinionated than usual, and it is fairly likely you may offend someone in your life at some point this week.
Pisces (21 February — 20 March)
Where you typically are able to go with the flow, this week will ask you to exercise focus. While your sex drive runs high, so does the potential for conflict with a romantic partner over money, investments, or property. You will want to make sure to double check that all your bills are paid on time this week, and don't be surprised if a bill or debt comes calling from seemingly out of nowhere. In your relationships it's time to close ranks and tap into your network of support, if needed. The best of this week comes in the form of powerful and intimate encounters that allow you to accept and embrace certain aspects of your sexual nature. Focus on sexual healing this week, and learn to let go of societal restraints that bind you.