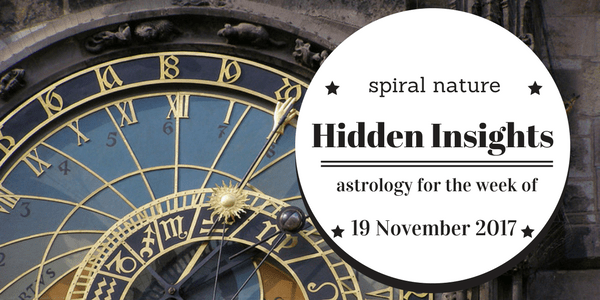 The season of Sagittarius kicks off Hidden Insights this week, as the Sun moves into the philosophical sign on Tuesday. The yearly passage here brings thoughtfulness, independence, and an appreciation for contemplating the mysteries of the universe. We will have access to this energy for about 30 days, so get ready to exercise your existential mindset.
As for the movement of the heavens this week, we start off with Mars making a rough aspect to Pluto. When these two planets battle one another, we see power struggles, confrontations, and sexual dominance. This is particularly important as we continue to experience Jupiter's passage through Scorpio, which sets an entire year of sexual taboo, scandal, and liberation. As we have seen in the news, Jupiter is certainly making a statement with the exposure of sexual assault and the #MeToo movement on social media. Mars and Pluto this week activate Jupiter, and we will likely see more dramatic conflict unfold. Personally, we may find ourselves and others in an agitated or trigger happy mood. It will be best for everyone to lay low, and do our best to avoid conflict that could easily escalate out of control early this week.
The week's energy continues to build on Tuesday as Venus now makes a connection to Pluto. Where Sunday and Monday many of us were feeling agitated and on edge, Tuesday brings deep feelings of love and passion. It's almost as if the heavens are handing us intensity on opposite ends of the spectrum. With Venus and Mars a love-hate relationship is being formed, and we will certainly feel the swing between extremes this week.
Neptune makes a major shift to direct motion after being retrograde since June. While it was retrograde, many of us had a difficult time discerning fantasy from reality, and it often creates the feeling of being lost at sea or in a fog. As Neptune now moves direct, we can expect to become more aware of the world around us, think more clearly, and make sense of what may have been confusing or scary over the last several months. This is a very positive motion, and will feel like a sigh of relief to our inner psyche.
Aries (21 March — 20 April)
It's all about work this week, Aries, as there is likely not enough time in the day to get everything accomplished. Mars and Venus make their aspects to Pluto in your 10th house, leading to potential power struggles with supervisors. However, you can actually use this to your advantage on Tuesday, if you work the Venus energy in your favour. To accomplish this, make some complimentary comments to those in power. It will be received well, and could set you up for support later, if you find yourself in trouble. As Neptune moves direct this week, you are likely to experience the relief stronger than any other sign. This is like a breath of fresh air for you, and discussions that have been shrouded in mystery will now have clear answers. So, if you have been waiting to hear from an institution or company, it will be much clearer now and you should have your answer by Saturday.
Movie of the week: The Devil Wears Prada
Taurus (21 April — 20 May)
We all know you love to hunker down and keep your actions slow, yet meaningful, Taurus. This week brings a bit of a change to that mindset. Don't be surprised if you find yourself drawn to joining a group dedicated to social change or justice. Maybe you hear about a local protest that is meaningful to you, or an advocacy group that interests you. No matter how this manifests, you want to get out and make your voice heard this week. Enjoy your ability to vocalize your opinions, and speak up. Early this week you will likely encounter someone who ignites this new passion within you. However, you don't want to confuse a great friendship with a great love. Confusing the two could spell heartache. While we are discussing the difference between friends and romantic partners, this theme repeats a second time with Neptune. Proceed with caution, especially if a friend comes forward to admit they have feelings for you. If it is you who realizes you have feelings for a friend, give it some time to let it pass. Again, these feelings are only temporary.
Movie of the week: Forrest Gump
Gemini (21 May — 20 June)
Last week was about getting things in order, Gemini, and this week is about getting financial obligations in order. You want to be vigilant to address outstanding debts, as there is likely one or two that have slipped through your radar. It's important to get this figured out early, as some of the conflict headed your way this week will concern others money. If you are in a relationship, you may want to hold off asking your partner for some financial assistance until you have done the math. Money is a powerful stressors in relationships, and this week will put that aspect to the test. If you are single, you will want to consider very carefully asking to borrow money from a friend, family member, or institution. It may be easier to work out making a partial or late payment, than repaying someone you are close to. There is also a shift at work this week, as Neptune turns direct in your 10th house. Here you can make clear some confusion and drama at the workplace, and still come out on top. Those in positions of authority are likely to trust you above others, and you should use this to your advantage.
Movie of the week: The Godfather
Cancer (21 June — 20 July)
Where last week was a bit stressful, Cancer, this week should peaceful. This is thanks to Neptune going direct in your 9th house. The confusion in your life related religion, higher education, philosophy, and travel will now become clearer. You will easily navigate your own beliefs, and these realms of your life can now proceed forward with a solid path. This is particularly true for Cancers who are in school, as Neptune's energy will make learning, and career choices much easier. This paired with the Sun moving into your sector of daily schedules and tasks, will make you much more productive than usual. Enjoy high energy and success this week once Wednesday comes. The only roadblocks you have in your way this week are shown on Monday, when a fight at home could test your patience. Remember, we are all fighting an internal battle, even though we may not see it. Honour the nurturing side of your personality, and you'll make it through the day feeling proud you were able to emotionally be there for someone else.
Movie of the week: Legally Blonde
Leo (21 July — 20 August)
The stars this week are asking you to take a close look at your health and well being this week, Leo. Mars' rough aspect could agitate a previous condition, so you will want to make sure you are not straying from a healthy lifestyle. For those of you that regularly visit the gym, you might want to take Monday and Tuesday off, as this environment could prove to be counter-productive to your health. While I know this sounds counter intuitive to needing to pay closer attention to your health, you could actually avoid putting yourself in a situation where you injure or expose yourself contagions. Neptune's direct motion brings financial matters from last week to light again, and it's time to take the next step in joint financial affairs. If you took last week's advice and applied for a loan or line of credit, you'll likely get your answer this week or receive the funds. It's also important for me to mention that this weekend may bring some unexpected news about a travel or higher education opportunity.
Movie of the week: The Hunger Games
Virgo (21 August — 20 September)
It's a sexy week ahead for you Virgo. Your powers of seduction are set on high as you feel compelled to explore your sexuality. Where others seem to be losing their minds, you find yourself oddly attracted to the chaos of others, and it's quite a turn on. When you do make it to the bedroom, or wherever you choose to be intimate, make sure to be aware of your partner(s) limits, as you may be a bit more aggressive than usual. For single Virgos, you have several opportunities this week to engage in a sexual play. Whether you choose to have this experience is up to you. Don't feel pressured, and try not to pressure others. Neptune's direct motion occurs in your sector of partners, so any confusion you may have had with a romantic interest or spouse is likely to clear up this week. Secrets may also be revealed, but don't worry. These are pleasant surprises, and an opportunity to talk openly about sensitive issues.
Movie of the week: 50 Shades of Grey
Libra (21 September — 20 October)
Your home and family come in to focus this week, Libra, as Mars and Venus make aspects to Pluto in your 4th house. Mars has the potential to cause some conflict here. If you are in the United States and celebrating Thanksgiving, you will want to be on guard early in the week, so that unneeded arguments don't develop on Thursday. Fortunately, Venus will soften Mars, and help smooth over any arguments or conflict that may arise. Neptune's direct motion this week will occur in your 6th house, which can produce some clarity in terms of your physical health. If you've been putting off getting any tests done, or think you want a second opinion, now is the time to initiate that. There will be much less ambiguity when it comes to this area of your life. The weekend could seem a bit odd to you, as your mind will likely be focused on the unusual. It's also very likely you will hear from a friend, colleague, or romantic interest a truly shocking statement. Maybe someone tells you they are having an affair, leaving their job, or have joined a cult. Use your talents of diplomacy to handle any unusual news with tact.
Movie of the week: Last Holiday
Scorpio (21 October — 20 November)
Last week you were feeling more amourous than usual, Scorpio, and this week will test a new way of interacting with others. This week you are likely to be confronted with the opportunity to share your thoughts, feelings, and opinions. Use these opportunities to your advantage, and reach out for help if you need it. You may be surprised how willing others are to listen to you without judgement. Early in the week, when others are experiencing conflict with others, you will be having these same battles internally. That is why you will want to reach out to friends and family for advice. The Sun's passage in to Sagittarius brings focus to your house of values and finances. If your concerns are about money, use your powers of research to dig up a new way to budget, spend, or save. When Neptune goes direct on Wednesday the illusions you've been battling in your dating or romantic life will begin to clear. This is the beginning of a period where you are able to more clearly see through the scams and lies of romantic or potential romantic partners. If this is something you have been struggling with for the last few years, relief comes this week.
Movie of the week: My Best Friend's Wedding
Sagittarius (21 November — 20 December)
Happy solar return, Sagittarius! It's all about you for the next 30 days. As the Sun moves into your sign, it's life giving force energizes your physical and mental body. This becomes particularly evident on Tuesday when the Sun officially enters the archer. This week particularly may prove to be very financially beneficial for you. While Pluto has been making a mess in this area of your life, Mars and Venus put this planet in check. A surprise bonus, return, or small win lottery ticket could give your bank account a boost. You're likely to find others are more generous than usual, which may feel a bit uncomfortable for you, as you prefer to take care of yourself. Try not to write off the assistance of others, as generosity and community are what being human is all about. When Neptune makes its direct station this week, it will bring with it a wave of relief to your home and family. If you've been dealing with water or heating issues, you can finally address these this week. Neptune here also has the opportunity to bring a family secret to light, so you'll want to be alert to watch out for this information. Though, you likely won't have to listen or look too hard, as family will be more than happy to fill you in.
Movie of the week: Willy Wonka and The Chocolate Factory
Capricorn (21 December — 20 January)
You are typically a punctual sign, Capricorn, but it could be difficult for you to get where you need to this week when you need to be there. It may seem like you are constantly running behind, or are delayed when it comes to leaving on time as well. The best thing you can do about that this week is to give yourself extra time, and try not to stress about leaving or arriving on time. The stars are asking you to exercise patience and control. Try reaching out to a Pisces to learn how to more easily go with the flow. This energy is only intensified as Neptune stations direct in your 3rd house. Give it about a week to work out the new rhythm and you'll be back to your typical punctual and reliable self. On the bright side, your creativity is stimulated this week, and if you focus on poetry, music, art, and self-expression, I can guarantee you won't notice change in your routine. When we work harmoniously with the universe we can help relieve some of the more stressful transits.
Movie of the week: Alice in Wonderland
Aquarius (21 January — 20 February)
You're on the verge of a major breakthrough this week, Aquarius, and it could very well be a romantic one. Too long you've been focusing on responsibilities, and it's starting to wear on you. Mars and Venus this week agitate Pluto in your 12th house, which can produce extra stress, tension, restless sleep, and at times anxiety. While this may seem a bit scary, knowing this is on the horizon can help you combat that. The reason these stressors are manifesting, is a lack of romance. If you are single, you might want to address why. Are you too critical about relationships? Do you feel you don't have enough time? Perhaps no one seems to measure up to your high standards. If you are in a committed relationship, you may have been neglecting it, and need to bring some of your focus back to this area of your life. By addressing these questions, you will be able to not only combat, but completely relieve the potential stressors of Mars and Pluto. Mercury and Uranus this weekend allow you to have these conversations with a close friend, family member, or therapist. You just want to make sure you are open to their advice, and not write it off because you don't agree or it makes you uncomfortable.
Movie of the week: Practical Magic
Pisces (21 February — 20 March)
Your friends may continue to seem distant this week, Pisces, as there appears to be some tension between you and your social groups. Aggressive Mars has the potential to bring some of its conflict to these groups of friends. This may make you feel a little isolated; however, Venus' energy has the potential to inspire you to do some independent activities, particularly travelling. Have you ever considered going on a solo vacation? This week might be the right time to either take or plan one. On the bright side, it is likely to continue being a productive week for you at work, and you can certainly continue to make a name for yourself with supervisors. Neptune will take you forward towards a more clear sense of purpose. In the months it spend retrograde, you could have felt much like a fish caught in a riptide. Now, moving direct you can ride the currents and waves with ease. Use this energy to your advantage this week, especially on Saturday. You'll have the opportunity to connect with someone who can help your career.
Movie of the week: Into The Wild