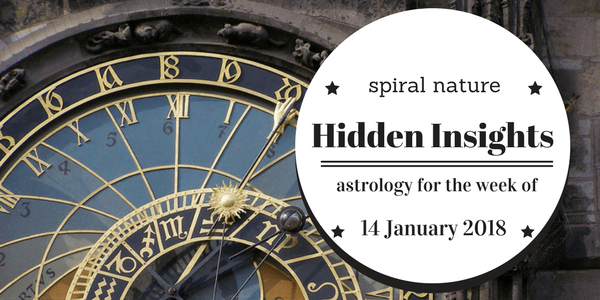 As the heavens turn from tense positions, Hidden Insights forecasts a stretch of relief for much of the zodiac. On Monday Jupiter makes a harmonious aspect with Pluto, which will set a tone of empowerment and change. This will be particularly evident for the signs of Taurus, Virgo, and Capricorn. It will feel like a natural high of productivity. Ethical standards will also likely be the focus of conversations this week, as these planets force us hold a dialogue as well as to put it into action.
With most of us feeling reinvigorated,, the New Moon on Tuesday starts a fresh cycle. This particular New Moon aligns with the fixed star Terebellum and the planet Venus. On the star of fortune with disgrace along with Venus, we are likely to notice some odd relationships forming. It is best not to enter into any new romantic relationships right now, and you may want to caution friends who seem to have hit the romance jackpot. The odds of their relationships ending in embarrassment will be increased right now.
The planet Venus also changes signs this week as it moves in Aquarius on Wednesday. This reinforces the themes of the New Moon in such a freedom-loving sign. Relationships now may become unconventional. This is because Venus has felt somewhat confined in Capricorn with all of its traditional forms of romantic expression. We can expect people to display more generosity, kindness, and open emotions. For most of us, this is likely to manifest as more open and honest relationships with those around us, not just with our romantic partners.
Astro Homework
This week's homework is about taking a look at the importance we place on others in our lives. Ask yourself this week who you look up to and who you depend on. Do you need to depend on that person? Why do you depend on them? Take a moment to think about what your life would be like without this person. It doesn't matter if it's a parent, partner, friend, coworker, or assistant. Venus in Aquarius can help liberate us, and part of our growth is learning to be self-reliant. While support systems are important, we need to make sure we can handle life on our own if necessary.
 Aries (21 March — 20 April) 
It's a brand new day this week, Aries, and it's time to take some control over your work life. Recent conflicts at work may have put you on the defence, or you may not even realize your reputation has been challenged. While you may have been able to slide through some areas of your work life with some charm, this week you may need to be a bit more vigilant in not only doing your job, but doing it well. When Venus shifts into your 11th house on Wednesday, you are likely to be inspired to throw caution to the wind and focus on friendships as opposed to your responsibilities. Do your best to use this social energy to network and make important social connections. Your previous work can now be put on display for others to see, which can increase your chances of membership into powerful circles. Friday may bring a coworker's secret to the surface. Try not to judge them too harshly. We all have secrets, and you wouldn't want your own skeletons being put on display.
Power colour: Magenta
Taurus (21 April — 20 May)          
You're developing a new philosophy this week, Taurus, though it's not likely to change the world like Plato, Socrates, or Aristotle did. However, this personal philosophy will help you deal with the day to day drama. Perhaps you decided your new philosophy is to just not take what others say too seriously, or you've decided to start each morning with a positive affirmation. Either way, this mini revelation is likely to serve you well in the long run. Others may not understand your new way of looking at the world or approach to living, so you may want to anticipate some negative pushback from others. It's likely this shift in attitude will bring attention to you at work, so do your best to take advantage of the positive attention you'll be getting. This weekend you can expect to hear from a friend who may be dealing with an existential crisis. This will be the perfect opportunity to share your new outlook on life with someone who is ready to listen.
Power colour: Tangerine
Gemini (21 May — 20 June)
This is a week of new beginnings for most, but Gemini, you can't help but think about the things that need to end in order to make a new start. You may be somewhat preoccupied with death, endings, and laying thoughts, ideas, and old practices to rest. Early in the week you may be a bit more accident prone than usual, so you will not only want to watch your step, but also try not to rush through any projects, chores, or tasks. Pets come into focus for you this week as well, Gemini, so if you have furry, scaly, or feathery companions, you may also want to keep a close eye on them. One is likely to need a bit more attention and care than usual.
Power colour: Teal
Cancer (21 June — 20 July)
It may have seemed as though you have been going through more money than usual lately, Cancer. This week you begin to notice how much you've actually been spending, and early in the week you may try to reign in your finances. Unfortunately, you're not quite done with paying for and buying things you need. While much of your week may focus on finances, there is also some love in the air for you this week, Cancer. However, you may not want to enter into any type of relationship right now. For those of you who are already romantically involved, this week promises to be both hot and heavy. Passions will run high, and you may even try something new in the bedroom. The weekend looks as though it will be exceptionally ordinary. So, enjoy some down time, and stick to your routine.
Power colour: Persimmon
Leo (21 July — 20 August)
During the first half of the week you may need to make some adjustments to your routine, Leo, which I know isn't always comfortable for you. As a fixed sign, you thrive on routine, but the Sun, Uranus, Jupiter, Pluto, and the Moon are all working together to make a change. The new Moon brings the opportunity to make this change as a fresh start to your health as well. It's not too late to make a New Year's resolution about a healthy lifestyle. If you are romantically involved, your relationship may be tested on Wednesday. Try to remember that it's not always about you, and even the ones that love us need their own space and freedom. Failure to understand this could result in damaging delusions that could threaten the security of your relationship. Single Leos are likely to experience this energy as an event that makes you need to restructure how you deal with debt.
Power colour: Vermillion
Virgo (21 August — 20 September)           
The week starts off with a sudden and inescapable urge to create, Virgo, and frankly this creative energy is likely to manifest in the bedroom. If you are a sexually active Virgo, this creative energy can easily come in the form of a pregnancy. What is more creative than making a human life? This could be fantastic news for those wishing to get pregnant, or a warning to be extra cautious for those trying not to. By midweek you become a bit more focused on productivity and responsibilities. However, you'll need to make it clear to those around you that you want and need to work alone. Trying to work collaboratively with others could be difficult, and end in fairly serious misunderstandings that will only frustrate your detail-oriented nature. Once the weekend comes, you're once again feeling sexy, and may want to make some time to indulge in romantic fantasy or role playing.
Power colour: Sea green
Libra (21 September — 20 October)
Your primary focus this week, Libra, will be home and family, as this area of your chart is activated. During the first part of the week, you may experiences some power issues in your home, so you'll want to make sure you have backup candles and spark plugs for circuit breakers. With that being said, you may also want to be a bit more vigilant with electrical devices you have plugged in, as you run the risk of ruining a computer if it's not plugged into a surge protector. As your ruling planet, Venus, changes signs midweek you can expect a shift towards a playful attitude. If you're feeling like running away for a mini vacation, go for it. Of course, you can always lock yourself away at home and have a staycation. This weekend may be a bit more busy than usual for you, as you're likely to be spending a great deal of time lost in fog of errands. But don't worry too much, Sunday will give you plenty of time for rest.
Power colour: Auburn
Scorpio (21 October — 20 November)       
Work may be throwing you some unexpected surprises this week that honestly, may not be entirely pleasant, Scorpio. This could be bad news for those around you, as you're poised for mental battle as conditions at work could trigger some harsh words. Verbally you are on your game, and you may delight in the verbal sparring of back and forth debate. Do your best, particularly on Friday, to not fly full force with your scorpion's sting. There is a difference between a heated debate and verbal assault, and you don't want to cross that line. As Venus shifts signs this week, it enters your sector of home and stability. In the midst of your mental storm, you may also make some waves at home, where you feel suddenly inspired to improve your personal space. Over the weekend you could find yourself shopping for new furniture, décor, or even browsing for a new place to live.
Power colour: Scarlet
Sagittarius (21 November — 20 December)
Satisfying the needs of your five senses this week is likely to be a top priority, Sagittarius. Craving decedent flavours and soft fabrics may make it difficult for you to be productive this week. The stars want you to step back and enjoy some of life's pleasures. Fortunately, you'll be presented with the opportunity to indulge, particularly on Tuesday. Now is not the time to be thinking about your waistline, though of course gluttony is never healthy either. Simply enjoy flavours, experiences, and cozy blankets. This weekend could bring some confusion with a friend or acquaintance that could produce some stress over the phone. Getting in touch with someone you feel the need to speak with may be a difficult task to accomplish. While you may be itching for an answer or reply, it's best not to wait by the phone. Instead, do your best this weekend to continue enjoying the finer things in life.
Power colour: Deep violet
Capricorn (21 December —20 January)   
A surprise in your home early in the week could shake up your routine, Capricorn. Try not to stress too much if you are confronted with a small problem. This minor hiccup will pass quickly, and the rest of your week promises to not only be productive, but much more relaxed than the last few weeks, particularly if you were recently ill. When Venus changes signs on Wednesday, it moves into your financial sector. At this time you're likely to not only feel like you want to purchase more, but you'll also be able to find amazing deals. Friday could bring some travel delays, so you'll want to plan extra time to get places.  Over the weekend, treat yourself to something new for your home, especially if you need to fix or replace something from an issue earlier in the week.  Also, don't take any criticism too personally this weekend. Others may not know that what they say is affecting you so strongly.
Power colour: Saffron
Aquarius (21 January — 20 February)     
This week could feel both long and boring, Aquarius. It may seem as though everyone else around you is living an exciting life, and you want to have some of that. Everyone goes through these types of periods in their lives. While it may seem as though your life is nothing more than going through the motions, the feeling won't last forever. Wednesday Venus finally moves out of your sector of seclusion and begins a new cycle as it moves into your sign. While the effects won't be immediate, you can feel that something is on the verge of changing. Here you get the opportunity to reinvent some aspect of yourself, and this week's solitude is the perfect time to plan how to make that happen. By the weekend, a stroke of genius will seem to strike your brain and you'll know exactly how you want to change the way you have been living your life. Now you can get in on some of that excitement that you yearned for earlier in the week.
Power colour: Cerulean
Pisces (21 February — 20 March)
This week is all about turning your inner restlessness into action, Pisces. Early in the week you can expect to be put in a position of leadership among your friends or at work. While you don't automatically jump to take the lead, this will be a great opportunity for you to make some changes you've been meditating on. While the first half of the week is full of social networking, the second half brings your focus inward again and you'll want to just keep to yourself. Unfortunately, you're not able to do this right now, and you'll have to stick out being in the spotlight just a little bit longer. Friday may bring some confusion from a friend who you may feel has been deceiving you. While you won't be able to extract the truth just yet, your intuition already knows what's really going on. Over the weekend you'll finally get some time just for yourself. However, Sunday could prove to be busy once again with your only down time being Saturday afternoon.
Power colour: Burnt sienna