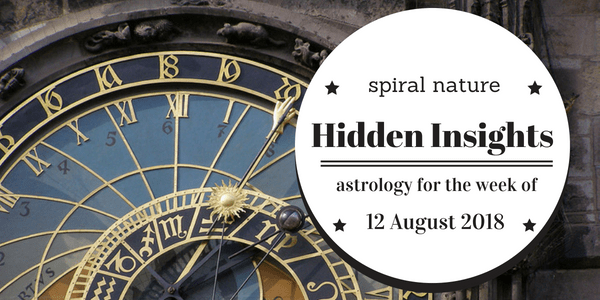 As Mars moves continues to move retrograde it backs into Capricorn, and this can feel rather uncomfortable for many Hidden Insights readers.
In March, this column discussed the energy of Mars in Capricorn, which brings productive and exciting energy to places of business and is an excellent time to purchase property.
However, now that Mars is moving back into Capricorn in a retrograde motion, we will see the opposite effect. Issues related to buying, selling, or investing in property are likely to surface right now. Many people will likely to need to repair or replace appliances. The most productive side to this transit comes when we recognize that our physical bodies also need work. This will be most evident for those with Aries, Leo, or Sagittarius rising in their charts. The rest of the world will may also notice that, over the next few weeks, there will be an increased in problems related to health and illness. It is probably a good time to stock up on anti-bacterial sanitizers, vitamin boosters, and to become more mindful of how often and creafully you wash your hands.
This is also the last week of the Mercury retrograde, as it will station direct on the 19th. Often the last week can feel more tense then that rest of the retrograde, as we instinctively feel Mercury slow down and get ready to move forward. This sense of anticipation can make one feel agitated and even anxious. We must also be aware that the majority of auto and transportation accidents occur in the final days of the retrograde. The sense of urgency is also felt while driving, and it is an attempt to speed up Mercury's motion, which is an exercise in futility. Be alert and remain vigilant when travelling this week.
Astro Homework
The stars are asking us to learn patience this week, and your homework is to find a way to slow down. Hidden Insights would like to challenge you to embrace the number of planets that are retrograde right now by being mindful of how quickly you do things. Do you rush when you eat? Do you move from one activity to another, as if trying to race the clock? It's no surprise the world is often called a rat race, as we never seem to slow down and enjoy the moment we're in.
Aries (21 March — 20 April)
You've been feeling some tension build at work, Aries, and this week may continue to be a challenge. Much of the week will be filled with the harsh realization that you cannot make everyone happy. Everyone you encounter in your professional life right now seems to rub you the wrong way. This is not a good week to initiate group projects, even if someone suggests joining forces. An invitation to work together is more likely to surface on Wednesday, and you'll have to do your best to politely decline, or hold off on the project until September. The weekend brings tension to your love life, which could make for a long and tiring weekend. Do your best to avoid conversations about joint finances or debt until next week.
Power colour: Alabaster
Taurus (21 April — 20 May)
It's been a wild few weeks for you, Taurus, as Uranus recently moved into your sign, and now that it's retrograde, it will soon make an aspect with the Mars retrograde. The planets are demanding big changes right now. This week may mark the beginning of a new chapter in your spiritual life. You may even suffer a crisis of faith and wonder what you actually believe. These are normal and natural feelings that affect everyone at some point in their lives. You may even be inspired to take a college course or learn something new. It's probably not too late to enroll in the upcoming semester — if you hurry. For those of you who don't want to make such a large or expensive financial commitment, there is of course an abundance of free classes, resources, and topics of study available online. The second half of the week will likely bring movement to delays you have been experiencing at home. It's time to make a change, and your immediate environment could enter a state of flux.
Power colour: Amber
Gemini (21 May — 20 June)
Your sexuality and intimate relationships become an important focus this week, Gemini. As Mars turns retrograde, you may need to adjust how you approach this area of your life. While not necessarily guaranteed, there is also a good chance you'll have the opportunity to explore a new kink or fetish. At some point the focus is likely to turn from your sexual state of being to that of another person. Wednesday could bring a conversation with someone who wants to share a secret. They are coming to you because they know that you are less likely to judge them, as compared to others. Here is one word of caution for the week concerning sex, for those of you who are sexually active: new sexual experiences can be exciting, but you will want to know your limits, as some minor injury related to sexual activity is possible.
Power colour: Red
Cancer (21 June — 20 July)
Romantic relationships will be tested this week, Cancer, and it's not likely to be a harmonious period for you,  if you are currently involved. Arguments with a partner and the people you are closest to are promised through the week. Money may be at the centre of these discussions, particularly on Wednesday. For those of you who are single, this is not an ideal time to date or flirt with others. Any relationship you begin this week could quickly turn devastating. Of course, the flames of attraction are likely to be high, and you may find yourself the centre of others' advances. Try to exercise restraint until next week. Over the weekend, some positive financial fortune is likely to find you. This could come in the form of a refund, rebate, or prize. If some surprise cash comes your way, make sure you spend it on something you wouldn't usually treat yourself to.
Power colour: Emerald
Leo (21 July — 20 August)
Typically Leos are balls of energy, as their ruling planet is the Sun. However, this week Mars stations retrograde in your sixth house of health and vitality. You may find yourself more withdrawn and sleepier than usual. It's also important to note that your immune system will be weaker. Do your best get plenty of rest, and try not push yourself too hard. Midweek brings a sibling or neighbour into your life who may need you to lend a hand with a physical project. You're always happy to help, but if you're not feeling your best, then you might have to say no. Fortunately, these influences will be short lived, and you get a boost of energy over the weekend. Anticipate the inability to sit still, and you may be busy running around town finishing overdue errands. Travel could be in store for you this weekend, which is great, as it is a great time to get out of town for a day or two.
Power colour: Royal blue
Virgo (21 August — 20 September)
Doctors, hospitals, and health planning will be a major focus of your week, Virgo, as unexpected trips to see a physician for yourself or others may pop up more than once. Mars brings tension to travel or leisure plans, which could inhibit your ability to fully enjoy solitude. Your body is physically yearning for a retreat, and while it's possible this week, you would be better to make plans for another time, as opposed to acting on them right now. Mundane tasks, like grocery shopping, could bring a surprise encounter with someone you have not seen or spoken to in while. You may not be in the mood to reminisce, but you'll be glad if you make the effort to connect. Friday brings a wave of anticipation for an exciting weekend, and you may finally find yourself able to spend time relaxing. Anticipate a surprise on Saturday, which will only enhance your rejuvenating weekend.
Power colour: Emerald
Libra (21 September — 20 October)
This week is all about restructuring your home environment, Libra. As Mars moves retrograde, there are some loose ends around your house that need to be taken care of. If you have been putting off a project or repair, you'll no longer be able to ignore it. A surprise visit form a friend on Wednesday is likely to bring a pleasant surprise. While they are with you, it might be a good idea to ask for help with a small project, as a second set of hands will be exactly what you need. Your friend will certainly be there to help, though you'll most likely need to return the favour later. Over the weekend you are likely to spend time helping a friend move, pack, or paint a room in their home.
Power colour: White
Scorpio (21 October — 20 November)
Expressing your thoughts may be difficult for you this week, Scorpio, as it will be difficult to find the right words. Not only may you be at a loss for words, you may also need to be wary of slips of the tongue. Make sure you know exactly what you want to say before you actually say it. This will help avoid an embarrassing situation like wishing someone a happy birthday when you meant to say, "have a good day." Not being able to speak effectively may sound rough, but you have some good news to look forward to. Things at work take a positive turn, so if you've been dealing with professional conflict, it will likely clear up this week. Now you can take a deep breath and focus on doing your job — instead of putting out others' dramatic fires.
Power colour: Indigo
Sagittarius (21 November — 20 December)
It may be time to reign in your spending this week, Sagittarius, as money becomes tighter. As a result, you will spend extra time budgeting. At some point, you may even consider how to make some extra income to supplement what you currently have. Before you go out and get a second or third job, you might want to clean out your closets out first. Selling is very lucky for you this week, and you could probably unload some clutter that could be useful to others. This will provide a bit of extra cash, at least until things settle down. If you managed to make a few extra bucks, they could be put to good use this weekend on a local vacation. As always, you itch to stay active, and with a little bit of digging ,you are sure to find something inexpensive and exciting to do.
Power colour: Silver
Capricorn (21 December —20 January)
Mars moves backwards into your sign this week, Capricorn, and it is a both a blessing and a curse. You will reap the benefits of the active Mars energy, which will keep you motivated, and full of boundless energy. It is a great week to really get some hard work accomplished. The challenge with this event is the accident proneness it creates. You will need to be very cautious about where you are walking. You don't want to end up with a bump on your head or a broken toe. Leaving the house each in bubble wrap certainly isn't necessary, though you'll want to just tread careful this week. Your friendships may go through a small at the end of the week, and you should be prepared for an argument, most likely over money. If possible, try to put off any important financial conversations till next week.
Power colour: Magenta
Aquarius (21 January — 20 February)
A return of a male or male-energy person from your past is promised this week, Aquarius. Even if the person does not physically come back into your life, the memory of them certainly will. Feelings of nostalgia may creep up that are mixed with pangs of regret. Try not to judge yourself too harshly. People or ideas form foreign cultures also seem to surround you. In its most mundane manifestation, you could simply enjoy foods from other cultures. The most extreme manifestation could result in meeting a person from overseas or across the border who you may have the opportunity to work with. As the weekend approaches, and you've finished processing recent drama, your more sensual side is released. Saturday promises to be an intensely romantic and sexually charged day. This is a great time to rekindle fading passion, or say yes to a date.
Power colour: Gold
Pisces (21 February —20 March)
It's time to reconsider the role people play in your life right now, Pisces. You may spend some time this week taking inventory of people you want to keep in your life, and those you need to distance yourself from. It has become easy to hide behind the screen of social media and click the unfriend or unfollow button. However, it is likely not to be that easy, as these people are part of your daily life. Look closely at coworkers you may have become close with. Do they really align with your own personal and moral values? Once you have figured out who you need to spend more time with and who you need to move on from, the challenge will become how to accomplish this. Fortunately, you'll be able to fade into the background of these people's lives naturally — without hurt feelings or too much disruption.
Power colour: Olive