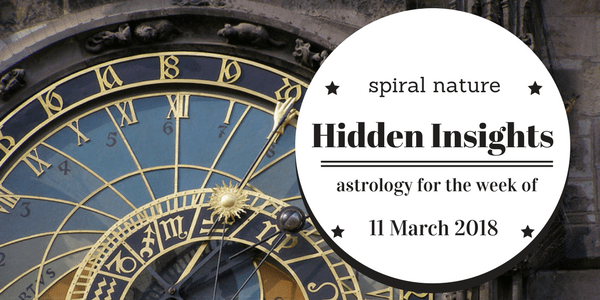 Mars sets the tone this week as Hidden Insights predicts a week of unusual opportunities. As Mars makes its only trine to Uranus this year, the strange and unusual pops up. This is paired with Mercury and Saturn at odds on Sunday, 11 March, and can cause some mental tension that may force us outside our comfort zones. Globally, this energy makes the world take risks. Fortunately, these risks will likely end well, as Mercury allows us to think practically about what we want to do. It is also important to note the electromagnetic intensity of this aspect, and we should be cautious of electrical work, electric storms, and the potential for power outages.
This week also brings a harsh aspect between Venus and Saturn. The two sit in conflict with one another on Tuesday, 13 March. Venus represents pleasure and a good time, while Saturn is more serious and holds us accountable. The cardinal signs, Aries, Cancer, Libra, and Capricorn may feel particularly bogged down by this aspect. These individuals are unlikely to take risks when encountering the unusual opportunities forecasted for this week.
The rest of the week runs smoothly until Saturday, when Mars will change signs and we have a New Moon. As Mars enters Capricorn it moves into a very powerful position. It creates persistent and steady energy that can help us control our aggression, and start to make steady progress in life. As a whole, this placement can slow us down, and this weekend will likely be calm, after a surprising first half of the week. This is further compounded by the gentle New Moon in Pisces energy that will signal us to look at the ways we can nurture and care for ourselves.
Astro Homework
The electric energy flying through the air this week asks us to focus on manifestation. Harnessing the power of Mars and Uranus can give our thoughts, ideas, rituals, and spells a boost of very powerful energy.
Your homework this week is not defined by a specific task. Instead, use this energy to manifest something you desire, and give it the spark of life.
Aries (21 March — 20 April)
This week is likely to produce some internal conflict between your responsibilities, and what you really want to do. On Monday, you may be tempted to take some risks, and as an Aries, you usually enjoy it. However, the little voice in your head is making it difficult for you to truly take a leap. By Tuesday, responsibilities really take hold, and you'll be much more focused on other priorities in your life, particularly at work. Over the weekend your ruling planet changes signs as Mars enters Capricorn. This is a fantastic placement for you, and it begins a cycle of productivity and accomplishment, particularly when it comes to your career. You may run into the opportunity to rub elbows with important people who can help you climb the ladder of success.
New Moon insight: Recharge your spiritual batteries.
Taurus (21 April — 20 May)
Things are looking up this week, Taurus, as you're greeted with an optimistic mindset on Monday. The winds of change may have brought some good news, and you're feeling excited for the future. While you might hit a temporary low on Tuesday, it will be short lived, and you will want to be cautious about experiencing some conflict with a woman. You may want to consider spending time Wednesday in meditative reflection or prayer, as it will help you refocus. The weekend heats up with more fire in your life as you are inspired to be adventurous. It's almost as if a restless energy is building up inside you. If you take full advantage of this, you can get out of the house and experience some forgotten sights, either in your own town or in new surroundings. No matter how you choose to spend your weekend, it will be riddled with adventure, even if it's from your couch in front of the Travel Channel
New Moon insight: Connect with others and network.
Gemini (21 May — 20 June)
Getting together with friends tops your list of priorities this week, Gemini. While early in the week it could be difficult to make firm plans, you'll certainly be making the rounds over the phone and with online groups. It is also likely you will hear about an engagement, and you may have the opportunity to be part of a surprise proposal or wedding. If you are in a relationship, some tension may develop on Monday; however, this will pass quickly. You're lucky enough to have friends who will help keep you grounded before things get too out of control. Hold tight to the positive news from early in the week, as some more challenging news might come to your ear before this week is over. While it is not likely to affect you directly, you may need to console, support, or comfort a friend. As Mars changes signs this weekend, it enters a darker area of your chart, and with it can bring some challenges over the next few weeks, where you'll call on friends you supported to assist you.
New Moon insight: Develop new business plans, and dream big.
Cancer (21 June — 20 July)
It's all about productivity for you this week, Cancer. Your mind is more focused, which will help you get through until the weekend. A shocking surprise by Wednesday could force you to change your work schedule. There is also a strong possibility that a coworker may approach you with an opportunity. Unusual as it may seem, you may want to consider joining forces with this person, as it will benefit you in the long run. Like Taurus, you also want to be cautious about a conflict with a woman in your life this week, as it could spell trouble for your reputation. The best course of action to avoid this would be to keep your emotions in check, and avoid engaging others in arguments. Arguments may be difficult to avoid over the weekend as Mars moves into your seventh house. He will sit here for the next few weeks, and you'll need to be particularly cautious of not only your own ego, but that of others' egos as well.
New Moon insight: Change your routine, and seek out adventure.
Leo (21 July — 20 August)
Have you been thinking about going back to school, Leo? If so, you can certainly start focusing that energy onto a productive path this week. For those of you who have not considered this as an option right now, there is a very good chance it may cross your mind this week, or you'll find an enrichment class that's calling your name. While most people take class or go back to school for practical reasons, your motivation is likely to be in pursuit of creative endeavours. Some tension on Tuesday could bring minor conflict at work, particularly if you get into a moral debate with a coworker. But like most of the aspects this week, it will be short lived. As Mars travels into your sixth house over the weekend, you'll be hit with a wave of physical stamina that further enhances your productive streak.
New Moon insight: Take charge of your finances and make a budget.
Virgo (21 August — 20 September)
This week may have you in a bit of a tail spin with what feels like chaotic energy, virgo. It is not actually chaos at work. What you are experiencing is restructuring of your routine, particularly at home. Tuesday promises to bring some financial opportunities to your home as well. Look out for a rebate, refund, or even some surprise money found in an old pocket or purse. Anticipate an invitation to do something at the last minute. Let yourself relax, and go for it. As Mars moves into your sector of primal drives, you may notice yourself feeling anxious. Used correctly, you can channel the energy into creative endeavours and keep anxious energy away. Spend time baking, painting, building, or writing. Essentially, anything that lets you feel like you are producing something that is uniquely yours.
New Moon insight: Redefine relationships, and mend broken ones.
Libra (21 September — 20 October)
A conflict at home on Monday has the potential to set the tone for the rest of the week, Libra. You'll want to use your diplomatic charm to keep arguments at bay for a few days. At some point this week, you will be offered an unusual opportunity from a cousin, aunt, uncle, neighbour, or sibling-in-law. While they make a great case, it's probably not best to jump on the bandwagon with what they are selling. While we are on the topic of family, a surprise visit from someone may arrive at your home on Tuesday or Wednesday. Do your best to keep this visit as short as possible. The harsh square between Venus and Saturn isn't ideal for happy encounters. Some good news comes this weekend, as Mars moves into your sector of home and family. Here it gives you a boost to get things done around the house, and will likely help you get redecorating or home repairs under way.
New Moon insight: Your mind is at its peak, get reorganized.
Scorpio (21 October — 20 November)
Your mind is both focused and sharp this week, Scorpio. Much of the planets' energies are keeping you motivated to get not only business work, but personal work done as well. It's as if you have a one track mind, and it is to be productive. Monday could bring some financial confusion. Just go with the flow, and watch your bank accounts and billing statements carefully. You don't want to be accidentally overcharged. The rest of the week is filled with constant motion. While you may want to stay in and hide this week, it's not really possible. You're pulled from one end of town to the other while taking care of business. As Mars moves into your third house this weekend, your mental focus will shift into overdrive. Through most of the week you've been unable to sit still, and this weekend it will be your mind that cannot sit still. You'll want to watch your temper this weekend, as you'll be more easily agitated than usual. Over the weekend you may also be provided with the opportunity to share an idea or vision with someone in a position of power.
New Moon insight: Reinvent and nurture your romantic side.
Sagittarius (21 November — 20 December)
For most of this week, Sagittarius, you'll be spending time in your own little world. Both relaxation and rest take the lead, as you feel the urge to unwind. Taking a nap is more important than doing a load of laundry or the dishes. It's ok to slack off sometimes, and this week you should indulge yourself. For those of you who have children, you are likely to be handing out a loan or a larger allowance this week. Since you are giving into some indulgence, why not treat others to some as well? Where most of the zodiac is being given unusual opportunities this week, you're more likely to hear about others who have taken these opportunities from the comfort of your own blanket. The only opportunity you want to take is the one that involves comfort food and a good movie. Mars brings you the ability to earn and produce money starting this weekend, so there's no need to feel too bad about what you might spend. Just keep in mind that once Saturday comes, it'll be time to put your best foot forward and get back to work.
New Moon insights: Find out what makes you feel secure and spend time with family.
Capricorn (21 December —20 January)
It's time to shift your focus this week, Capricorn, from some of the more mundane and responsible areas of your life. The planets are asking you to slow down, and enjoy some time at home with your family. With your home featuring prominently, you may want to be on guard for heating or electrical issues. If you lose heat or power this week, don't panic. It will be a short lived annoyance. Resting up and spending time with others who are important to you will be important for the upcoming weeks. This is because Mars moving into your sign brings a powerhouse of drive, and along with it conflict. You'll notice you become a bit more assertive, easily agitated, and rather impatient. Mars in this position also indicates minor accidents, so you may be dealing with some scrapes, cuts, or bruises this weekend. Watch your step, take your time, and you should be fine.
New Moon insight: Initiate paperwork, fill out forms, and make phone calls.
Aquarius (21 January — 20 February)
There's no rest for the weary, Aquarius. It would be best not to plan on having too much down time, as an active week is headed your way. This is particularly evident socially, as you may be inundated with a flurry of invitations from friends, couples, and groups. If you need to RSVP, it would be best to wait 'til the weekend, so you have all your options and priorities in front of you. Tuesday brings some tense mental energy that may make it difficult for you to focus. Despite being independent, you may have to lean on someone for some support so you don't run yourself into the ground. Over the weekend, Mars moves into your twelfth house where it will get some much needed rest. This quiet placement allows both Mars and you to take a moment to breathe. Take the weekend to spend time with yourself and reflect not only on your goals, but how you plan on tackling the next month.
New Moon insight: Set financial goals while enjoying your favourite beverage
Pisces (21 February —20 March)
Sometimes knowing when to share an opinion, and when to keep it to yourself is a challenging task, Pisces. Personal values and opinions seem to bubble up early this week, and you may be inclined to share these with others. However, most people don't do well when they feel they are being preached to, and you'll want to keep yourself in check. Either Monday or Tuesday could bring the opportunity to ask for a raise at work. The stars are aligned for you to get an increase in salary. Don't be shy about it. You're both eloquent and able to express what you have done well in order to argue your case. This weekend's Mars changing signs will strike your eleventh house. This social placement expands your circle of friends, as well as your influence. It gives you the opportunity to take control and lead for a while.
New Moon insight: Get a haircut and rework your image.