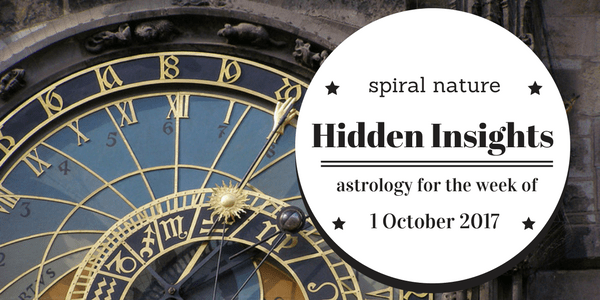 This week sees the continuation of a number of last week's astrological aspects. As we move towards the culminating Full Moon in bold Aries on Friday, 6 October 2017, there is massive opportunity (and requirement) for diplomacy. Hidden Insights has advice for a week where we must be willing to accept big, bold emotion as part of the deal.
Venus-Mars in Virgo will oppose Neptune in Pisces in the first part of this week, and also form a trine aspect to Pluto in Capricorn. When Venus and Mars finally meet for their exact conjunction (which happens to be on Friday, the day of the Full Moon in Aries) they'll have moved slightly further to be in a square aspect to Saturn in philosophical Sagittarius.
Venus-Mars is the drive to manifest what we find beautiful. In Virgo, the beauty is in the details. Virgo has perfectionist tendencies, which can be challenging to reconcile during the often-messy process of birthing creativity.
The involvement of Neptune, Pluto, and Saturn reflects a deep, unsettling edginess to our experiences. They bring uncertainty, doubt, and fear in the mix. We must lean in and be open to this intensity if we truly want to get ahead. This is not the time to play it safe.
Adding to this sentiment is Jupiter-Uranus opposition in Libra-Aries that is exact all week. We're reaching a point where radical new philosophies suddenly ripen and make themselves directly accessible. This is also a potent symbol of psychological shake-up and breakthrough in relationships of all kinds.
Here's a look at what's coming up for your sign this week:
Aries (21 March — 19 April)
The Full Moon in your sign indicates that this could be a highly energizing week for you, Aries. However, you may need to apply a little additional effort to build some initial momentum. It's perfectly fine for you to take time to strategically consider your plans before you move ahead. Just remember that, at some point, you'll have to bust out of planning mode and actually start taking some action.
Your Full Moon ritual gets the ball rolling.
Taurus (20 April — 20 May)
The hectic energy of this week could easily leave you feeling frazzled, dear Taurus. There's so much that's competing for your attention. Accept that you're not going to immediately master everything you turn your hand to, and that you may need to just sit back at certain points and allow the chaos of life to do its thing around you. If you can do this, then you're a lot less likely to struggle.
Your secret weapon is: Surrender.
Gemini (21 May — 20 June)
This week is all about keeping an eye on your why, Gemini. The Full Moon in Aries offers a chance to liberate some creative energy. The more connected you are with a sense of purpose, the more valuable this process will ultimately be. You may insist that you're confused about the what or how or why when it comes to picking your creative battles, but are you really? Try not to over-complicate matters.
Your Full Moon ritual fosters clear thinking.
Cancer (21 June — 22 July)
This is an ideal time to address any self-deception that you're currently indulging in, Cancer. The Full Moon in Aries indicates a time where both career and home matters are highlighted, and other factors point to the fact that there may be someone undermining your best intentions in either of these areas. Is it you? If you're not giving either of these important areas of life the attention and care they deserve, then it may very well be.
Your Full Moon ritual gets your actions in line with your intent.
Leo (23 July — 22 August)
The opportunities are there, but you'll need to be persistent, Leo. Venus-Mars in Virgo could have you feeling slightly edgy in regards to issues around finances. And the truth is that your current situation does contain a significant amount of uncertainty and risk. More than ever, you must be willing to show faith in yourself as well as the process. Keep picking yourself up and dusting yourself off if need be.
Your secret weapon is: Endurance.
Virgo (23 August — 22 September)
The Venus-Mars conjunction in your sign shows you're connected to your muse, dear Virgo. Here's your opportunity to tap into some deep reserves of creative energy and put it into practice. You won't want to rush in, which is wise. At the same time, a desire to get it right that holds you back could ultimately be more disempowering. Once you find that sweet spot, you'll have no reason to look back.
Your Full Moon ritual creates momentum.
Libra (23 September — 22  October)
The Full Moon in Aries brings any outstanding issues of give-and-take into stark relief, Libra. Although it may be awkward, the best approach is to address the matter directly. It may not necessarily require any highly-charged confrontation, but it is likely that your skill in diplomacy will be tested. While it may be tough, sorting this out will have long-term benefits for everyone involved.
Your Full Moon ritual banishes resentment.
Scorpio (23 October — 21 November)
You've made serious headway on some major goals this year, Scorpio. It's now time to perform an assessment on this. The goalposts often shift in life, so it's important to check in every now and again, so that we know where they are and we're not just blindly forging ahead. You can expect that you might end up more confused before clarity is achieved.
Your patronus knows where they're going.
Sagittarius (22 November — 22 December)
All the ongoing action in Virgo has been emphasizing work and career matters, Sagittarius. While it's excellent news that you're energized in that area, it looks as though either other key areas of life may be experiencing neglect, or that something may happen that requires you to suddenly shift your focus. Get ahead of the curve by paying just a little extra attention to matters of the heart and home this week.
Your secret weapon is: Attentiveness.
Capricorn (22 December — 19 January)
You can achieve something like fulfillment this week, dear Capricorn. The Full Moon in Aries puts the spotlight on home and career issues. The Venus-Mars conjunction in Virgo indicates that you're experiencing refinement both in the quality of your mundane thoughts and overarching philosophies. Part of the reason you'll be feeling good is that you'll experience the direct benefits of practising what you preach.
Your Full Moon ritual commits you to the process.
Aquarius (20 January — 18 February)
A lack of clarity in regards to your goals is no longer a reasonable excuse not to move ahead, Aquarius. The Full Moon in Aries promises that you'll achieve some kind of breakthrough in communication, which could assist you in terms of understanding your own motivations. This higher-level awareness will be enough to navigate you through the current chaos. So will the reminder that times of transition are supposed to look like this.
Your Full Moon ritual elevates your perspective.
Pisces (19 February — 20 March)
This is a week of controlled chaos, Pisces. Unavoidable change is all around you, and although you may consciously be willing to surrender to it, the Venus-Mars conjunction in Virgo reflects there may be an attempt to tightly control this experience. If you suspect that you're avoiding fear by obsessing over details, then it might be time to at least admit to someone you trust that you're more than a little rattled.
Your secret weapon is: Vulnerability.