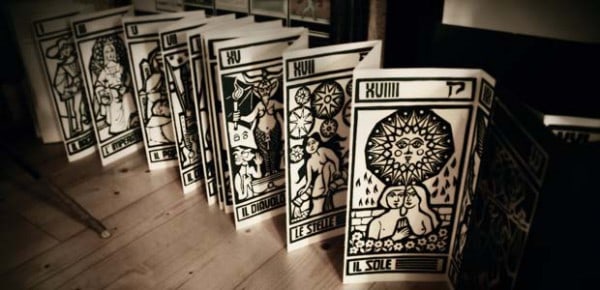 In September 2014, I had the opportunity to visit the Museo Dei Tarocchi (Tarot Museum) in Bologna Italy.
Nestled in the mountains of Riola stands a beautiful 400-year-old building restored by Morena Poltronieri and Ernesto Fazoli. The museum is filled with treasures including original esoteric artwork contributed by Italian and international artists, a plethora of tarot decks old and new, rare and unusual texts, mini art installations, and a gift shop to purchase decks made by local artists.
Morena Poltronieri taught me about the history of tarot in Italy, while guiding me along on an informative tour throughout the museum. Tarot artifacts filled the room, from the bottom to the top; an esoteric enthusiasts dream.
The tour ended in the gift shop where books, art, and decks made by local artists were sold. I purchased a special deck called I Tarocchi di Bologna, made by Mariaritta Frazzoni, whose art graced the interiors of the museum. This was a great treat to complete my adventures in northern Italy.
For more information about the museum and to book your tour visit museodeitarocchi.net.