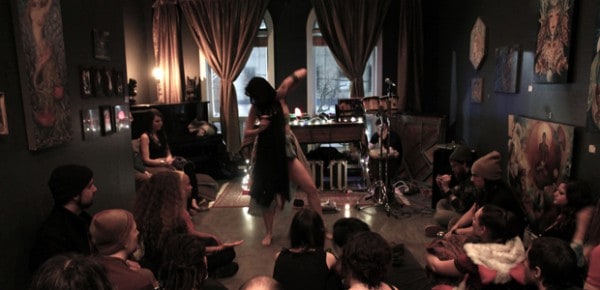 Occulture is alive and well in Toronto.
On Friday, January 23, 2015 I had the pleasure of being invited to Mystic Arts Collective's inaugural arts exhibit, A Midwinter Night's Dream, organized by Stacie Noel and Ilyse Krivel. The event featured photography, painting, music, and live performances inspired by the mystic realms.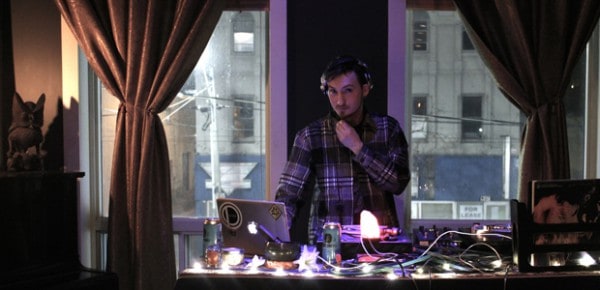 My evening began with a climb up the dark narrow stairs to the intimate venue. The event was held in downtown Toronto in a studio named Ratio. Ratio's dark ambience and trip hop tracks by Fritz the Cat set the mood. There was a feeling of creative sanctuary, a place for like-minds to congregate during the waxing moon. The relaxing atmosphere would soon give way to the buzz of chatter as the doors opened for the public.
I spent my time appreciating the beautiful art on display and had my palm read by Kaia Jai. I had only had my palm read once before and my previous experience had left me skeptical, but Kaia Jai's approach was completely different. She took the time to get to know me and to ask what I wanted to learn, rather than just looking at my hand and giving me vague predictions. She was positive and compassionate. Afterwards, I felt as if I had more direction in the aspects of my life she had advised me in and I'm glad I gave palm reading another chance.
As the clusters of spectators flowed in, I had the chance to mingle with some of the contributors. Lady Viktoria's work evoked the writer in me. It seemed all of her paintings were overflowing with symbolism and demanded that their stories be told. Her style was one that was best appreciated up close with so many intricate details and hidden symbols. Her style translated well into all mediums, but I most preferred the softness of her oil paintings. She was also selling prints of her work, sparing no expense to keep the original details intact.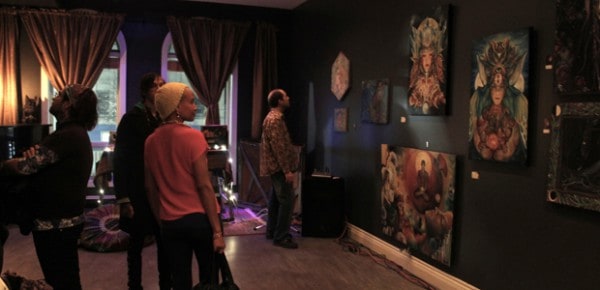 Cornelia Dudli's oil paintings were breathtaking. Their symmetrical design pleased my OCD and their higher-self topic matter inspired my spiritual side. Dudli's style was organic and fluid, like visions in a dream. Her use of colour and shape were outstanding. My favourite work was her most recent, The Flight of Wisdom. It depicts a woman face wearing a crown of crystals; her expression regal and her neck covered with feathers that transition into the portrait of an owl. The use of moons, dream catchers and dark colours suggest the feeling of a futuristic vision quest.
Ilyse Krivel's occult photography imposed on wooden blocks was intriguing. The haunting images were akin to vintage photographs of ghosts. Each dark, grainy scene invited viewers in to take a closer look, almost waiting to see if the subject would fade away. The most memorable pieces were the shots of ethereal models looking away from the camera, as if they were not the photographer's intended subject matter, but simply passing through the veil. The audience seemed utterly perplexed as to how she transferred the photos onto wood and it sparked quiet debate. During our brief conversation, even I did not find out the secret to the technique.
Stacie Noel is not only a great performer, but also a talented photographer. Her esoteric photos were on display, a collection of cinematic snapshots that transcended reality. When put together, to me they told the story of a séance. Perhaps a group of girls visiting a Romani witch to speak to the dead or cast a spell. My favourite shot was of the artist herself, inspired by Hindu deities. It was humbling to be in the company of such talented artists.
The night was formally kicked off by a brief opening ceremony by Cassandra Wittemen. She quickly transformed the art show into another-worldly experience. In full costume, a vibrant combination of scarves and face paint, she brought us together with the sound of a Tibetan singing bowl. Her performance was full of raw energy, taking us to the most basic human experience with the divine. Wittemen's unabashed chanting and dancing raised the energy and set the stage for Noel's tribal fusion belly dancing.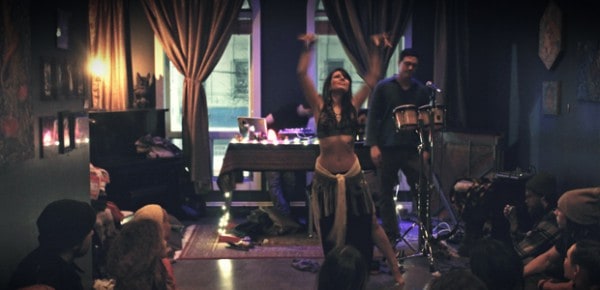 Noel's talent blew me away. She entranced the entire audience by flowing perfectly in time with the music. Each one of her poses and gestures were perfectly in tune with the electric energy that connected everyone in the venue, their focus unwavering.
The music was a mix of digital and traditional, featuring live percussion by Kevin Howe. The sound of the drums resonated deeply, complimented with the light jingling of Noel's embellished costume. The venue literally shook with the beat — art started jumping off of the walls — and the audience was left in silent awe before breaking out in a cheer that easily overpowered the sound system.
I finished off my night with Braja Cole who gave me a crash course in his experience as a beekeeper in northern Ontario — I had no idea how much trouble bees could get into! Between getting eating by skunks and having to defend their hives from ants, it's amazing they even have time to make honey. Cole's stories opened my eyes and now I say a little thank you every morning before putting a spoonful of honey into my tea.
I was overjoyed by the fantastic turn out. It amazed me that the occult can bring so many different people together in one place. Living a Pagan lifestyle is different for every one of us and witnessing those perspectives through art, dance, music, and storytelling is truly inspiring.
When speaking to Stacie Noel, she said there were plans to organize bi-monthly Mystic Art Collective events. Join the Mystic Arts Collective's Facebook group for more.
Event photos provided by Stacie Noel.