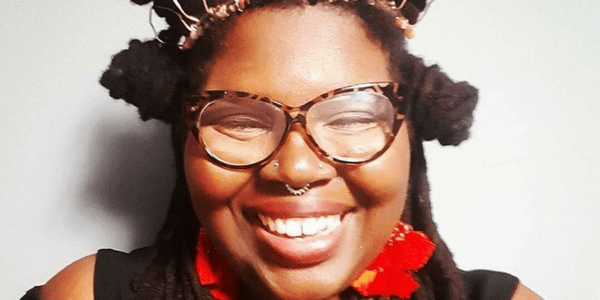 Even though you may not know Courtney Alexander by name, if you're involved in the tarot world, then you've likely heard about her groundbreaking deck, Dust II Onyx: A Melanated Tarot (DIIO). The artist single-handedly set out to conquer the lack of diversity in the tarot world with a deck that focuses on Black folx, and through crowdfunding, brought it to life, shattering all expectations with a gorgeously crafted and packaged deck.
Alexander has a beautiful smile and proud, friendly personality that comes out while she's speaking. Although she is not the first to have used Kickstarter to fund her tarot creation, she is the first to do so as a Black woman in the service of creating a deck that speaks to the Black experience. This is her primary reasoning behind DIIO. "None of the decks that feature Black people are made by Black people. They lack the nuance of the Black experience."
This was troubling to Alexander, and many Black taroists. As we spoke, Alexander brought attention to many of the decks that were currently on the market that focused on Black people such as the African American Tarot or Black Power Tarot.
It wasn't just their creators that concerned Alexander; however, as we spoke, she laid out the reality of the tarot landscape when it came to cards featuring Black people. The decks of the past often focused on African culture and history, as is the case with the African American Tarot. Although it says "American," the deck features images that speak more to Africa then they do to the Black diasporic reality. The second, and perhaps more frustrating, issue was that many decks were out of print and hard to obtain.
Alexander had very specific thoughts on this. "So many times we [people of colour] are seen as a novelty," she said, "not a staple." It's not hard to see which decks stay in constant supply, always available versus how long a deck that is specific to certain groups of people stays in rotation. And even the decks that are available, she points out, fail to capture the spirit of the varied African American culture.
So she set out to make her own.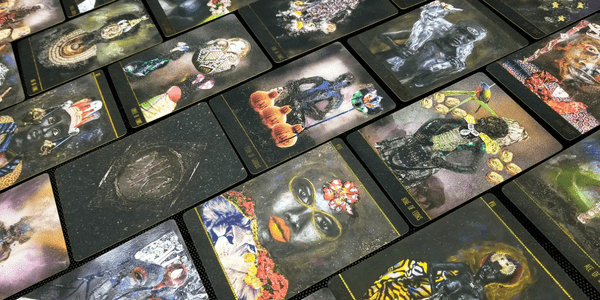 The inspiration came, as most spiritual inspiration is wont to do, from a dream, but Alexander is quick to add that the real day-to-day work on the deck was done intuitively. She began with the Death card. There are no people on the card, and she thought it would be the simplest place to start with this huge project. It also aligned with what she was going through in her own life, a time of transformation where her future was uncertain.
Much of the work felt lead by a force outside of herself, and although she did have inspiration through various streams, folklore, history, and even the beauty and majesty of Grace Jones, there was something else there that guided her hand in the creation of the art.
The complex and dark art was very intentional. The black on black colour was a way to confront colourism, an issue in Black communities. It was also a way to call out the idea of "white as light and right" that is so prevalent, not only in art, but in the magick landscape. As she explains, it is constant that we are fed images of things like angels and gods that appear from a beam of light. We talk about white and black magick as shorthand for good and evil. She wants her deck to subvert that false dichotomy, and draw it into question for many people. There is such power and beauty in the "dark" throughout the universe, and DIIO is meant to draw attention to that.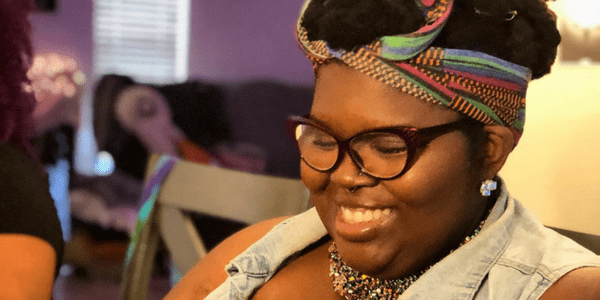 Alexander's own spiritual journey is evident in the making of the deck. She acknowledges her own history in the Christian church, as well as how moving away from that tradition lead her to find her own spiritual path, and the creation of the deck. The church, Alexander points out, is an important part of Black history and we, as a people, have a tie to that religion historically and even today. In the guidebook you can find some call backs to the church, but make no mistake, this deck pulls in beliefs and practices from all parts of the diaspora.
This is clearly meant to be a deck that is for the people and capture the totality of the Black diasporic reality. Alexander wanted everyone to be represented including those coming from a queer background. If her first printing was any indication, it has been well received. The first edition of the deck sold out days after its release, and multiple fans filmed their unboxing, as well as their reaction to working with the cards.
The deck itself is lush. The cards are heavy with gilded edges. The deck is nestled inside of a holographic box and topped with a hardcover guidebook that outlines the card meanings as well as spreads. It's rare to get a deck this detailed from a mass market publisher, and Alexander won't be handing her work over to one. DIIO will remain an independent project to avoid issues with exploitation.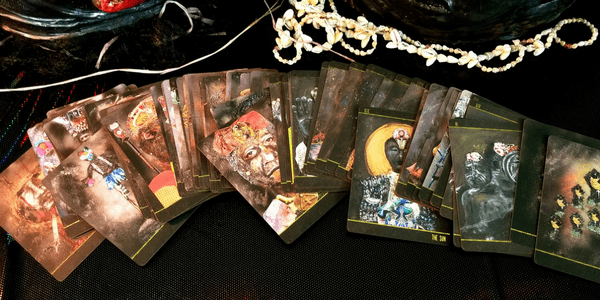 To Alexander, it is important to remain in control of her work. She wants to ensure that the vision for this deck is kept and that it remain accessible to the population. Going forward, she is working on opening her own publishing firm, named Black and Sage, to help other creators bring their healing and supportive projects to their communities. She hopes to provide a service to other marginalized people in order for them to achieve the success that she has with DIIO.
Currently the deck is gearing up for its second printing. The second edition will be slightly different from the first. There are improvements on the book, a smaller book to travel with, and an additional card. It is available for preorder through her website until 23 March 2018.