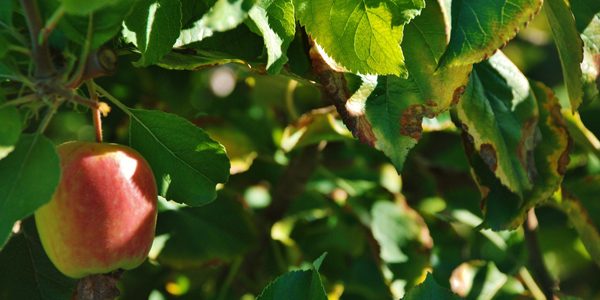 Crisp autumn air, rustling leaves underfoot, light sweaters, the first apples — Mabon (the autumnal equinox) is a harbinger of winter after the heat of summer (in the northern hemisphere). It is called the Witches' Thanksgiving because, as the second of the harvest sabbats, we continue to gather fruits and vegetables, perhaps putting some up to keep, and giving our thanks to the Earth for providing enough food for the colder months to come.
The cooler days lend themselves to afternoons spent turning some of those foodstuffs and leaves into craft items for our holiday celebration. An absolutely adorable Kitchen Witch made out of a gourd is my personal favourite; keep her beside you for a touch of whimsy as you prepare your feast, or place on the front porch if you're eager to welcome Hallowe'en in a little early. Make Flint corn necklaces and decoupaged leaf rocks with the kids, and prepare masks for all your sabbat guests to wear in ritual. And for a word on wildcrafting etiquette, watch this five-minute video primer by My Witchyside.
Enjoy!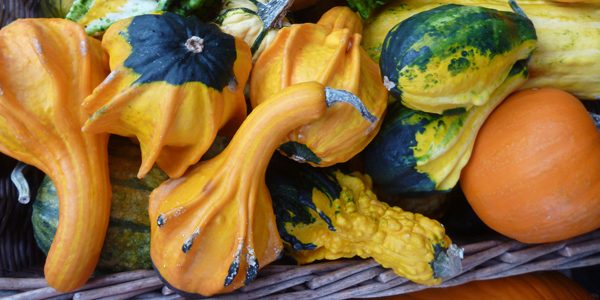 Kitchen Witch
As adapted from About.com
What's needed:
A small smooth fall gourd or vegetable, like a baby butternut squash or pumpkin
Black acrylic paint
One thick black chenille stem
Small witch hat and broom
How to make it:
Wash and dry the gourd. If it doesn't stand perfectly flat, cut the bottom evenly and cover it with a small piece of clear cling wrap.
Using the black paint, paint eyes, nose and mouth in desired place on gourd. You could also get creative in how to make-up your kitchen witch, adding googly eyes, more pipe cleaners, or other bits that can be easily stuck on to the gourd (think Mrs. Potato Head gone Pagan).
For the arms, cut the chenille stem in half and stick each piece into opposite sides of the gourd.
Decorate with witch hat and broom.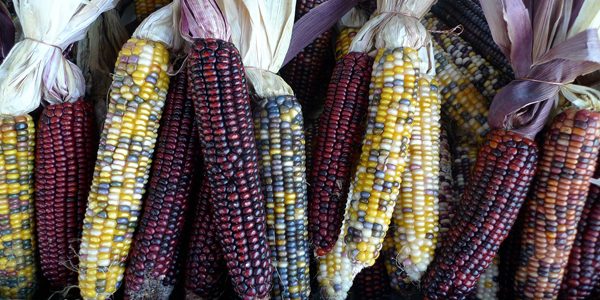 Flint Corn Necklace
As adapted from The Magic Onion.
What's needed:
Some ears of flint corn (also known as "Indian" corn)
Bowl
Needle and strong thread
Wooden board
How to make it:
Shuck the corn kernels into a bowl, add water to cover and let sit for a day or two till they are soft.
Thread the needle and holding a kernel against the wooden board, thread the needle through it. Repeat with each kernel until the necklace is desired length.
Tie the two ends together and wear to your next Mabon feast.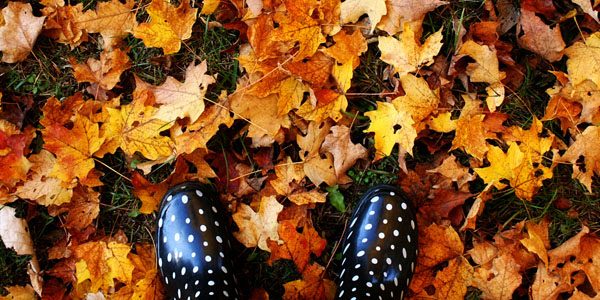 Decoupaged Leaf Rocks
As seen on Pinterest.
What's needed:
Flat or slightly rounded rocks of various sizes and colors.
Red, orange and brown leaves, not yet brittle, smaller than collected rocks
Decoupage glue
How to make it:
Wash each rock with soapy water, removing all dirt. Let dry overnight.
Choose a leaf smaller than the surface of the rock and lay it over the rock at different angles till you find one you like.
Place a layer of glue on the rock, then lay the leaf down where you want it, smoothing out any wrinkles. Make sure it's correct because you won't be able to move it once you do this.
Brush the glue over the leaf and onto the surface of the rock, completely covering it.
Let dry overnight.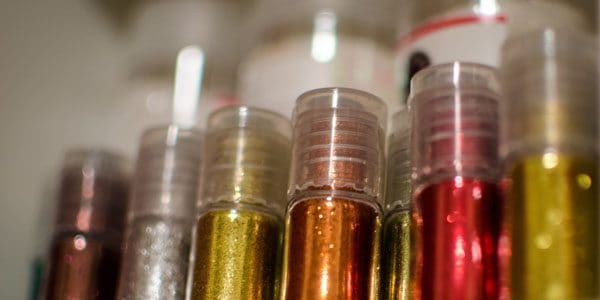 Mabon Leaf Mask
Project by Susan Starr.
What's needed:
A plain party store face mask
An assortment of red, orange, or brown leaves in various sizes and shapes
Glitter, rhinestones, feathers, and other embellishments of your choice, if desired
Hot glue gun
How to make it:
Decide on the design of your mask. Larger leaves such as maple are suitable for the sides, while smaller leaves can decorate the nose and interior. The leaves should radiate out away from the eyes of the mask.
Once you have a design you like, starting from the nose, glue the leaves to the mask using the glue gun. Lay the first leaf, then layer another leaf over the edge of the first and glue them together. Make sure not to cover the openings for the eyes and make sure all parts of the mask base are covered with leaves.
Continue layering leaves on one side of the mask outward toward the side, repeating step 2 till you reach the end.
Continue with the other side, starting at the nose and working outward.
Let the mask dry overnight. Decorate with embellishments, if desired.
Do you have any favourite Mabon crafts you've tried? If you craft one of these, let us know in the comments, or tag us @SpiralNature in a photo on Instagram or Twitter. We'd love to see your seasonal flair!
Image credits: Daniel R. Blume, Rebecca Siegel, Lori L. Stalteri, Leigh Ann, and m01229