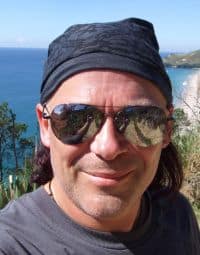 I'm sorry to report that Dr Dave Evans (1962-2013) passed away in August.
Dave was both a scholar and a practitioner of the occult, and was a founding editor of The Journal for the Academic Study of Magic, co-editor of Ten Years of Triumph of the Moon (with Dave Green).
He was also the author of The History of British Magick After Crowley, Aleister Crowley and the 20th Century Synthesis of Magick, and pseudonymously, writing as Francis Breakspear, author of Kaostar! and If It Was Easy, Everyone Would Be Doing It!
Dave was also a contributor to both Spiral Nature and Plutonica.net, and a good friend. He will be missed.
Be in peace now, Dave, and thanks for all you were and all you've done.