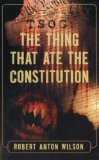 TSOG: The Thing That Ate the Constitution
, by Robert Anton Wilson
New Falcon Publications, 1561841692, 216 (+8) pp., 2002
Tsarist Occupational Government, or TSOG, is Wilson's term for the take-over Bush Co. has assumed over the United States of America with a Tsarist-style dictatorship, however he does note the basically interchangeable nature of 'Bore and Gush'.
Wilson opens with a touching and maddening description of the state of his body thanks to post-polio syndrome and the current TSOG in America, though his mind remains as sharp as ever. He comments on the inhumane intervention of the federal government regarding the only thing that relives his otherwise constant pain: marijuana; the state of California having already declared it legal for medicinal use, and the direct effects on the condition of his health as a result of their illegal ruling.
Wilson covers his usual range of fascinating, slightly off-beat topics , ranging from conspiracy theories, the Satanic Panic of the 1980s, religion, marijuana and the war on some drugs, and furthers his philosophy of 'Maybe Logic' (a brilliant DVD of the same name was (finally!) released in the summer of 2003 – see Robert Anton Wilson – Maybe Logic
).
Interspersed are also clever line drawings by the author, poignant, satirical, and yet another reminder that Wilson is talented in so many respects. The bits of visual art that pepper his work are rarely mentioned, but in my opinion they should to be: he's pretty damn good.
However, TSOG doesn't seem to contain the usual amount of personal stories and accounts usually found in many of the previous RAW books that made them so cleverly inspiring and entertaining. Or perhaps it is that TSOG is mostly comprised of quotations, news articles, statistics and other bits gathered from websites and outside sources rather than purely written (or typed as the case may be) in his own hand.
Yet, as always, Wilson continues to provide the reader with intelligent thought and inspire delineations off toward the beaten path. Though TSOG doesn't compare as favourably with his previous works, die hard fans will likely enjoy it anyway.