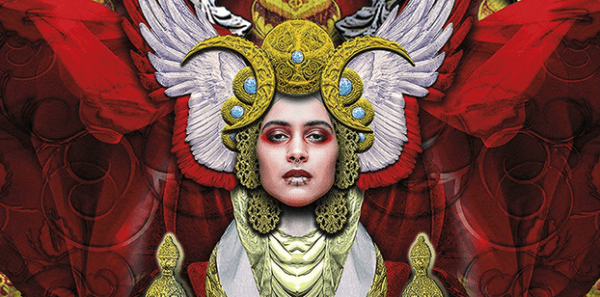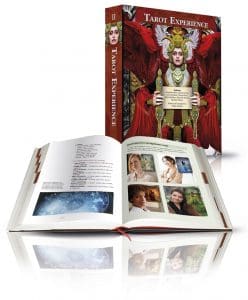 Tarot Experience, edited by Sasha Graham
Lo Scarabeo, 9780738752723, 640 pp., 2017
Tarot Experience is the follow up to Tarot Fundamentals and the second book in the Tarot Encyclopedia project from Lo Scarabeo, edited by Sasha Graham. From the first book to the second, the company has managed to build upon the foundations they created for a unique text on the tarot.
I reviewed Tarot Fundamentals as part of my comparative review, published earlier this year.1 Tarot Experience is being reviewed alone, in part because there really isn't another current book on tarot like it. It's clear from the very beginning that this is not a book for people who are brand new to tarot. In fact, there is a very limited discussion of individual card meanings as the standard 78 meanings were covered in depth in the first book.
One of the best things about this text is that it wastes no time in reviewing what the previous book went over. Every page of this book is brand new information. It does not rehash "new to tarot" topics, and instead dives into support for readers who have a solid foundation and are looking to move into expanding their readings.
The first part of this text deals very briefly with how one might use the tarot. Some examples given are self-discovery and magick. This is a fairly short section and is primarily a set up for the much larger, following section on how spreads can be used differently.
One of my quibbles about the last book was the lack of information on spreads, as Tarot Fundamentals only contained a few very basic options. Little did I know that they were saving the best for the next book. Two hundred or so pages out of more than 600 are completely devoted to working with different spread types and their uses.
There are spreads for straight divination, self-discovery, guidance, healing, and so on. Each spread has a box that indicates how long it will take, the number of cards used, and whether or not it calls for an entire deck. Each is also given an illustration — using sample cards — of how the spreads are supposed to be laid out.
I like the use of sample cards, as opposed to blank boxes as is found in older tarot books (which happen to be treasure troves of unique spreads and methods!) because it offers a quick idea of how one would read such a spread if you are not in a place where you can lay out a few cards. I used the sample images in the book to test the spreads with my reading style and gauge if I wanted to give the spread a real try or not. This little hack may not work for everyone, as various decks are used to illustrate things throughout the book, and some images may be off putting for different readers.
I was happy to see all the information on spreads, but where this book really struck me was with the wealth of information about reading for others. Many tarot texts gloss over this aspect and give small pointers, like "be brave," and "just tell the querent what you see!" Tarot Experience takes reading for clients to the next level.
The book spends the bulk of its text discussing the issues that can arise when reading for people. It covers ethical issues such as "faking" readings or making promises with the tarot, such as, "I promise you that the cards say you will make a million dollars this year." But more than that, it dives into the role tarot readers can play in people's lives.
Most books don't deal with the different type of readers that are out there. There are people who read at parties, and some that have regular clientele, and everything between.2 The text gives space to all types of readers and makes suggestions for them to continue to grow and expand as they continue their journey with tarot.
It also discusses how to handle the various issues that may come up with clients such as those times when you're reading for someone who's had a few too many drinks  — which is pretty common if you read at parties — to a client who is too dependent on your readings and won't make a decision without having the cards read first, no matter how small. This section of the book is actually very practical and much needed in the tarot world.
Although it does not spend much time discussing the cards themselves, there are a few moments when the book offers some guidance at an advanced level. The text assumes that the person reading it has moved from the 78 meanings to a more intuitive style by this point in their practice, or at least is moving towards one, and as such there is a small section devoted to "Thematic Advanced Readings."
This section devotes a page per card to how they can be seen in different aspects of our lives. It was an interesting section to breeze through. Unlike other parts of the book, this section is formatted more like a chart or reference section.
The final part of the book contains the bonus content, which is essays from people in the tarot community, including a piece from Mary K. Greer, one of the most well-known tarot masters living today. Of all the included essays, hers was probably the most immediately useful, as it discussed a new technique for reading the cards.
The other bonus pieces are more introspective and may give people perspective on their journey with the cards, but I didn't find them quite as useful as the ones included in the first book.
Overall, the book is very clearly written. It is easy to follow and the tone is enjoyable and friendly throughout. One issue I did have with this book is that towards the second half I began to notice a number of typos. Usually I wouldn't mention something like this; in such a large book you expect to see some, we're all human after all! However, there were many noticeable ones. Still, even with that said, the content of this book is great and grammatical errors do not detract from that.
Tarot Experience is a different type of tarot book. It is not really about the cards so much as it is about the readers and the querent or, to put it simply, the people who use the cards. I think this book is an excellent addition to the intermediate or master's library, especially if you read for others.
Save
Save
Save
Save
Save
Check out what Donyae thought about Tarot Fundamentals. [↩]
See more of Donyae's thoughts in "Reading tarot professionally at parties and events," and "Tarot reading online: Making a digital connection." [↩]