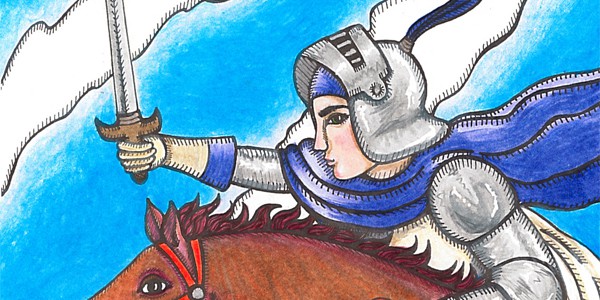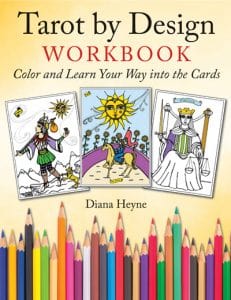 Tarot by Design Workbook: Color and Learn Your Way into the Cards, by Diana Heyne
Weiser Books, 9781578636075, unpaginated, 2017
I have a lot of admiration for the artists and illustrators who have the dedication and creativity to produce a full tarot deck. I've dabbled in illustration since I was a kid, but I don't have the skill or stamina to create a full deck myself. That's part of the beauty of the Tarot by Design Workbook by Diana Heyne. Not only is it a great tool for learning about tarot, but once you work your way through it, you'll have (sort of) created an original deck. Or at least added your own flavour to the traditional Rider-Waite-Smith imagery.
The book's format allows each card a two-page spread. On the right-most page is the illustration of the cards themselves, while the left-hand page offers a decorative frame around a generous amount of space for you to make your own notes about the corresponding card. Each frame is cleverly designed to incorporate the name of its card, some visual elements associated with it, and key words for the card in upright and reversed positions.
Apart from a two-page introduction at the front of the workbook, these keywords are all that are offered to help you understand and interpret the cards' meanings. I don't mind that — this is a workbook after all, and it encourages colourists to flex their intuition and develop their own relationships with the cards as they work through the book. That said, while in some regards Tarot by Design is a fun option for artistically-inclined tarot newcomers, it doesn't entirely replace the need for a solid tarot reference book or two.1
The style of the illustrations is bold, utilizing fairly heavy line work and some hatching to suggest shadows. I quite like it; it reminds me of stylized woodcut prints you'd find in old books, but I suspect it will be hit or miss with some. One of the biggest selling points for me is that the images are relatively simple, and they look good with a combination of flat colour and shading. I own a couple other adult colouring books, and although they're beautiful, they are also very intricately detailed. I don't think I've completely finished colouring an entire picture in either of them yet! It may be a consequence of my preferred colouring style, which involves a lot of time spent shading and blending tones, but in the past I've tended to run out of steam on a picture after a handful of sittings' work. That wasn't a pitfall I ran into with Tarot By Design, since I happily finished three illustrations and am excited to tackle more.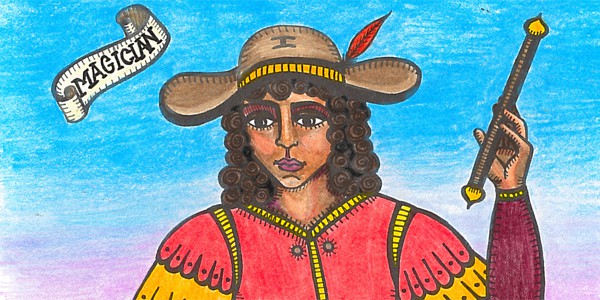 Perhaps here I should pause and say that I colour primarily with my old set of prismacolour pencil crayons, and only go in at the end with white, gold and silver gel pens to add some extra "pop." For how I work, I found the paper quality thick and sturdy enough — it stood up very well to a couple fits of erasing when I couldn't find a background colour I was happy with for the Two of Cups. I don't think it would be a great fit, however, for those who prefer to colour with markers. Since there are images printed on both sides of a given page, I'd worry about ink from colouring a tarot image bleeding through to the notes portion for the next card or vice-versa. Unfortunately, there's no real way to prevent that from happening and it's the only real downside I think the book has.
Overall, I really enjoyed working with the Tarot by Design Workbook and think Diana Heyne has done a good job creating an engaging, interactive, ready-to-use tarot journal. It may be a bit too basic for experienced tarot users, unless they're diehard colourists, but since you're able to make your own notes, it really is what you make of it by the end.
For a beginner or intermediate tarot enthusiasts, who also have some artistic flair, I think it could make a great gift! The only caveat I'd add is that, while none of the images are too overtly frightening, they do draw heavily from RWS, and so there is some mild nudity in the usual places. Depending on your parenting style and personal preferences, it may not be the best option for very young children, but it could offer a teen or mature pre-teen a fun introduction to the tarot, and a useful teaching tool to work through with them.
If you're looking for some basic tarot resources, check out "Tarot Basics," a collection of Spiral Nature's best articles for tarot newcomers. [↩]