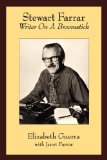 Stewart Farrar: Writer On A Broomstick, The Biography of Stewart Farrar
, by Elizabeth Guerra
RJ Stewart Books, 9780979140273, 227 pp., 2008
I have, over the past several years, bemoaned the fact that there has been a steady erosion of knowledge about the inner thoughts and attitudes of those people most influential in the Pagan movement in the earlier days of the twentieth century. Many of them have entered the Summerland and left us no records. Others are known only by their public writings.
Ms. Guerra has undertaken the gargantuan task of chronicling the life of a very influential, very well respected, and yet very private man. She is owed a large debt of gratitude for doing so.
This is not a biography of Stewart Farrar – Witch. It is a biography of Stewart Farrar – The Complete Man. Too often, in today's world, a personal life is divided into segments – childhood (which unless remarkable in and of itself is generally passed over quickly), personal (where all the "juicy" bits are), and professional – as though there are impenetrable barriers between each of these. In fact, they flow into one another and affect each other. To know the individual you must know about all of these phases.
This book is a carefully crafted (if you will pardon the word play) telling of the entire life of a journalist, and man, who contributed much to the world of Wicca. It is not a pretty story. Stewart had his shortcomings, as do we all. No attempt is made to hide or disguise them.
None of us live our lives in isolation. We exist in relation to others, so this is also a story of those who Stewart loved and who loved him. This is not an idealized story. Stewart is shown, warts and all.
To be honest, I wasn't sure what to expect when I received this book. I have reviewed many books from smaller publishers and have come to expect many minor problems in their productions. Such problems were largely non-existent with this book.
Ms. Guerra faced a daunting task in trying to make Stewart's life story accessible in anything less than a massive tome. He was many things and entire books could be devoted to his work as a journalist, a free-lance writer, and an extremely influential Witch and Priest. Yet she has managed to distill all of that into an extremely readable book whose size is not at all intimidating.
There are many individuals in the Craft today who found their way "home" because of the work of Stewart. Even more have been inspired by his writings to create their own rituals and poetry. For those people and for future generations of Crafters, this book is a must-read.
The remembrances and unpublished writings at the end of the book are an added bonus in my opinion. They show the effect Stewart had on a generation (or more) of practitioners and can inspire another generation (or more) to come. They show that although he took his calling seriously, he still remembered how to have fun along the way – something we can all stand to be reminded of once in a while.
This book is well-written and a fitting tribute to an extraordinary gentleman in all his many undertakings. I strongly recommend it.