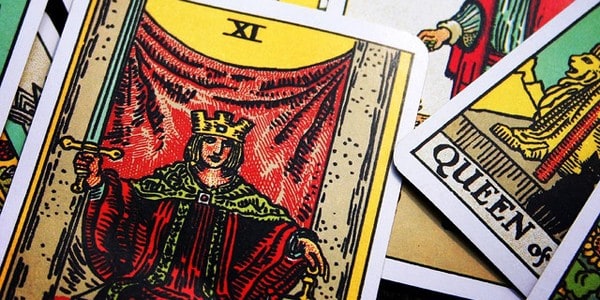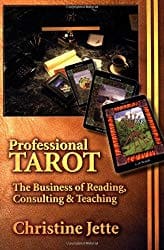 Professional Tarot: The Business of Reading, Consulting and Teaching, by Christine Jette
Llewellyn Worldwide, 073870217X, 215 pp. (incl. appendices, notes, bibliography and index), 2004
This is not a traditional tarot book, filled with myths and legends of its origin, and formulaic responses to the cards. Far better! Professional Tarot is exactly what it says it is: a book directed at those interested in pursuing tarot reading as a career. It details how to make money with the cards.
Right from the beginning, Christine Jette dispels a few common myths about entrepreneurship, and sensibly advises that one examine one's motives for going into business with tarot. She gets right into the nitty-gritty of it, from business policies to legal and tax issues; advertising; website considerations; telephone readings and appropriate etiquette; what to charge and how to ask for it; the positive and negative aspects of accepting credit cards, cheques, cash or e-cash — there's even a section dedicated to closing or selling a tarot business. Aside from running a tarot consulting business, there's also a section dedicated to preparing and teaching a class on tarot, and sensible advice on finding a good teacher.
Jette also discusses in a matter of fact way the obstacles and changes one may find within oneself, and how it could affect friends and family life. She offers a few suggestions for getting through and overcoming tarot plateaus, periods when you don't feel a connection to the cards.
While not really geared for part-time or hobbyist readers, Professional Tarot is an excellent start for anyone considering starting a full-time tarot business, and I highly recommend it.