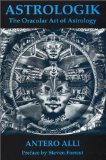 Astrologik: The Oracular Art of Astrology
, by Antero Alli
Vertical Pool, 0965734110, 1990, 1999, 216 pp.
I admit I do not know much about astrology, but after reading this book I certainly have a much better appreciation of its nuances. Even Alli says he doesn't 'know if [he] believes in astrology yet it works', further stating that 'it seems to work better for some people than for others…' (pg 6). Astrologik is a step in the right direction
Alli describes astrology as 'a human language articulating the psyche's interactions with living forces of nature'1. He guides the reader through one's chart and helps to decode its meaning in a way that actually seems to makes sense, with updated language to fit our current model of consensus reality. Of the terms he replaces he says 'I don't assume these changes will change astrology, certainly not in any significant or relevant way. I use them for their effectiveness in interpreting astrology charts with more imagination and an eye to the liberation of others to make their own choices and govern themselves'.2 With this approach, he encourages the reader to think 'in terms of "tendencies", rather than answers and absolutes', explaining that this allows us to 'nurture imagination, creative thinking and speculation; valuable tools when tracking the unpredictable forces and chaotic tendencies of our real lives' (pg 8).
Alli speaks clearly and candidly about astrology in a way that's refreshingly open. I've found many other astrology books to be either overly daunting or ridiculously silly, yet Astrologik is written in a clear, concise style that will lead to tangible results. It's an excellent primer, highly recommended as an introductory book, or those interested in a fresh take on astrology.
pg 7. [↩]
pg 11. [↩]