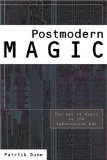 Postmodern Magic: The Art of Magic in the Information Age
, by Patrick Dunn
Llewellyn Publishing, 2005
For the most part I enjoyed this book. The author impressed me with using footnotes, which is definitely a step up from the majority of occult books out there. A lot of his advice and ideas are practical and useful for beginning magicians. All of the exercises in the book are ones I'm familiar with, as it's written for a beginner to intermediate audience, but they are useful to work through. I particularly liked the invent your own magical language exercise, which reminds of TOPY speak, and also Spare's alphabet of desire technique. The questions at the back of the book were handy and useful for processing information and extending the ideas in the book further, which is again a rarity and something I applaud Mr. Dunn for doing.
The author's focus on semiotics and symbolism is a fresh perspective and will offer readers food for thought and action, should they follow through on doing the exercises. Also Mr. Dunn does a good job of covering a wide range of occult techniques and presenting them from a symbolic perspective.
However, while I did like this book, there are some issues with it, which I find problematic. I would have liked to have seen an integrated system of in-text citations such as APA to get a better sense of the sources he draws on. Also he does not draw on enough available sources. As an example his paradigm piracy in chapter one doesn't cite Josh Wetzel's work, which given that Mr. Dunn lives in Illinois, is surprising, since Wetzel's work is available there, although in limited print. He never defines the term postmodern, which given the title of the book, is rather important. Also beyond providing his own definition of semiotics, he doesn't draw on any semiotic theory. A brief introduction to semiotic theory complete with some references to semiotic theoriticans for curious readers would have been nice as well as drawing on the most updated semiotic work. His influences seem to draw more from Saussure's work than anywhere else, but again without a reference list, that's only a guess.
The other issue I had was his focus solely on magic as a symbolic reality, with him throwing out the energy/spirit models because they couldn't be "proven". Given that he is drawing on a social science background, his focus is ultimately on what he knows as a social scientist, and yet his stance as a social scientist frequently seems to take the magic out of magic. Ironically at times he comes off as contradicting his view that magic is entirely and only a symbolic reality that can be worked with. As an example he worries about whether cutting a tree would hurt it, and yet earlier argues that everything, even a physical cat you look at is just a symbol. If that's the case, the tree is just a symbol, so why worry if it can be hurt? The argument that symbols and reality are one and the same is intriguing, but also dangerous in terms of leading a magician toward solipsism.
In the end, the book is worth checking out and reading for some intriguing ideas. Keep a bit of salt and skepticism on hand and try his paradigm out, but also do some further research into semiotics on your own.