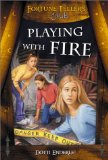 Playing With Fire: The Fortune Tellers Club, Book 2
, by Dotti Enderle
Llewellyn Worldwide, 0738703400, 140 pp (+ preview), 2003
The adventures of the Fortune Tellers Club continue. School has started up again, so there is less time to agonize over the typical teen problems. Of course now there is homework to worry about – and boys.
Anne finds herself falling for the new boy at school, Eric. He is the new quarterback on the middle school football team and she is on the cheer squad. Of course, every other girl on the cheer squad has their eyes on him as well.
Rivalries begin to flair, although not among the Club members. Rumors spread: Eric's old home burned down and he was responsible; Eric is planning to take another girl to the big seventh grade dance.
Then the fire incidents begin: homework burned; a fire which destroys the school library. And Eric is near every time it happens. Could he be causing it? Is he a pyromaniac? Or is he pyrokinetic?
Eric explains about the fire at his former home – a football thrown, loose wires leading to a short circuit. Sure he was responsible, but it wasn't intentional.
The girls are convinced, on little evidence, that he is causing the fires through pyrokinesis. They are sure they can cure him by soaking him with "moon water". Well, read the book for the outcome of the experience.
This series is not designed to be recruiting material. The children are not Pagan. In fact, there is no indication of what religion, if any, they follow. The heroines are your average, normal pre- and early-teen children. Unsure of themselves? It goes without saying. Trying to hide their differences? Absolutely. In other words they are just like 95% of the population of any middle school (or junior high school) in the country.