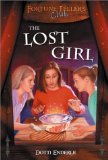 The Lost Girl: The Fortune Tellers Club, Book 1
, by Dotti Enderle
Llewellyn Worldwide, 0738702536, 125 pp. (+ preview), 2002
This is a series intended for the middle school crowd. It is light in tone and although some parts might be considered "spooky" there is nothing terribly frightening or threatening.
Three young girls (Juniper [whose mother reads tea leaves], Gena, and Anne) each use their growing, individual talents to help each other in their times of difficulty. It is reminiscent, in a lower key way, of the "Witches Night Out" series by Silver RavenWolf.
As with any group of young folks, there is the popular one (Anne), the quiet one (Gena) and the "odd" one (Juniper). This leads to the various kids taking the lead in various circumstances.
The books are easy to read, not at all preachy, and fun. They illustrate a variety of divination techniques from the very simple (the Magic 8 Ball) to the more traditional (Tarot, scrying, and tea leaves).
This first book deals with every parent's worst nightmare – a young child missing. The three members of the Fortune Tellers Club don't start out to find the youngster (Laurie Simmons). Instead they are looking for Gena's lost retainer.
Juniper, being the "experienced" one of the group, feels the call to help locate Laurie. When none of her usual methods (scrying and Tarot) work, she resorts to trying new methods – in this case, psychometry. She becomes so focused on finding Laurie that she dreams of her.
Add to the psychic confusion the turmoil and angst which is so much a part of the pre- and early-teen years (especially during the summer when there are more hours to agonize over such) and you have a story which any youngster can identify with.