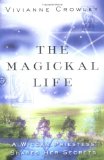 The Magickal Life: A Wiccan Priestess Shares Her Secrets
, by Vivianne Crowley
Penguin Group, 014219624X, 2003
Each chapter in this book ends with "Pointers for Practice." These short sections serve to summarize the contents of the chapter and re-emphasize the important points. The chapters are kept fairly short and self-contained. They are easy to read and understand.
Each chapter covers about 13 pages, which increases the ease of reading of this book. If you are reading and want to finish a chapter before putting it down, you don't have far to go.
There is a large dose of positive thinking between the covers of this book. Ms. Crowley draws inspiration from both the mystical world (the Spiritual Association of Great Britain [who taught her mediumship]) and the mundane world (Henry Ford [who once said "whether you think you can or think you can't, you're right."]) and integrates them into a smooth system of magical training.
I wasn't terribly impressed by the "secrets" Ms. Crowley revealed in this book, but I wasn't expecting major revelations. The advice she gives; the rituals she outlines; and the magical information she provides are valuable in their own right, but are not earth-shaking.
When she gets to the seasonal observances she makes the same mistake so many other authors do. She assumes, evidently, that all of her readers will be in the Northern Hemisphere. A simple not about flipping (or "inverting" to be more correct) the dates of the observances would be appropriate to make this book more valuable to practitioners in the Southern Hemisphere.
While this was an enjoyable book to read, I really don't feel it needs to be on everyone's bookshelf. I would probably put it on my list of books to be picked up for when I want to read something light and not terribly challenging.