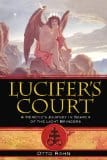 Lucifer's Court: A Heretic's Journey in Search of the Light Bringers
, by Otto Rahn, translated by Christopher Jones
Inner Traditions, 9781594771972, 242 pp. (incl. bibliography and translator's bibliography), 2004, 2008
Otto Rahn (1904-1939) was a German medievalist.  His Crusade Against the Grail (1933) "attracted the attention of Karl Maria Wiligut, better known as Weisthor Heinrich Himmler's esoteric "lord" of runology".1 In 1936 Rahn formally entered the SS, attached to Weisthor's department. Denounced for possible Jewish heritage and homosexual behaviour, Rahn committed suicide in March 1939.
Lucifer's Court was originally published in 1937 under the title Luzifers Hofgesind, eine Reise zu den guten Geistern Europas.  The book is structured as a travel journal, he writes that he went "abroad to look for the ghosts of the pagans and heretics who were [his] ancestors".2  Amongst his reflections on the places he visits, Rahn injects bits of history and weaves these in with his larger search: his quest for the holy grail.
Rahn acknowledged two stories regarding the grail.  One he described as a Christian legend of a bowl used to catch Jesus' blood shortly before his death on the cross, and the other "pagan"  and heretical idea of a stone which fell from Lucifer's crown. It was the latter tale that caught Rahn's fancy, and it was in search of this that he travelled through Germany, France, Italy, Scotland to Iceland.
"Like an artist working on a mosaic who piles up small stones of a particular color to arrange them later in a preconceived plan, I collected ideas and knowledge under foreign skies and in lands far from home."3
The imagination is stretched several times, such as when Rahn suggests a connection between the ancient Greek Heracles, medieval French troubadours and Christian legends of a stone falling from Lucifer's crown, but the journey he takes is fascinating, if occasionally marred by racist remarks, some of which may not be original to his manuscript.4
Helpful corrections appear in footnotes from the translator, Christopher Jones, typically regarding specific points on documented history (Rahn's more fanciful speculations are let be). At points Jones suggests that certain parts of Rahn's journey find him recast in roles from literature, with himself as a central character in the narrative.
For all this, Rahn makes an engaging (if somewhat hopeless) travel companion. It is while in Iceland, towards the end of his journey, that he finds some answers. In the voice of a companion from Reykholt, he writes:
"The realm of modern man is natural science and technology, and any impartial, historical review of paganism's gods is automatically disqualified as superstition…The mythological is inseparable from the revelation of the gods, which is gone forever. Modern man no longer lives in a cosmically inspired world; he thinks and lives in a world of inanimate things and bureaucratic abstractions."5
The wisdom his companion imparts (all six pages worth) may not have been the grail Rahn was seeking, but it provides as satisfying a conclusion as one could hope for.