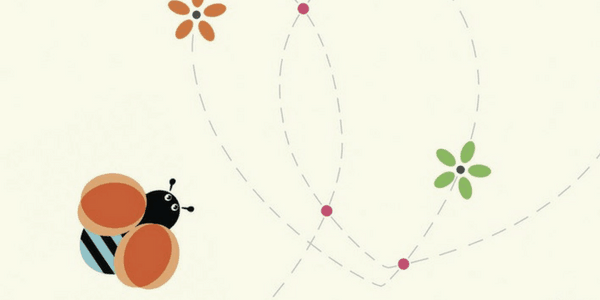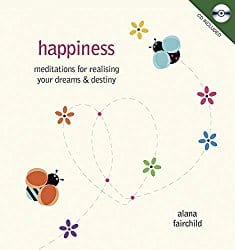 Happiness: Meditations for Realising Your Dreams and Destiny, by Alana Fairchild
Blue Angel Music, 978-1-925538-09-0, 48 pp. and CD, 4 tracks, 2017
We've all heard the saying, "Happiness is an inside job." If you know you need some help with that, Alana Fairchild's new book and CD combo, Happiness: Meditations for Realising Your Dreams and Destiny, might be able to get you started. It was designed to get you thinking about your most rewarding life and acquaint you with the Law of Attraction, which could help you live it. The program guides you "to find your own definitions of success, prosperity, peace and purpose," Fairchild writes, noting that the key to the process is the willingness to change your attitude to one of trust.1
"This is what I call, 'your spiritual homework'… What you think, feel and believe has a direct bearing on what you experience in your outer world," Fairchild says. "It's as simple as a rainy day. Do you look at that rain-soaked garden with pleasure and imagine how beautiful the flowers will be after the downpour? Or do you complain about the rain because you cannot enjoy lying in the sun that day? It is the same set of circumstances, but with two different responses."2
The CD contains four tracks: an introduction, "Sunshine Within," "What Am I Supposed To Do with My Life?" and "Activate the Law of Attraction." Fairchild has a soothing voice made for recording, and listening to it you easily fall into a meditative state that allows her suggestions to take root. She doesn't speak constantly, preferring to present a thought and then give the listener time to integrate it. It's more like a series of affirmations than a guided meditation, although she uses some imagery.
"Sunshine Within" is the shortest of the three meditation tracks, and it is designed to stimulate feelings of love, peace and happiness. "What Am I Supposed To Do with My Life?" will help you uncover your dreams and desires, bypassing the conscious mind and allowing the subconscious "to attract events, opportunities and insights into your life over the coming days, weeks and even months."3 It focuses on activating any growth processes needed to achieve your destiny. This naturally segues into the last meditation track, "Activate the Law of Attraction," which is the formal name for the process begun in the previous track.
The book roughly follows the course of the meditation tracks, continuing the affirmation theme by sprinkling them throughout its pages. Fairchild starts out with a discussion of her philosophy of happiness, explains how to use the book and CD, and how the material in them works in your life, what to do if you can't visualize (which can stop people cold from meditating, and shouldn't), and finally explains how the Law of Attraction works with relaxation.
Fairchild describes her path to becoming a spiritual teacher, writing that she learned, through a painful event, that she "was not in control of the larger process of what would happen and when. My job was to learn who I was and trust the inner guiding process."4 That can be a scary, challenging, and indeed, painful process — or not. Happiness: Meditations for Realising Your Dreams and Destiny aims to make you more amenable to the latter. Trusting — both yourself and a world that appears often to not have your best interests at heart — is, as Fairchild states, the first critical step to living a happy life that is wholly meaningful to you.