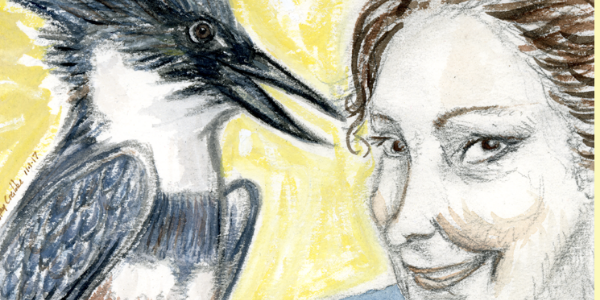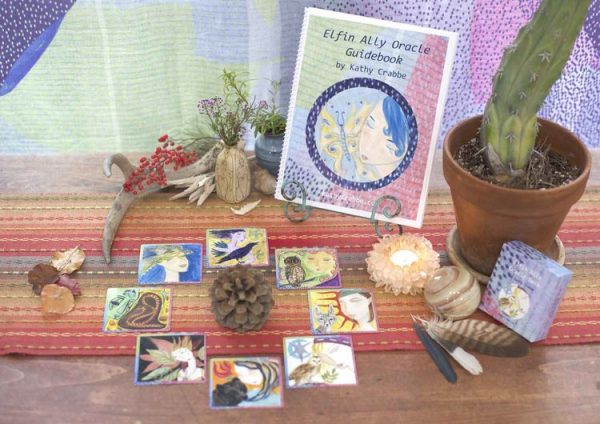 Elfin Ally Oracle Deck and Guidebook, by Kathy Crabbe
Game Crafter, Self published, 72 cards, 62 pp., 2019

Kathy Crabbe is the designer of the Elfin Ally Oracle Deck and the author of the guidebook which accompanies it. She began the deck in the Frontenac Arch Biosphere Reserve in Ontario, and she completed it forests of Temecula, Southern California. The images contain aspects inspired by both these environments.
We all need magickal tools to help us deal with this often crazy world. May this deck be one of yours.
The Elfin Ally Oracle is a deck of 72 inspirational oracle cards. Each card is 3.5 x 3.5 inches square with a UV coating to protect them. On the front of each card is a reproduction of Crabbe's beautiful watercolour images. On the back of each card is the name of the signifying animal, keywords and the oracle meaning. The deck comes with a mini-guidebook complete with a combination of astrology, medicine, elements, fun facts, and card spreads. This deck can be used for meditation, personal development, creativity, giving intuitive readings, and connecting with your animal guides.
The card images portray Crabbe's unique style. They are simple, yet subtle, colourful and vibrant. Each card depicts an elfin ally and a totem animal. For example, the snail card depicts a dark-haired elfin woman with a snail climbing up her shoulder. The background has a midnight sky with a crescent moon. In the foreground are two orange flowers. The keyword for this card is moonbeams. The meaning is "the reward for keeping a secret is a delightful treasure." The reversed meaning is "You are running out of time to finish a project and achieve your goal."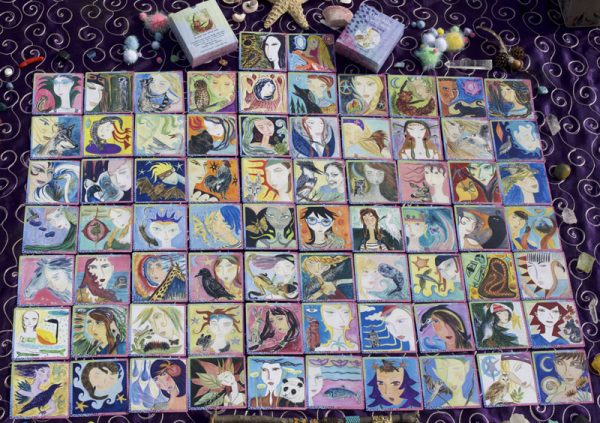 The guidebook provides additional information. For the snail card, it adds, an affirmation, an astrological association, and element, medicine, which refers to a healing insight, and lore, which refers to the elfin ally.
The guidebook is also a good source of other information. After explaining the meanings of each individual card. There is a section of fun facts related to each of the depicted animals. The booklet also recommends several different Elfin Ally Oracle spread: a one-card-a-day spread to awaken your intuition; a three-card spread; an Elemental Energy (five-card) spread; a Solar Spread, which gives a 12-month forecast; and a Lunar Spread, which gives a monthly forecast.
I enjoy the Elfin Ally Oracle Deck and find it useful for connecting to animal guides. I like the fact that there are keywords and meaning on the back of the cards, so you don't have to constantly refer to the guidebook, although it is useful to refer to the guidebook, because it adds extra information for each card, such as affirmations, lore, and medicine. It's not always clear why the meaning of a card is associated with a particular animal, and sometimes the meaning and reverse meaning seem to be about unrelated matters, but overall, I found it to be a unique oracle deck and I would recommend it to novices and experienced readers. It's also a very handy size for carrying around wherever you go.