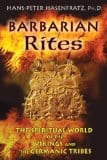 Barbarian Rites: The Spiritual World of the Vikings and the Germanic Tribes, by Hans-Peter Hasenfratz, translated by Michael Moynihan
Inner Traditions, 978-1-59477-421-8, 173 pp. (incl. Translator's Foreword, Introduction, Notes, Bibliography, and Index), 1992, 2011
Barbarian Rites is an English translation of Die religiöse Welt der Germanen: Ritual, Magie, Kult, Mythus ,by Hans-Peter Hasenfratz.
It is a book that straddles categories. It fills the awkward space between lay-oriented summaries and academically oriented historical analysis. Insofar as it is one of the few academically inclined pieces that has been translated into English, it is invaluable, but it is likely too academic for individuals not of a scholarly bent, and too brief to satisfy a curious historian. It serves as a litmus test for whether it is worth one's while to learn German and access the greater pool of scholarship that exists. It's worth noting at this point that Germanic is a broad umbrella that includes what most of us will know as Norse.
Hasenfratz begins his introduction by questioning the meaning of the word 'Germanic,' bringing into question our very ability to define or describe both the Germanic peoples and their religion(s), noting that the availability of sources and accounts varies highly from region to region.
He then presents an annotated account of an Arabic diplomat's interaction with a camp of Germanic peoples referred to as Rus. The account dates to the 11th century, and Hasenfratz's purpose providing this comparatively extended primary source is to give the reader an immediate sense of just how different their context was from ours, and how it is only be learning about that context that we can meaningfully approach their rites and religion. Unfortunately he does very little unpacking at this point; the reader, having been cautioned that we must consider all source's biases, is left wondering what the biases in this case might be.
Subsequent chapters provide brief but detailed descriptions of the history of the Germanic tribes (defining them by language, including three branches, which, among others, include the ancestors of modern day English, Dutch, Low German, Modern German, Icelandic, Norwegian, Danish, and Swedish) and society and its values. Hasenfratz then moves on to Rites of Passage, which introduces some of the rituals we may already be familiar with, but, linked and integrated with the description of society established in the previous chapter.
The next chapter provides short descriptions of the types of magic mentioned in historical documents, giving us one or two paragraphs plus summaries of an example primary source on: incantatory magic, rune magic, death magic, divinatory magic, cursing magic, and destructive magic. He also includes a sub-section related to Burchard's Corrector, a confessional manual that lists sins including: love magic, destructive magic, and weather magic. These items are taken at face value by Hasenfratz, despite the well documented Christian practice of getting worked up about things that never actually happen.
Hasenfratz next lists the 'powers' that are active in the Germanic context, including humans and being of 'lower' mythology (e.g.., giants, dwarves, etc.), but focusing on the various deities. He includes three or four paragraphs per major figure, drawing on etymology and synthesizing for us from primary sources. Many of his assertions at this point however are unsourced, they are presumably so prevalent as to be taken as common knowledge. Final to his listing of the gods is a discussion of the ultimate power in Germanic conception: fate.
Finally, he ends the book with a brief chapter on Cosmography, and another on the beginning and end times. These chapters are brief enough as to be Wikipedia entries, but are obviously better sourced.
Barbarian Rites lacks a conclusion of any sort, providing us with little in the way of final summary or debriefing. I suppose one isn't strictly necessary—what can we truly conclude in a descriptive work? Nevertheless its absence is felt. This may be due to the brevity of the book.
The greatest value of Barbarian Rites lies in its first few chapters. It provides an accessible yet academic description of the historical and social context of the Germanic tribes, and this goes a long way to gaining insight into the meaning of what we may already know of their magic and myths. Pretty much anyone interested in Germanic (including Norse) myths could benefit from this information. Reading this brief work will at a minimum help one understand that things are not as simple or direct as they are sometimes presented.