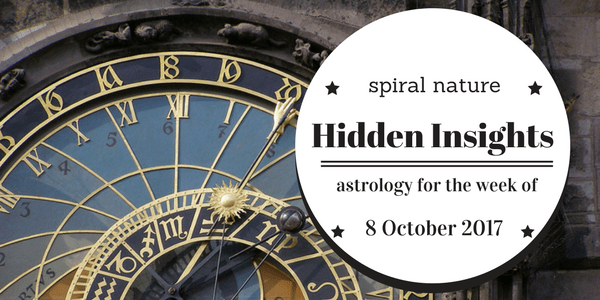 This week sees several powerful pairs of planets working their magick, as well as expansive Jupiter's shift from justice-oriented Libra into the intense, shadowy realms of Scorpio. Hidden Insights has advice for a huge week that requires grace, efficiency, and a total commitment to transformation.
This is mainly due to Venus and Mars' continuing conjunction in detail and process-oriented Virgo. They are together all week, but both will also be in a challenging square aspect to integrity-testing Saturn, still currently in Sagittarius.
This is most likely to express itself as a creative and philosophical crisis, especially if our everyday actions (Mars in Virgo), while valuable (Venus), don't seem to be serving our most authoritative higher truths (Saturn in Sagittarius). Venus has the exact square to Saturn on Sunday; Mars on the Wednesday.
Also on Sunday, 8 October 2017, the Sun and Mercury will be exactly conjunct at the same degree of harmony-seeking Libra. When the Sun and Mercury connect, the mind (Mercury) merges with the heart (the Sun). Amongst other things, this is our opportunity to learn something significant about how we relate and communicate with others.
This week, Jupiter makes a bold move out of Libra and into the sign of potent, psychologically transformative experiences — Scorpio. Jupiter expands whatever it touches. In Scorpio it's the dark, the deep, and the taboo that will be susceptible to its influence.
Finally, Mercury moves to begin an opposition to Uranus in Aries on Saturday, 14 October. There's tension as we seek to express authenticity while remaining as diplomatic as possible. And we may experience eruptions as a result of the struggle to find common ground, both internally and within our key relationships.
Here's a look at what's coming up for your sign this week:
Aries (21 March — 19 April)
The message you have to share with the world is important, dear Aries. And with Mercury in Libra, it's all in the delivery. Passion is good, and it will get you what you want if it's expressed gracefully. However, aggressive demands are likely to be met with resistance. This week you're going to have to do something that doesn't necessarily come naturally to you: Turn up the charm.
Your patronus is a social animal.
Taurus (20 April — 20 May)
Jupiter's entrance into Scorpio has some intriguing implications for you, Taurus. It particularly reflects that there are lessons coming up in the world of relationships. You'll become increasingly sensitive to the subtleties of your closest partnerships. You'll be made aware of how certain unconscious patterns have made their impact. If you can learn your lessons, you'll have the chance to liberate huge amounts of power.
Your sacred ritual is an eye-opener.
Gemini (21 May — 20 June)
You're encouraged to talk yourself into something exciting this week, Gemini. The Sun and Mercury together in Libra show you're graced with some extra finesse in regards to creative communication. If you're secretly harbouring any desires to break free, then I recommend taking advantage of this. There will of course be plenty more opportunities in future, but this is your chance to create significant momentum.
Your holy mantra is highly encouraging.
Cancer (21 June — 22 July)
It's a week where decisions need to be made, Cancer. You're about to enter a period of significant creative growth, but you'll need to confirm those resolutions first. Venus and Mars in Virgo are likely to have you wanting to accumulate more evidence before you're willing to assert yourself. There's nothing wrong with this as long as it doesn't devolve into a procrastination tactic.
Your secret weapon is: Decisiveness.
Leo (23 July — 22 August)
You're achingly close to regeneration, Leo. However, before you cross the fiery threshold of your own rebirth, there are some final tests to be passed. Although experience is presenting itself to you in a different mask, it's important to remember that it's nothing new — and that you survived and thrived in prior instances, too. Don't let yourself get caught up in the echoes of old drama. Keep looking ahead and prepare to step into your future.
Your patronus knows what they're capable of.
Virgo (23 August — 22 September)
This is a critical week in terms of development, Virgo. You could even call it a test of faith. Doubt sneaks up like a predator, and you'll need to continually practice patience as you move through the motions of creative expression. It can appear as a sense that you're not getting what you deserve, or as a suspicion that you don't have what it takes. Be on guard. Like I said, it's just another test.
Your secret weapon is: Discernment.
Libra (23 September — 22  October)
The Sun and Mercury conjunction in your sign briefly offer the chance for dialogue with your heart this week, dear Libra. This is excellent news, since you're deeply in need of some truth. You've still got some way to go in terms of being a true ally to yourself. Thankfully, simply making a commitment is a big part of that. If you're going as far as making it official, make it sacred.
Your sacred ritual seals the deal.
Scorpio (23 October — 21 November)
Ooh, Scorpio — you're in for a treat. Fortunate Jupiter, the bestower of gifts, is entering your home sign and will be with you for some time. Jupiter transits signal periods of growth and expansion. I've made this all sound positive so far, but the truth is that the experiences that give us the biggest lessons and lead to the most growth don't always feel that great when we're going through them. It's time to get prepared.
Your holy mantra opens your mind, heart, and soul to the possibilities.
Sagittarius (22 November — 22 December)
It pays to maintain and honour your support networks, Sagittarius. And it doesn't matter if they're your friends in real life, your online tribe, or your divine cheerleaders. When there's something we're aiming for, it's too easy to develop tunnel vision. But don't worry, you're likely to get to your destination one way or another. But your victories will be all the sweeter if you've got some trusted allies to celebrate with.
Your secret weapon is: A sense of camaraderie.
Capricorn (22 December — 19 January)
Sometimes we get the best measure of someone during a crisis, Capricorn. It's the challenges in life that show us what we're really capable of. We can try to convince ourselves that we just want an easy life, but are you sure that's entirely true? Maybe, deep down, you're yearning for experiences that are designed to test your strength and let you develop your full potential.
Your sacred ritual may appear at first glance like some kind of mistake.
Aquarius (20 January — 18 February)
Jupiter moving into Scorpio signals a time where issues of career are going to become more relevant for you, Aquarius. Scorpionic energy tends to be emotionally intense, so expect a fair amount of that too. Approach with care and — if you can — in the spirit of curiosity rather than urgency. You don't actually need to make any decisive moves right now. Take the pressure off yourself and commit to this exploration phase with enthusiasm.
Your secret weapon is: A light touch.
Pisces (19 February — 20 March)
There are novel emotional experiences on offer all the time, dear Pisces. Of course, you're not obligated to say yes to every opportunity. Just keep in mind that if your default reaction is to retreat, then it's highly likely you will miss out on something special. Jupiter in Scorpio suggests that you've got some deep, philosophical lessons coming your way. If you want to benefit, then at some point you'll just have to dive in.
Your holy mantra is: Why not?