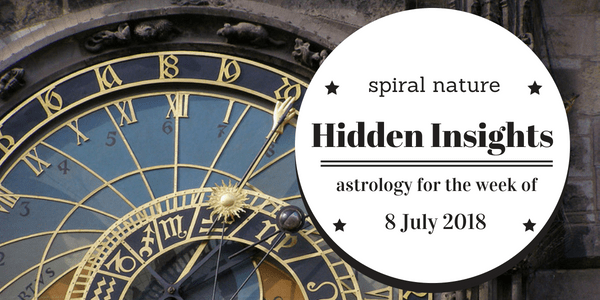 It is difficult for Hidden Insights to know where to begin this week. Jupiter stations direct, Venus changes signs and makes several aspects to other planets, and a solar eclipse hits the world on 12 July 2018. This is not going to be a boring week, as so many major astrological aspects trigger intensity. For most of the world, this is likely to feel as though the rug has been pulled out from under us.
We first see Venus change signs, as she moves into analytical Virgo, where previously, she had been enjoying herself in playful Leo. There is a certain sense of responsibility with this placement, and we may feel as though it becomes difficult to enjoy simple. Responsibility and duty take predominance over pleasure and relaxation. On the bright side, this is a great time to fall in love with work, and really stay focused. However, those who have planned vacations right now may find it difficult to fully let go.
Next, we have Jupiter stationing direct in Scorpio. This comes after being Jupiter being retrograde since the 8th of March. When Jupiter initially moved into Scorpio in late 2017, the world saw the unveiling of many secrets, particularly those relating to celebrities and politicians. The highly sexual nature of the accusations made against celebrities since 2017 has clearly been triggered by the Scorpio energy with Jupiter. Now that Jupiter will be going direct again, we may notice an increase in sexual assault allegations, and the revelation of long-buried secrets. This will occur in our personal lives, as well as publicly among those involved in entertainment and government. This is a great time to address any skeletons in your closet, especially if they were not revealed late last year.
The big event this week will be the solar eclipse opposing Pluto. This extremely intense energy will not go unnoticed, and it will likely to trigger a series of dramatic and possibly disastrous events for the next six weeks. As a partial eclipse, this one will set the tone for the larger full solar eclipse in August. In Cancer, this eclipse shakes up our senses of security, and can produce anxiety. Households around the world should brace for a period of destructive influences at home. If the energy is used properly, it's possible to embrace wonderful changes around the house, as well as make amazing breakthroughs with past trauma.
It's also important to note that this eclipse falls on the fixed star Castor. Those of you expecting a child or know someone expecting: take note of this date as a birthday or day of conception. Castor is said to produce leaders, and they may grow up to become very influential individuals.
Astro Homework
An eclipse is always a fantastic time to harness the power of the heavens. It triggers a period when the projective and receptive energies of the universe combine, allowing for divine creation to touch any work we focus on. As the Moon moves across the Sun, it represents the death of solar energy before it is reborn as the Moon moves away at the end of the eclipse. For this reason, you must identify what is no longer useful in your life, and what needs to come to an end in order to be renewed. With Pluto also in play, we may not have a choice, and must make a change, so make sure you write down, meditate on, or light a candle to focus the energy towards your desired goal.
Aries (21 March — 20 April)
Learning to balance your home and work life may bring challenges that need to be solved this week, Aries.  Monday may bring difficult conversations with someone important in your life, and it's likely to concern money or a joint debt. Your stress over this is being triggered by a need to clean everything in your house. Every little thing that you feel is out of place is driving you mad, and you won't be able to rest until everything is in its proper place. For you, a tidy environment will mean the world. If you get this taken care of early in the week, you can make great progress at work on Friday. This is an opportune day, where you may make a business deal, or meet someone who becomes a new customer or client. This week's eclipse may bring an ending in your home or with your family. While this isn't always literal death, there is something related to your past, your house, or your family that is about to change.
Empowering produce: Strawberry
Taurus (21 April — 20 May)
Chance encounters and positive relationships are on the agenda for you this week, Taurus. Monday or Tuesday is likely to bring a friend, romantic partner, or benefactor into your life that will help ease anxieties. You need to make sure you find time for fun, as Venus is asking you to focus on what brings you pleasure, and makes you happy. Now that it's in your fifth house, you can really get to great healing, and find inner strength through play, and hobbies. Something in your life has been put on hold or blocked because you need the assistance or support from another person. Tuesday brings a shift, as Jupiter moves direct. If you are in a romantic relationship, this could push your relationship to the next level. This week's eclipse could spell trouble for your mode of transportation. If you have a car, make sure it's serviced. Public transportation may also be delayed or become a challenge for you this week.
Empowering produce: Cantaloupe
Gemini (21 May — 20 June)
Responsibility seems to be your middle name right now, Gemini. Everywhere you turn there seems to be something more for you to take care of. Fortunately, as an air sign you are able to take full advantage of your ability to mentally be in two places at once. On Monday, you may be met with a conflict at work. Don't let this set the entire tone of the week, as it's not as serious as you make it out to be. This is because the luck of Jupiter is about to change directions in your sector of work, and this becomes a time to shine. However, this can also signal weight gain over the next few months, so you'll want to watch your diet and exercise routines more closely. This week's eclipse triggers your house of money and personal possessions. Here, you need to seriously change the way you manage and handle your money. If this is not done, you could find yourself in a tight financial corner by the end of August.
Empowering produce: Jalapenos
Cancer (21 June — 20 July)
A difficult conversation early in the week may make it difficult to budget for a personal hobby or leisure activity, Cancer. You may be offered a line of credit, though it is not advisable to open a new account right now. A sibling, cousin, or extended family member makes a surprise appearance this week, and your relationship with them feels relaxed and harmonious. Enjoy reconnecting, so you can build a stronger family connection. For many of you, this week also becomes a particularly fertile time, and it will be an excellent time to either get pregnant. However, Jupiter is known for its extremes, so you may also want to make sure you are always near a bathroom, as you may need to use it a bit more frequently. This week's eclipse falls in your sign, which makes it more important to you than any other sign. For the next few weeks, you'll want to exercise caution when it comes to your face and head. Minor cuts, abrasions, and even break outs will be much more likely for you.
Empowering produce: Broccoli
Leo (21 July — 20 August)
Tensions rise at home this week, Leo, and the first few days could bring heated arguments. Do your best not to fall victim to self-delusions that may make it difficult to see what agitates you. Lovely Venus softens the blow, as she moves into your second house. Here you can fully relax, and it might be time for you to take a much needed vacation over the next few weeks. However, you do need to be cautious about overspending, so perhaps you should let a friend or significant other handle your credit cards for a little while. A woman in your life may surprise you at work, so be prepared for a pleasant encounter that will stroke your sensitive Leo ego. This week's eclipse might be a difficult one for you, as it could stir up past anger that needs to be resolved. It's also not entirely out of the question that someone in your family may need to see a doctor this week. If this is the case, know that the stars are pushing this forward so that a small annoyance doesn't turn into a larger problem.
Empowering produce: Tomato
Virgo (21 August — 20 September)
As joyous Venus moves into your sign this week, Virgo, it triggers a four week period where you can exude charm. More often than not, you'll be able to get your way, and you may have the opportunity to indulge in a makeover or purchase a new wardrobe. All of this positive energy will be particularly helpful as Jupiter finally turns direct in your sector of relatives, siblings, and neighbours. It's been playing here since last autumn, bringing secrets and deceptions to a head. Like a sleeping dragon, it's waited all winter until now. Movement and progress with any tension here will start to be made again, and will be in effect until November. This week's eclipse hits your house of goals, friends, and social groups. It is likely that you will begin to notice there are certain ideas, dreams, or social structures that no longer serve you, and it is time to let them go in order to make room for new ambitions. This is a very exciting time, as you can focus your life in any direction, if you are willing to let go of what you once thought was important.
Empowering produce: Pear
Libra (21 September — 20 October)
There is an annoying little voice in your head telling you to be cautious this week, Libra, and part of you feels as though something is about to cause a problem in your life. This couldn't be further from the truth, and your anxieties are letting you know that positive changes are in store. Early in the week, you may hear about exciting changes at work. Again, this may feel uncomfortable, but it will benefit you in wonderful ways. You can anticipate a turn around to your finances, as Jupiter brings luck back to this area of your chart. If you've been financially strapped the last few months, you'll soon notice a chance. With this week's eclipse hitting your house of career and status, it further illustrates that some wonderful changes are in store. You will first need to let go of an old way of doing things, a job responsibility, or a work location.
Empowering produce: Celery
Scorpio (21 October — 20 November)
You enter the week feeling a sense of deeply spiritual connection with yourself, Scorpio, and you want to find a way to express it. There is a good chance that you feel inspired to take a trip to ancient ruins or temple to soak in their energy. If travel is not physically or financially possible, watch documentaries on mysterious places to get your creativity flowing. Due to the highly charged spiritual feelings, mundane tasks like work or chores may feel especially difficult this week. Try to find a way to make what you have to do a spiritual experience. Mopping the floor can become an act of spiritual focus when you use special washes and mop in patterns. All of this comes to an apex as the eclipse triggers your house of spirituality, higher learning, and philosophy. For most people, this eclipse will trigger events that need to end or change. You will uniquely need to change the way you view the world and approach your own spiritual journey. In this position, it can act as enlightenment, but certainly not without a crisis of faith along the way. Reach out to friends and family for support as you wrestle with what you do and do not believe.
Empowering produce: Pomegranate
Sagittarius (21 November — 20 December)
Productivity at home and work become the main focus of your week, Sagittarius. At home, you are likely to feel the need to rearrange or do deep cleaning. In the process, you are certain to find something that has been lost. Perhaps you didn't even know it was missing, but it is guaranteed to conjure up some fond memories. Venus brings a new sense of duty at work, and many of you may be up for a promotion or raise. This is an excellent time to showcase what you can do, and be in a supervisor's favour. Not only are you working harder, you will enjoy your job again. This week's eclipse further aids in your productivity. However, you may feel as though you want more out of work. Something here is on the verge of changing, and you want to be positioned so you can make the change at work without too much stress.
Empowering produce: Watermelon
Capricorn (21 December — 20 January)
Addressing where certain relationships will become very important to you this week, Capricorn. Early on, you may have to have a conversation with a friend or partner about where you relationship is going, and how you two can support one another. Things that have been unclear can now be aired out. Do this Monday or Tuesday, if possible. Or at the very least, make plans on these days to meet later in the week. A secret also needs to be revealed this week. If you have been keeping something from your friends, now is the time to be open and honest. You may also hear some hard truth from a friend. The eclipse on Thursday strikes your house of interpersonal relationships, and this can bring both endings and renewals. This is why the discussions early in the week are so important. Preparing for the eclipse allows us to work with it, instead of having to succumb to it. Something is about to change here, and it's up to you how that will be play out.
Empowering produce: Bok choy
Aquarius (21 January — 20 February)
Be cautious at work on Monday, Aquarius, as an argument is likely to occur. Everyone at work seems to be on edge, and you'll want to stay out of the way of verbal battle. If you are in a committed relationship, you may also want to share this with your significant others, as you may also hear about their conflict with a supervisor. It's best to keep your head down for the majority of the week. As Jupiter stations direct on Tuesday, your luck at work will change. However, it is going to take until next week to begin to see the change. Wednesday brings a surprise to your door, so you be on the lookout for a package or invitation. It might not be a bad day to try your hand at the lottery. This week's eclipse hits a very active part of your chart, and it's likely to manifest itself in several ways. It's time for you to make changes to your daily health routines. Maybe start walking more, eating breakfast, or address a chronic pain or ailment you've been ignoring. The other way this could manifest is directly related to furry members of your family. You'll want to be particularly cautious with pets that may be more prone to getting hurt or having health issues.
Empowering produce: Spinach
Pisces (21 February — 20 March)
Monday and Tuesday bring some tension to your love life, Pisces, and quarrels could become more prominent. This is softened as Venus moves into your house of partnerships, so if you are married or in a long term relationship, these issues should resolve quickly. For you, it is time to be more practical and serious. It may even be time to consider how the two of you can work together to reach a common goal. Astrologically, this looks as though it will be centred around a joint vacation or assisting one another in going back to school to further education. For those of you who are in more superficial love affairs, the eclipse this week could bring it to a sharp end. Sometimes relationships are meant to last, and others are only a temporary distraction. If this is your situation, honour the relationship for what it was, and let it go. Trying to hold onto it will only make the eventual end more difficult to deal with. This is not a good time to initiate any serious relationships.
Empowering produce: Grape