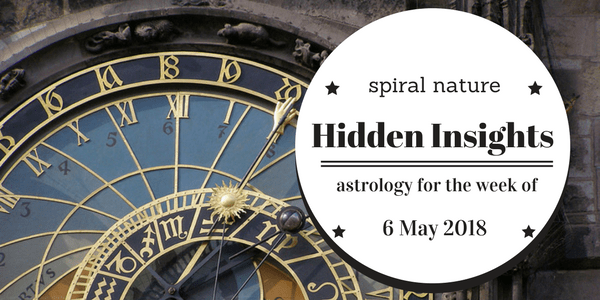 Last week was a mellow week for most, and Hidden Insights hopes everyone got a good bit of rest. This week couldn't be any more different, as there is a very active sky influencing the world. This is great, because over the last few weeks many of us have felt stuck, and this week will bring energy, drive, and productivity. During the first half of the week, expect to encounter some delusional and possibly deceitful conversations as Mercury squares Pluto on Monday, along with Venus squaring Neptune. Hidden Insights likes to think of these two events working together as a cloak and dagger combination. It will be wise not to fall for any hard sales pitches this week, and certainly take anything heard with the proverbial grain of salt.
Tuesday's annual Sun opposing Jupiter brings abundance of ideas, and possible some manic behaviour worldwide. At times, this can feel like we need to do bigger and better things than ever before. However, this energy only lasts for a day, so if you feel like you want to conquer a huge project, maybe wait to start it until Thursday — after feelings of grandiosity pass. Used properly, this energy can strike a creative fire in our minds, so if you've been waiting to start a large project, you can use Tuesday or Wednesday get the ball rolling.
The weekend's energy looks rather productive, and Friday stars off with the Sun making a trine to Pluto, which allows us to go after passions. Expect a lot of people out and about this weekend exploring, learning, shopping, and travelling. Saturday we see Mercury making a harsh square to Mars, so this could be a stressful day in terms of the way we communicate. Many people may be a bit cranky, and even combative at times. It will be best to just do your own thing, if possible, on Saturday and limit interactions and deep conversations with others.
Astro Homework
This week's homework focuses on the Sun opposing Jupiter. Each year this gives us an opportunity to practice patience. While many find they have larger than life ideas, use the knowledge of astrology presented here to rein in some of that excitement, and focus it on practical goals. With such expansive energy, you can really plow through small tasks quite quickly on Tuesday. Plan to get stuff done around the house and make a small deposit on future travel plans. Also, if those around you share that they are going to start writing a book, knock down a wall to expand their kitchen, or start a business, you might want to help them see the more practical side to such large projects.
Aries (21 March — 20 April)
Early in the week, Aries, you may have to face some personal demons and deal with the harsh reality of something you've been ignoring. Take time to really get to the heart of what you have been avoiding or holding in, as you'll have the opportunity to let it go. Monday and Tuesday could be stressful at work, and it's likely you'll encounter a conflict with someone there, or a person in a position of authority. Aries should be particularly careful to avoid speeding tickets this week as a result of this energy. You'll also find some tension financially as debts or bills may seem to be draining your accounts. You may find it difficult to balance the books effectively, so it might be a good idea to get some outside input on spending and saving. This will be particularly true if you are in a relationship, as your partner is likely to receive a bonus, raise, or surprise influx of money.
Stone of the week: Hematite
Taurus (21 April — 20 May)
You won't be able to be the silent observer this week, Taurus, as a wave of social energy strikes your chart. Plan to be busier than usual, as friends will want to spend more time with you than usual. Of course, this could cause tension early in the week, as you may feel a bit on edge. While you may want to spend time with friends, there's seems to be something inside of you that is holding you back, at least on Monday and Tuesday. By Wednesday, you'll be ready to get out and about, particularly if it's with a romantic interest. The role of love in your life may come into focus. Even if you don't get engaged this week, you'll certainly be thinking about the idea of tying the knot. The weekend calls you to teach, and though this is something you may not have thought about in a while, it may be time to give it some serious thought. Of course, you don't have to go back to school to become a teacher. There are many ways we can teach and mentor others, and this weekend could bring the time or opportunity to make that part of your identity.
Stone of the week: Citrine
Gemini (21 May — 20 June)
You've been restless lately, Gemini, particularly when it comes to your career and work. This week, the Sun clears some of the mystery and confusion in this area of your life. So, if you have been feeling a bit lost in a fog of professional progress, you'll get some relief. Essentially, your master plan for success has been just out of reach, and this week brings interactions with others that can make some of your dreams come true. A friend or professional organization is available to assist you this week, and could also be financial assistance. You will need to make sure that your plans don't spiral out of control, as being overly optimistic could be your downfall before the end of the week if you do. Utilize your rational Gemini mind to stay focused. Friday brings an interesting shift in energy as you move from professional focus to your one-on-one relationships. This weekend could be a big milestone with a partner or spouse, or you could meet someone very exciting.
Stone of the week: Amber
Cancer (21 June — 20 July)
It's romantic week for you, Cancer, with your heart and soul yearning to make a deep connection either with the one you are with, or for someone not yet in your life. Neptune's foggy energy may make it difficult for others to really see you this week as well. On one hand, this can work to your advantage, as you can slip under the radar or project an air of mystery. On the other hand, it may make it difficult for you to hold the full attention of those around you. Know that others are not purposefully ignoring or not seeing you. They are simply blinded from you, but only temporarily. A stern conversation with an authority figure could put you in a foul mood, so make sure you are nurturing your own self-confidence. Over the weekend, the romantic energy that has been building up comes to a head. Anticipate a harmonious Friday that allows you to smooth over any arguments you may have had with others. Saturday brings a passionate and almost naughty conversation, which will stoke your sexual fires.
Stone of the week: Labradorite
Leo (21 July — 20 August)
You may meet with some challenges over joint finances this week, Leo. If you expect to be paid back from someone this week, you may not want to count on it. If you share financial responsibilities with someone, this week's tension could bring some drama. At work, you may also be subject to some criticism — so be certain to keep your ego in check. Others typically want you to succeed, and at times criticism can be incredibly helpful. The Sun and Jupiter opposition falls in your axis of home and work. With that, you may find it difficult to fully balance the two, especially after last week's desire to stay in. You may encounter big ideas for your house or home, especially if it concerns renovations or moves. Do your best not make any rash decisions here, as you'll likely take on more responsibility than you can reasonably handle right now. The weekend is busy, and not necessarily leisurely. There's more work to do than you can seem to find time for, but your efforts will not go unrewarded. Expect a pleasant surprise for all your hard work.
Stone of the week: Amazonite
Virgo (21 August — 20 September)
Over the first few days of the week, an all or nothing attitude could really keep you focused, Virgo. The little annoyances are less likely to bother you. This is excellent news, as some conflict with a woman at work could push your buttons. Try to remember that Mercury and Venus transits are short lived, and any conflict you may encounter will end quickly. Jupiter has been moving through your sector of transportation, and this week will be activated by the Sun. This has the potential to bring a purchase, sale, or rental of a vehicle. Virgos born after September 8th may find an opportunity to take a course, as opposed to changing vehicles. Over the weekend you can expect children and younger people in your life to come into focus. Chances are that you'll be spending quite a bit of time with them. Just be cautious not to spend too much money, if any, on them.
Stone of the week: Lapis lazuli
Libra (21 September — 20 October)
The first few days of the week may feel a bit stressful, Libra, and you'll need to be cautious that this doesn't cause you to get sick. You'll also be more sensitive to medications and other substances, so be particularly carefuly dealing with these. On Monday, an argument at home could be the catalyst of this week's stress, so try to be patient with others if this happens. Tuesday's big event with the Sun and Jupiter brings financial matters into focus, and will preoccupy your mind and conversations for the rest of the week. Your spending might feel a bit out of control, and it's likely you won't even realize how much you are spending. Do yourself a favour, and keep a close eye on your chequebook and bank accounts to avoid any embarrassing mistakes. Over the weekend, your family may need some extra attention, particularly a partner, if you are in a relationship. Where you always like to keep the peace, it might be time for your partner or family member to learn to solve some problems on their own.
Stone of the week: Tourmaline
Scorpio (21 October — 20 November)
Your sexual prowess is in overdrive this week, and you'll need to find an outlet for all that energy. This is a particularly fertile week for Scorpio, and you could easily become pregnant if you are trying to reproduce. Of course, if you have no interest in having children, this can manifest in the form of metaphorically adopting someone who you feel might need your help. Romance is also at the top of your priority list, and you may be inspired to make a big gesture towards someone. However, don't worry if it doesn't come out perfectly, it really is true that it's the thought that counts. Coworkers on Monday and Tuesday could be a bit more than you can deal with, and it's highly likely some drama could surface here. Harnessing your more stoic and reserved nature will help keep you out of trouble. The weekend may bring some loneliness, as you may have a friend or partner who is away. This would be the perfect time to plan that big gesture that crossed your mind earlier in the week.
Stone of the week: Sapphire
Sagittarius (21 November — 20 December)
While the past won't necessarily come back to haunt you, Sagittarius, it's likely someone in your family's past may. This is to say, you are likely to learn something about your family that may cause you to feel more distant than usual. Monday could bring some conflict over a living arrangement, and you may find yourself hosting an extended-stay guest before the week is out. Midweek brings attention to your pets, and it's likely one will need some extra care, or you could end up adopting a new pet. It's important to understand that saying no to a new pet or house guest may be particularly challenging this week, so if you want to avoid either, you'll need to be hyper vigilant. Over the weekend you can expect to be spending a great deal of money, which is likely related to that guest or pet. So, if possible, spend as little as possible through the week, that way you can splurge this weekend.
Stone of the week: Ametrine
Capricorn (21 December — 20 January)
Capricorn is not often credited the most creative sign in the heavens, but you'll have an opportunity to prove the world wrong. Neptune is energized by the Sun, and Venus also gets in on the action. Expect to be called into action to write, create, or produce something. This exercise will give you a chance to excel in a new area of life, and is likely to end in a new appreciation for the subtler arts. You're also feeling more active this week, and if you've been spending some time retreating from life, you'll be inspired and itching to get out. Tuesday presents an opportunity to visit with friends and enjoy something you love. Over the weekend, you can anticipate the creative juices to continue flowing, especially on Friday. By Saturday things slow down, and you'll be ready for some relaxation at home. Unfortunately, you may not be able to enjoy some alone time, as those in your life continue to reach out. If possible, force yourself to get out, and try not to get too cranky with others' optimism.
Stone of the week: Carnelian
Aquarius (21 January — 20 February)
Your home may need some financial attention this week, Aquarius, and it may not be clear how much you'll need to spend. If something breaks or needs to be repaired, you might want to wait until the weekend or early next week to take care of it. Right now, you won't be able to get the best price, or even a clear understanding of the total cost. This could be particularly true when it comes to technology at home, so be on the lookout for anything electronic that may start acting up. Something big is brewing at work this week for you, and it's actually pretty exciting. A superior or supervisor is likely to reach out to you on Tuesday or Wednesday for some advice. The only thing you need to be cautious of is promising too much, or thinking bigger than you or your employer can handle. You don't want to find yourself unable to follow through a few months from now. Over the weekend, you may notice that everyone around you seems to be gossiping. You could easily be pulled into this if you aren't careful, especially on Saturday.
Stone of the week: Agate
Pisces (21 February — 20 March)
Neptune has been in your sign for quite some time, Pisces, which is very comfortable for you. This week it is triggered by several planets, which give you the opportunity to take centre stage in your circle of friends. Try being in the driver's seat, instead of just going with the flow. Of course, being in a position of leadership can come with stress, and Venus' square to Pluto could feel uncomfortable, as it may cause tension between you and someone else. Fortunately, the Sun and Jupiter opposition lends tremendous power to your self-confidence. On the topic of Jupiter, you may find yourself travelling this week, or even invited to take a vacation. Make sure you jump at this opportunity and enjoy some adventure. Over the weekend, the arguments or drama from earlier in the week may resurface, so make sure you have a plan to calm troubled minds.
Stone of the week: Sunstone