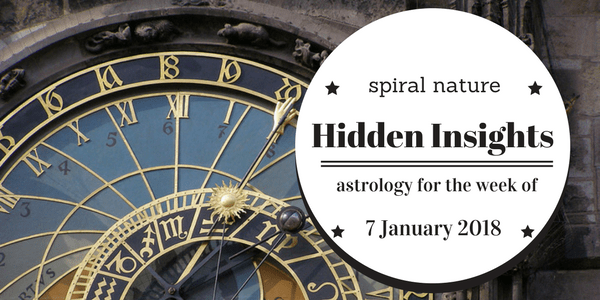 Hidden Insights likes to think of each week as an energetic tapestry of potential. Fortunately for the majority of us, this week brings a great deal of harmony and balance. This is going to feel especially nice after such an intense Full Moon over New Year's in Cancer; it had everyone a little on edge. This week promises to transform that energy.
Venus shines its spotlight this week, and is a very busy planet adding its loving touch to everything it comes in contact with. Early in the week, we will see Venus make a lovely sextile to Jupiter. This aspect puts everyone in a good mood, and you may notice others being more generous, considerate, and kind to those around them. This is magnified by the Sun's sextile to Jupiter on Tuesday as well. We may even find ourselves chatting up strangers and making new friends. Tuesday also brings Mars to the stage as the high energy planet makes a connection with Pluto. Where these two typically can cause some trouble when they get together, this aspect brings a boost of motivational energy. This is likely why everyone is out of their houses and put in situations to meet and socialize with others.
On Wednesday we see a powerhouse of energy align in the heavens as the Sun, Venus, and Pluto come together into a cohesive group powered by Mars. This particular combination has the potential to be a bit volatile, particularly on a global level. While it can bring healing through self-love, I have my doubts. The Mars that activates these three planets together shows great potential for those in positions of power to fall in love with their own power, and feel compelled to show it outright through aggressive posturing and actions. Take a careful look at local, regional, and world leaders on the 9th and 10th of January 2018. Actions on these days are likely to have long lasting effects.
Astro Homework
With this week's power trio of planets you can harness the energy by initiating positive affirmations related to improving your own self-worth. This is a fantastic time to say goodbye to areas of our lives where we feel inferior. Your assignment is to try some positive self-talk and make it a point to face one fear at some point this week. Remember, those with no fear are not brave at all. It is those that face fears that are the bravest among us.
Aries (21 March — 20 April)
Aries, your entire week can be summed up in two not so simple words: work and bills. Early in the week you can anticipate a harmonious work environment, which may seem a bit too good to be real. You'll want to hold tight to that, because on Thursday things could heat up around the office, as well as on the roads. Supervisors and people in positions of authority are likely to have inflated egos the second half of the week, and with your fiery nature it could land you in some hot water. Try not to rock the boat too much, especially if you have a chance encounter with an officer of the law. Chances are they won't be feeling too generous with you, and you could get hit with a huge fine. This weekend Mercury will change signs and enter your house for the next few weeks. This will bring some good news to how you interact with superiors, and may help smooth over any unpleasant encounters that may have happened this week.
Fantastic beast: Thunderbird
Taurus (21 April — 20 May)
It's the public eye for you this week, Taurus, as the heavens ask you share some words of wisdom with others. Don't be surprised if on Wednesday someone comes rushing to you to seek advice. For those of you who are currently enrolled in higher education, this week could also prove to bring up some questions concerning your direction or course of study. Those of you who are not working towards a degree or certification could easily find yourself looking into a program to expand your mind, or better your position in life. This will be emphasized over the next few weeks as Mercury moves through your sector of higher education. Over the weekend, the attention you're currently getting could bring a chance encounter from someone from a foreign country or culture. Since you've been giving out advise the week, take this opportunity to take advice from this persons perspective.
Fantastic beast: Chimera
Gemini (21 May — 20 June)
While Gemini is known far and wide for their ability to share opinions, you may be feeling more critical than usual this week. Do your best not to judge others too harshly. If you do, you will certainly be placed under the scrutinizing eye of others. Where you should be a bit critical this week concerns money that you and a partner may share. If you are in this type of relationship, your partner's bank account could take a bit of a hit, and you'll need to help prioritize spending. For single the single Gemini, your bank accounts will be safe; however, you will want to try and watch your spending as you're likely to experience shopper's remorse. Even in your critical state, it is likely you won't be able to escape the critical eye of a partner or close friend this week. Try to remember they have your best interest at heart. Don't be surprised if others make suggestions about your diet, exercise routine, or housekeeping. Take the advice with gratitude and do your best to really hear what others are saying.
Fantastic beast: Niffler
Cancer (21 June — 20 July)
Much like Taurus, you also may be the centre of others' attention this week. Coming out of the Cancer Full Moon last week, you may feel as though all you want to do is rest. Unfortunately, you will need to stay out of your shell a little bit longer. This week is all about the truth. You may feel like you need to tell someone the truth, or you feel like someone is not being honest with you. Be cautious not to let this need for truth consume you, or you'll be dealing with a sore throat by Friday. Drama around you could come to a head on Thursday, and this is where you might have to hear a bit of truth that you may not like. On the bright side, you will have finally gotten the truth you've been desperate to have. Over the weekend, you could still be doing some damage control, but you'll have the clarity and leadership skills to negotiate others' overly emotional states.
Fantastic beast: Kelpie
Leo (21 July — 20 August)
Feelings of security and warmth overtake you this week, Leo, as your focus turns towards family management and homemaking. While you are most comfortable being the centre of attention, you seem to be inspired to care for others this week. By midweek someone in your home could be dealing with a personal crisis, which could manifest as a minor illness or an emotional wound. Here is where you are called to action, and will be able to make the best use of your own experience being pampered by providing them with pampering. Thursday could bring some drama to your work life, so you'll want to be on guard and try and keep a low profile. Over the weekend you can anticipate spending time decluttering, organizing, and rearranging your home environment. Stay home, be productive.
Fantastic beast: Gnome
Virgo (21 August — 20 September)
It's all about good news this week, Virgo! Jupiter, Venus, and the Sun play a lovely dance affecting your sector of communication. Here you are likely to experience a surprising message from a woman at some point this week. Conversations that may have been difficult for you to have recently could get some attention on Wednesday. This will help clear the air with someone you may have had some conflict with over the last several months. While it never seems to be the right time to hash out differences, it will seem to come naturally this week. Over the weekend children could feature prominently, so if you are a parent or guardian get ready for a rollercoaster ride. If you do not have children, this energy is likely to be expressed as an intense need to create. Give a paint night a try, or hit up craft blogs to find an outlet for this excess energy.
Fantastic beast: Pixie
Libra (21 September — 20 October)
You can expect a very productive week, Libra, and will have a seemingly endless amount of energy. Early in the week, a female relative is likely to make an appearance. When this happens, you may be confronted with the potential to either lend or invest money to or with this person. As the scales, you are able to weigh your options like no other, and this will be very important. If you do not have the opportunity or chance to sow some funds, you'll have your chance again this weekend. Financial luck is on your side, so whatever you chose to do this week, you're likely to see large returns. On Saturday Mercury will change signs, and for you this will bring a wave of business to your home. As Mercury spends the next few weeks here you can anticipate many people coming and going as well as calling you. Make sure your space is all set for guests, as you are likely to be entertaining this weekend.
Fantastic beast: Unicorn
Scorpio (21 October — 20 November)
Sometimes you just need to be a little self-centred, Scorpio, and this week will give you the opportunity to spend time talking about yourself. While most of the week will go smoothly, you might want to brace yourself for an argument on Wednesday. Don't waste your breath trying to win, as your opponent will have the upper hand. This confrontation could continue or come to a head on Thursday, especially if this disagreement was with a family member or roommate. Your best course of action will be to steer clear for 24 hours, just don't run away. Your car could give you some trouble on Thursday, so you'll want to proceed with caution here as well. While you may feel a bit off balance this week, you'll regain your sense of direction on Saturday.
Fantastic beast: Kraken
Sagittarius (21 November — 20 December)
This week is all about accepting what you cannot change, Sagittarius. Lately you may have been feeling somewhat isolated. As Jupiter has been moving through your 12th house, depression and anxiety can become difficult to battle. Luckily, Venus gives this Jupiter a boost of optimism, and the clarity to pull yourself out of a fog. Early in the week, you can anticipate a surprise or kind word from a friend who will boost your morale. The major conjunction on Thursday will give you more power over your own finances. While money is always a source of stress, you'll feel more confident now than ever before when it comes to managing your money. So, if you have been waiting to hear about a raise or a surprise source of income, you can expected to manifest this week. Over the weekend Mercury will also move into your sector of money, which will give you even more financial strength. While you're dealing with coming to terms with some internal shadows this week, you're also on the cusp of more financial stability.
Fantastic beast: Griffin
Capricorn (21 December —20 January)
It's time to get active in your community this week, Capricorn. Altruistic tendencies will seem to fill your mind and heart. Friends you may not have spoken to in a while are likely to surface, and their presence will be good for your immune system that may have been compromised recently. You may also feel a bit larger than life this week as the triple conjunction occurs in your sign. This will cause you to be the most susceptible to the egocentric and power hungry energy of this rare alignment. With that being said, others may find you a bit overbearing towards the end of the week, so you'll want to try not to offend those around with what you say and do. Over the weekend you may have the hardest time keeping your words in check. Something that has been weighing on your mind will now come to the forefront, and you'll be more inclined to speak up about it.
Fantastic beast: Feathered dragon
Aquarius (21 January — 20 February)
It could be a little difficult to be productive at work this week, Aquarius, as you're likely to feel confined here. By  mid-week, it is possible that an issue at work from the past will once again resurface. On Thursday, a coworker's, supervisor's, or personal secret could be revealed. In essence, the heavens want to clear the air and even the playing field. This will act as a trigger for a new beginning in this area of your life, which is certainly positive. If you feel like you've lost some control this week, you're going to have to wait it out. With Pluto, we don't get much of a choice, but it is always in our best interest. Over the weekend you may hear of a friend or acquaintance that is ill, in the hospital, or even imprisoned. While it's not your responsibility to take care of this person, you may want to consider asking if there is anything you can do. As an ambassador to humanity, it's part of your role in this life to provide support to others.
Fantastic beast: Boggart
Pisces (21 February — 20 March)
For you it's all about redefining friendships this week, Pisces. Early in the week you are likely to make some great connections with others from different backgrounds. Most notably, it could be an individual from another country you meet on social media or a message board, rather than in person. This connection will lead to a second introduction at some point this week from another foreigner. While these new networking activities are exciting, you are also likely to find that some of your other friendships need to be analyzed. Don't be surprised if you find that some of your current friendships are no longer healthy or serve as a positive influence in your life. This is most clear on Thursday, when the great conjunction could cause some of the most dramatic changes to your circle of friends. By the time Mercury enters Capricorn on Saturday, you'll be able to make some more practical and possible difficult decisions. If you do plan on removing a friend from your life, you want to do in a quick, polite, and almost clinical way that only Mercury in Capricorn can provide. As a change from the Piscean emotions, you'll be able to be more objective and direct.
Fantastic beast: Bowtruckle