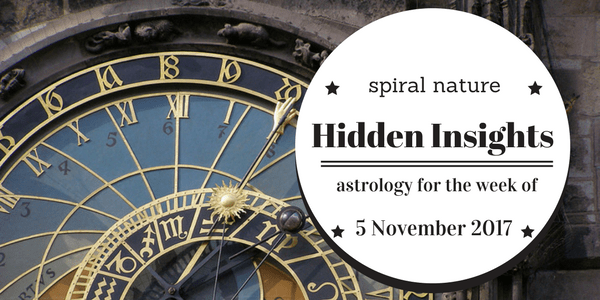 Welcome back to Hidden Insights. This week starts off with Mercury, the planet of communication and quickness, moving into freedom-loving Sagittarius. For the last few weeks Mercury has been travelling through Scorpio, and brought with it a need to investigate, probe, and question. Now in Sagittarius, thoughts begin to broaden as we globally shift into questions about morality, justice, and fairness. However, there is a certain level of exaggeration associated with Mercury in this sign, and we must be cautious not to blindly believe everything we read or hear. Our ability to scrutinize will be tested, and we must be cautious not to make sweeping judgments right now. So if you run into individuals expressing extreme or loud opinions, try not to take offence, and remember it's Mercury purging itself from its time in Scorpio.
It is also likely, with this placement, that we will hear sweeping proclamations from religious leaders and cultural icons related to moral topics. For example, if we look at the last time Mercury passed through Sagittarius, the Vatican confirmed its ban on homosexual candidates entering the priesthood. We also saw the Philippines introduce a bill to protect the rights of queer citizens, as well as the halting of the Dakota Access Pipeline in the United States, protecting the rights of indigenous Americans. No matter how this energy manifests, it will help open our eyes, and people will be more inclined to discussing and debating more openly.
Lovely Venus also makes a shift this week, as she moves into Scorpio. This energy allows us to reconnect in a deeply spiritual and physical way with those around us, particularly romantic partners. I like to consider Venus here a sign of sexual liberation, as well as heightened levels of passion. This week promises to bring our interactions with others in to a new realm of flirtation, intensity, and physical closeness. It is not the time to be superficial or coy, and you may notice many people making bold moves. Given the sheer power behind this position, it promises to be a week of intense emotional highs and lows for many. This weekend, Saturn's energy helps us bring order out of chaos, as we try to find solutions to the hectic energy of our lives.
Aries (21 March — 20 April)
It's all about being optimistic this week, Aries, and you are likely to want to dream big. However, you want to make sure that you try to hold onto some sense of reality when it comes to taking care of business. You may also spend some time this week researching different places you would like to visit. Now might be the right time to start planning your summer vacation, as you'll be able to negotiate the best deal with a travel agent, or even find the best deal doing the research online yourself. You're also likely to have some chance encounters with spiritual leaders or advisors. As an impulsive sign, you want to make sure you don't jump too deep into a new ideology, faith, or religious institution. You are also entering a period this week that is great for getting loans, being gifted money, and making sound investments in your future. On a more mundane level, you will want to watch out for an argument or misunderstanding later this week with a partner, friend, or associate.
Taurus (21 April — 20 May)
Love is in the air this week, Taurus, as the planet of love moves into your sector of romantic relationships. You will be particularly affected by flirtatious energy, and your own powers of seduction and flattery can get you far this week. For those of you who are single, this is the perfect time to begin a new relationship, socialize, or make connections in the digital world of dating. On a slightly darker note, you may hear news of an illness or death this week, as the planet of communication makes its move into Sagittarius. Despite all the romantic and social energy this week, you may want to consider staying in this weekend and taking care of some personal issues. Of course, if you plan properly you could certainly get out of the house, but you will want to keep your wits about you so you're not deceived by anyone.
Gemini (21 May — 20 June)
The Moon will spend all of its time in your 1st quadrant this week, lending the need to spend some time with yourself, inwardly reflecting. This could cause a bit of a quandary, as Mercury moves into your relationship sector and Venus into your house of work. It seems everyone wants a bit of your time, and while you are typically social, it's just not in your nature right now. The beauty of Gemini's duality is your ability to function both internally and externally, and this week just happens to be an internal period for you. You may also find that you begin to question the motives of those around you, but these are likely irrational fears. Work also comes into focus this week, and Venus in Scorpio allows you to accomplish a ton behind-the-scenes, and problem-solve better than any of your coworkers. This weekend could bring an issue to head with a partner or co-worker. Try not to act irrationally, or you could be your own worst enemy and make matters much worse than they are. It's a time to get everything out in the open and solve problems with these individuals that have been building over time. Relationships will be tested, and used properly can make you closer than ever to the one your love.
Cancer (21 June — 20 July)
Much like Taurus, you also are having a flirtatious and romantic week. It is likely you will spend this week drawing the attention of those around you, and you may even notice others making eye contact. This is because your sexuality is highlighted right now, and you are able to attract others simply with your presence. However, Mercury's movement puts up a barrier here and wants you to focus on duty and responsibility. So how can you find the balance between having fun and taking care of responsibilities? For you, it all comes down to planning. If you map out everything you have to do ahead of time, you'll have more than enough time to flirt and have fun once you've taken care of those more boring tasks. This is especially important, since last week was wrought with responsibility and you're aching to let loose. That level of excitement and play will come soon enough, for now just try to make room for both in your life. If you procrastinate, as the heavens seem to be pushing you to do, Saturday will be a painful scramble to finish everything you have been putting off. Fight the urge to procrastinate with all your Cancer strength.
Leo (21 July — 20 August)
You finally get to relax this week, Leo, as Venus moves into your house of hearth and home, and Mercury moves into your house of pleasure. You're focusing on ways to improve your surroundings, and it's likely you will spend time making your home cozier. Enjoy the downtime, because as we all know, you will be back in the limelight soon enough. Take some time to show the world what kind of homemaker you can be, and flex your creative side by adding new touches of beauty or style to your environment. By Thursday, you should also be receiving some news about money, particularly if this money is related to any debts you might owe. Fortunately, the Sun's aspects make this a positive financial encounter, but with Pluto you may not initially realize how it can benefit you fully. Its benefit should become clear on Saturday when the Moon moves into your house of finances, so it's best not to make any decisions until then. This weekend, sexual tensions finally break, and it's possible to bring a new level of creative intimacy into your life as well.
Virgo (21 August — 20 September)
Family matters continue to be a central focus for you this week, Virgo. As Venus moves into your 3rd house, it's likely you could be called in to mediate a conflict. Of course, this isn't just within the family; you could be called to act in this capacity in just about any arena of your life this week. Fortunately, you will be much more compassionate, articulate, and discerning, which will help mediate issues. Your home also comes into focus this week, as Mercury moves into this area of your chart. This will bring much of your attention not only to your home and domestic matters, but also to your past and childhood. As Mercury rules communication, it's possible to hear from or about a childhood friend. Of course, you don't have to wait for them to come calling. Perhaps you should make the first move and reach out to them, particularly if it's someone you feel could give you some sound advice. This weekend you may find yourself attending to an unexpected issue with your home, so it's best to leave yourself some extra time to deal with any surprising irritations that may come up.
Libra (21 September — 20 October)
The world knows you're a social creature, Libra, and you love to make connections with people. Expect to take full advantage of that this week, as you will be spending a lot of time talking with others across every medium conceivable. However, you may also find that, despite all of this movement in your life, you may become a bit irritated over insignificant things. It will be important for you to remember that discretion is the better part of valour when it comes to expressing your frustrations. On the bright side, your ability to connect with others could prove to be financially beneficial for you this week. Much like Virgo, you too may find yourself with an unexpected expense related to your home. This could be as simple as needing to make an extra run to the store, or as serious as a broken water pipe. Either way, you want to be aware you may be spending some money on your home. This weekend brings the potential to donate to a service organization, volunteer, or take on new responsibilities with a committee you may be a part of. Remember, this is a social week for you and you have the power to influence others, particularly when it comes to helping serve the less fortunate.
Scorpio (21 October — 20 November)
Venus joins the Sun and Jupiter in your sign this week, as Mercury makes his dramatic exit out. This can make it difficult for you to exercise restraint when it comes to denying yourself things or experiences you desire. You also notice a new preoccupation with your physical appearance this week. This makes it an excellent time to get a new haircut, buy some new clothes, and generally give yourself a makeover. The changes you make to your appearance will allow you to change the way others look at you. Think of it as a week where you have the opportunity to reinvent yourself. While much of this may seem superficial, you are also likely to engage in some serious debates this week, especially when it comes to topics concerning morality, the nature of the Universe, and metaphysical philosophies. Enjoy the engaging conversations, and let your ability to think deeply shine. Some changes to your work environment might be due this weekend, especially if you've changed some things about your physical appearance. Maybe invest in some office decor, an updated uniform, or even a new attitude.
Sagittarius (21 November — 20 December)
It's all about finding your voice this week, as Mercury moves into your sign. Redefining how you express yourself can be a challenge, but it's time for you to start establishing clear lines of communication with others, and speak up for yourself. This won't be an easy task, as Venus moves into your house of privacy and seclusion. Here you may be inclined to more shyness than usual. While most of the world is in romantic overload, you'll want to make sure you don't let yourself feel lonely with Venus in retreat. This is a time to examine your own romantic roadblocks and address them in a constructive manner. You also want to be aware that others may come calling for financial assistance this week. Use the energy of Mercury to stand your ground when you are facing the sordid topic of coin. This weekend should be fairly uneventful for you, and will run smoothly. If you do go out this weekend, be watchful of those who wish to party too hard, as it could end in some trouble for you.
Capricorn (21 December —20 January)
Keeping the peace is more important now than ever before for you, Capricorn. As Venus moves into your 11th house, you can anticipate meeting new and exciting people through groups of friends or organizations. This may feel a little uncomfortable, as you feel pensive right now and your natural instincts are to keep quiet. You should allow your friends to get you out and about, so you can deal with issues from your past in a healthy manner. It's best to use this week to examine your past in order to make a better future for yourself moving forward. On Thursday, you are likely to realize something new about yourself, especially when it comes to how you love and care for others. For those of you who may have been hiding a love interest from friends and family, now might be the time to bring them out of the shadows. This weekend has the potential to bring an unexpected visitor to your home, so you might want to make sure that everything is clean and in order. You would hate to invite someone into your home when it's unorganized.
Aquarius (21 January — 20 February)
Most of the time you leave your work at work, but this week could bring some social aspects to your work life. There are likely to be some opportunities related to social events that could set you up for a nice promotion or a raise. While you are typically cautious of socializing with coworkers, now is actually the ideal time to consider this as part of your journey up the ladder of success. Supervisors and coworkers are now more likely than ever to hang on your every word, and the right amount of social interaction will give you an edge over others. If you think of these situations as networking opportunities and not a social get-togethers, you'll find the perfect balance of business and pleasure. This will be especially important, as your mind is working in overdrive. Your thoughts will be clear, and you'll not only have innovative ideas, but creative solutions to problems that will certainly garner you a great deal of positive attention. This week also provides a breakthrough with work that has been causing a great deal of chaos lately. It's setting the stage to take some stressers off of you, which will be a welcome relief.
Pisces (21 February —20 March)
This week brings mental focus to your career in terms of advancement and opportunities, Pisces. As Mercury moves into Sagittarius, you'll likely be able to bring your message and ideas to the public stage. This is a great week to initiate any business ventures you have been considering. However, you want to make sure you can back up your words with actions, or you could frustrate or disappoint an entire array of individuals. Developing your career can no longer be a dream, it needs to be manifested into a reality. So grab the classifieds and get your resume out there. You're in a good astrological position to hear back for interviews, and your ability to communicate professionally is starting to peak. This week could be a bit of a shock for all you single Pisceans, as you find yourself attracted to those you may not have considered before. It might be an interesting change to try dating outside your "type."