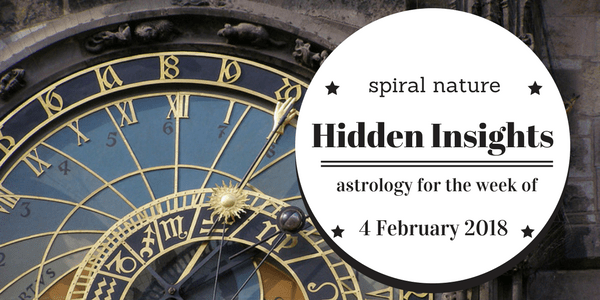 Hidden Insights is happy to announce that after an intense eclipse, this week promises to be much more relaxed.
Venus is hard at work most of the week, lending her touch to Jupiter and Uranus before changing signs over the weekend. On Monday, Venus squares Jupiter, which will set a playful tone. While the rational mind wants to be productive, Venus demands we let loose. We should see most of the world is feeling optimistic, but gluttony may be running rampant. This energy is further exaggerated when Venus makes a lovely sextile to Uranus on Wednesday. Here we can expect to feel a sense of urgency to participate in exciting events, and we will be more prone to risk-taking.
With Venus running around the heavens, it will be important to make sure we all proceed with caution in any type of creative or adventurous activity. If you watch the news, chances are we are likely to see some daredevils getting into trouble. This lack of inhibition can bring out incredible creativity, but it can also place us in dangerous situations. So, if you or a friend feels the urge to climb the side of a building to paint a mural, or decide to participate in a food eating contest, you may want to reconsider.
Over the weekend Venus will change signs and move into watery Pisces. In such a caring sign, Venus is bound to trigger forgiveness and reconciliation between friends. Here Venus has no clear boundaries, and over the next few weeks most of the world may seem to be more compassionate than usual. This is a welcome change from the celestial stress we have all been experiencing.
Astro Homework
Venus is the planet of love, and it's no surprise she should be busy with Valentine's Day on the horizon. Aside from the romantic aspects of this holiday, we cannot deny that it's also about indulging in pleasures of the five senses. This week, use Venus to explore what stimulates your own senses. As a whole, we will be able to experience sight, sound, touch, smell, and taste with heightened perception. So, instead of working towards a goal this week, your assignment is to find out what gives you pleasure, and allow yourself to indulge. However, do your best to exercise a little restraint. Too much of a good thing is never quite as good as it seems.
 Aries (21 March — 20 April)
Debt comes into focus this week, Aries, and you'll likely be reworking your budget. This couldn't come at a better time, as you'll want to be particularly careful with you finances. Venus' activity may inspire you to spend more than you can really afford, so it's best to be frugal. Ask a friend for some input before making a big purchase this week. Even if it seems like a great deal, it may not be beneficial to your current budget. As Venus changes signs this weekend, it will begin to trigger even more potential for lavish spending. You may also want to watch out for the decline of a loved one's health this weekend. Do your best to be there for them, but try to remember that you can support someone without spending much money.
This week's tea: Peppermint
Taurus (21 April — 20 May)
Early this week romance could be in the air, Taurus, as flirtation abounds. You're likely to be more aware of those to whom you are attracted. However, you want to be cautious not to engage in any type of romantic fling with someone from work. Chances are you could be hit on at the office, and taking that chance could not end well for either of you. If you are currently in a romantic relationship, it's possible your partner could be bringing actual work to do or drama from work home this week. Over the weekend as Venus changes signs, you can expect progress in something you have been patiently waiting for. It's also possible that Venus could trigger some extra income over the next few weeks, so go ahead a splurge this weekend.
This week's tea: Earl Grey
Gemini (21 May — 20 June)
Duty at home is calling you to be productive, Gemini, but it just doesn't seem that important to you this week. Your daily routine could be thrown a little off course early in the week, but you don't seem to mind, as long as you're having a good time. By mid-week you can expect friends to come calling who want to make plans with you. While this could be an opportunity to play hooky from work or family responsibilities, it's probably best to wait 'til the weekend to be a little irresponsible. As Venus changes signs this weekend, your carefree attitude is likely to fade. Your attention will be focused on returning harmony, not only your to home environment, but also at work. This is particularly true with a woman or women you work with. It's time to plan on how to build bridges with coworkers, and make a positive impression on supervisors.
This week's tea: Oolong
Cancer (21 June — 20 July)
There seems to be a polarized conflict between work and play this week, Cancer, as Venus activates Jupiter in your house of leisure on Monday, followed by your house of responsibility on Wednesday. It's best for you to find a way to be creative and play the first half of the week, as your body will be itching for some fun. It's also highly likely that a chance romantic encounter could pop up, as someone is likely to make a move and show their interest in you. Take a chance and go on a date if the situation arises. If you are in a relationship, this will be expressed as a highly sexual few days for you and your partner. Try something different or exciting in the bedroom. During the second half of the week you'll still be feeling a need to relax and play, but you'll actually be able to find a way to do that at work. However you spend your days taking care of responsibilities, it's highly likely you will find a new sense of joy in what you do. Over the weekend, you could be faced with an ethical dilemma, and need to decide what is right for you, and what is wrong. Do your best to remember that just because something is right for you, doesn't mean it is the right choice for someone else.
This week's tea: Matcha
Leo (21 July — 20 August)
This week is all about finding pleasure where you live, Leo, and you may want to try and schedule a mini vacation at home. If you are in a committed relationship, it's likely the two of you will be spending the majority of your free time this week at home and finding new ways to entertain yourselves. For those of you who are single, this week is certain to recharge your batteries. Do your best not to work too hard, and make plenty of time for in-home activities. Your body and your brain with thank you. By midweek you are likely to encounter someone who wishes to seek your advice about a legal, spiritual, or philosophical question. Even if their inquiry shocks you, do your best to remain unbiased and give your best advice. As Venus changes signs this weekend, you may become more aware of debt you have incurred, and will likely try to find a new way to address these responsibilities. In the process of organizing this aspect of your life, you may uncover some information that is unsettling, but it will be short lived, as you're preparing for a large increase to your income.
This week's tea: Jasmine
Virgo (21 August — 20 September)
An unexpected trip or detour early this week is likely to have you in areas of town that you typically don't visit, Virgo. You should also be aware that a neighbour is likely to surface early in the week and will have not only good news for you, but words of encouragement. Your own sexuality also comes into focus, as you're likely to feel a bit more active than usual. If you are in a committed relationship, you're likely to see your partner with fresh eyes that may drive you to the limit of your self-control. Also for Virgos who are in relationships, this week could bring some very important news in terms of your partner's income. Chances are you'll be hearing good news. Over the weekend Venus moves into your area of interpersonal relationships. While this can bring love into our lives, this also brings powerful women with whom we can build strong business bonds. Now is the time for you to collaborate with others in joint business ventures, and you'll likely be presented with an opportunity soon.
This week's tea: English Breakfast
Libra (21 September — 20 October)
It's a spending frenzy for you this week, Libra, and you may not have control over how much you are spending. Chances are everything you see this week will catch you eye. You'll want to buy new sheets for your bed, new throw pillows, collectibles, or even kitchen gadgets. The point is that you may want to have someone hold on to your credit card this week, and make sure you stay clear of stores and shopping centres. It's also likely that someone from your past may make an appearance, so be prepared to reminisce about happy memories. As Venus changes signs this weekend, you'll want to be cautious with your health, specifically related to your abdomen. If you've over spent or over indulged in eating out this week, indigestion is guaranteed. This change also marks a period where you will become more social at work. Here you can try to restore balance out of chaos that may have been prevalent at your job.
This week's tea: Chamomile
Scorpio (21 October — 20 November)
You're certainly no stranger to indulging in pleasures of the senses, Scorpio, and this week your focus will be on your sense of taste. While your appetite may seem insatiable, it's really a longing to experience flavours. Do your best not to overeat, though food and flavours may seem heightened. Your waistline will thank you, though chances are you may have a difficult time keeping an extra pound away. Someone you may live with is likely to surprise you with unexpected plans, and you may find yourself treated to a dinner out. Venus moves out of your sector of home and family and into your sector of leisure. After spending several weeks to yourself at home, you're feeling ready to get out and conquer the world. Anticipate a busy weekend, where you find yourself in a variety of social situations. Do your best not to let your scorpion shell shy away from socializing.
This week's tea: Orange Blossom
Sagittarius (21 November — 20 December)
Don't expect to be too grounded this week, Sagittarius, as you've got more to do than there seem to be hours in the day. It's no secret that there is an influenza epidemic sweeping the globe, and you may be a bit more susceptible to catching something this week than you fellow signs. If you start to feel ill Monday or Tuesday, I would recommend seeking medical advice immediately, or you could be spending the entire week in bed. If you do get through the week without the sniffles, you could be having a surprise date night Thursday or Friday. If you're single, this is a great time to ask someone out. If you are committed, don't be surprised if your significant others treats you to a night out. As Venus changes signs over the weekend, she will pass into the foundation of your chart. This signals a period where you are likely to experience more visitors to your home than usual. Your home could become very busy, especially if you have a new flame on the horizon.
This week's tea: Wuyi Tea
Capricorn (21 December —20 January)
It's all about meetings this week for you, Capricorn. Many may be occurring at work, but you are likely to schedule a time to sit down and chat with other groups. This could be a planning committee, your family for an upcoming function, or even a group of neighbours. The point is, you'll be interacting with others most of the week, and early on you'll likely be asked to take part in several outside of your own agenda. Midweek could bring an unexpected expense to your home. While this is not necessarily a repair or issue related to where you live, you'll certainly encounter a need to purchase something for your living space. Encounters with groups don't end over the weekend, as the world around you demands you bit a bit of a social butterfly. You may also be called to deal with a conflict between two individuals that will need your sense of diplomacy to help restore harmony between parties.
This week's tea: Green Tea
Aquarius (21 January — 20 February)
Anticipate assisting a coworker early in the week as they run into a small snag, Aquarius. Fortunately, all the optimistic energy will not only make them grateful, but also boost your own mood. This is a sigh of relief, as you may have not been feeling appreciated lately. Trust that you are, and look forward to hearing a special thank you or gesture of gratitude that is likely overdue. Some shadows from your past are destined to show up this week, as you take stock of what makes you happy. By midweek you may be offered the opportunity to express yourself in a new way. This could include public speaking, teaching, or writing. Don't immediately pass, but don't make a decision right away. As Venus moves into your house of finances this weekend, you can expect to find some fantastic deals wherever you look for the next few weeks. Feel free to shop to your heart's content, or at least as far as your budget allows.
This week's tea: Peach Tea
Pisces (21 February —20 March)
Most of this week you may feel the need to be alone, Pisces. This is because Venus is spending her last few days in your 12th house of inner reflection. Early this week you may encounter a stranger in public who will strike up a conversation with you. You'll want to pay close attention to what they share, as it will help deal with an internal struggle that may have been bothering you lately. By the end of the week another chance encounter is likely to bring someone in your life who will want or need to borrow some money. While I cannot tell you if this is a wise or unwise decision, you'll have the clarity to figure out what to do by the weekend. This is because Venus will be entering your sign. Here you'll be much more self-aware, and may even find that you want to change something about your physical appearance. This would be a great weekend to get a haircut, makeover, or new outfit. You can never go wrong with Venus here, as it magnifies our best qualities.
This week's tea: Black Tea