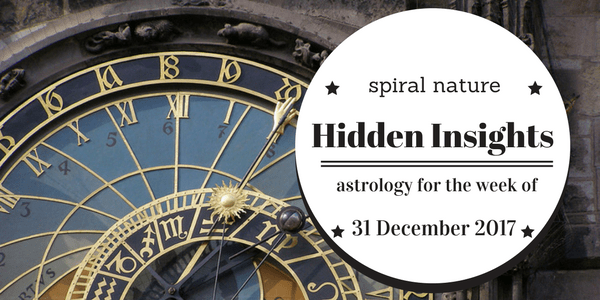 I would like to wish a Happy New Year to all the Hidden Insights readers! The start of 2018 promises to be a very productive and, quite frankly, a very sexual first week of 2018. This is due to a particularly powerful Full Moon on 1 January 2018, which makes a beautiful picture in the sky with Venus, Neptune, Mars, and Jupiter. I call it a picture, because it is known as a kite. Essentially these planets form the shape of a kite in the sky, and this configuration gives extra strength to the Moon.
Setting the scene for the week ahead this configuration promises harmony in negotiations, the revelation of secrets, a need to work through some of the more uncomfortable aspects of our own relationships. Mars and Jupiter will force us to initiate difficult conversations, while Venus and Neptune soften these encounters by helping us reach a harmonious outcome. There is also a very sexual side to this combination, and I can't help but be reminded by Marvin Gaye's hit song, "Sexual Healing." While many of us may face some stress this week with romantic partners, it is intimacy that is likely to help break the tension, an through the Full Moon's energy, bring about a renewed sense of balance to relationships. For those of you who are not romantically or sexually involved with someone, you will certainly feel the pull of this energy as well, though it may manifest in a very personal sexual healing through some adult alone time.
This week also marks Uranus stationing towards a direct motion after spending the last 145 days retrograde. They say to expect the unexpected when it comes to Uranus, and this could certainly be true this week. In the sign of Aries, we can anticipate sudden and unexpected power moves, the masses taking action before thinking, and the possibility of some extreme events and weather around the globe related to fire and explosions over the next few months. Personally, this energy is likely to manifest in the form of restlessness for many of you, and will likely act as the trigger towards the important interpersonal conversations discussed with the Full Moon earlier.
Astro Homework
In the film To Wong Foo, Thanks for Everything! Julie Newmar, Vida declares, "Internal combustion, it's the ultimate accessory." This week I would like you to consider your own internal combustion, and figure out what gets your personal engines going. On Saturday Mars will align with Jupiter, allowing you to fully take action. Try carving a candle with what you are passionate about. Then on Saturday, light it, and take some time to think about how to spend more time this year making what you love a part of your life. While much of the world is making New Year's resolutions, I want you to take New Year's actions. Riding the energy properly might just allow you to make a living doing what you love.
Aries (21 March — 20 April)
The Full Moon on Monday brings home and family to your attention, Aries, and it's possible you may see the culmination of your or a family member's project finalize. Congratulate them or yourself by honouring the achievement. Your routine at work might change a bit this week as well, so you'll want to make sure you try to roll with the changes. I know you love to just get things done, but you might just have to exercise a bit of patience on Tuesday and Wednesday. The second half of the week will be fairly quiet, so enjoy the solitude if you can. This weekend you may need to have a conversation with yourself about realistic goals. Everyone wants to get moving with Uranus finally direct, but like work earlier in the week, you may need to exercise some restraint. If possible ask a friend to help you reign in some of your larger than life goals. They will be able to help you put them into focus, and make a plan you can actually stick to.
Your tarot card: 7 of Wands
Taurus (21 April — 20 May)
You will start the week out positively restless for a change, Taurus, and you may find yourself on travel sights looking for places to get away on vacation. While it's always exciting to get away, you may want to consider figuring how to make a vacation work with a group, instead of solo. If you're friends aren't too keen on the idea of a trip, there are lots of travel clubs and group tours you may want to research. Of course, you don't have to pack and go right away, but you can still plan for something later in the year. Notice I said plan, and not make a deposit on a vacation. This is because at some point on Saturday or Sunday, you could find yourself dealing with an unexpected expense. While it's not likely a major blow to your bank account, it may still feel frustrating to have to spend money unexpectedly.
Your tarot card: 7 of Pentacles
Gemini (21 May — 20 June)
Money is on your mind this week, Gemini, and Monday's Full Moon may bring an unexpected financial surprise. If you are in a relationship, this news is likely to come from your partner. Perhaps they got a raise, a bonus, or an unexpected refund in the mail. For those of you who are single, the financial matter is likely to manifest as a shift in your own paycheque. Make sure you double check that you're being paid properly. You may have some money owed to you. This weekend brings a boost to your immune system and overall physical vitality. You may even feel the need to hit the treadmill and go for a run. Essentially, be as productive as you can, as you'll likely be able to accomplish just about anything, particularly if you've been putting off a task that requires a great deal of physical exertion.
Your tarot card: 2 of Wands
Cancer (21 June — 20 July)
Much like Taurus, you too may have your sights set on a potential getaway, Cancer. Unfortunately, you may need the support of a partner or loved one to make it happen. If you run into any roadblock convincing those around you to get away, utilize the Full Moon's energy to go on an internal vacation. The Moon is in Cancer and allows you to focus on your own sense of identity, needs, and self-care. A mini staycation may be just what you need. Each day this week try to pamper yourself a little bit — after the last few weeks you certainly need some personal time. By the time the weekend comes along, you'll be itching to get out of the house and socialize. Though chances are you may be socializing with those younger than you. If you end up at a child's birthday party or even babysitting, make the most of it, and study how children have fun. You may even learn something about yourself, and how to let go and just be silly.
Your tarot card: 3 of Cups
Leo (21 July — 20 August)
This will be a very introspective week for you, Leo. Where you normally enjoy the spotlight, expect to feel the need to hide. The Full Moon may feel a bit uncomfortable, and it is likely to bring up some issues from your past. Face these head on, and if a person from your past surfaces, make sure they aren't looking for any handouts. The second half of the week continues to bring people out of the woodwork. Thursday you may hear some shocking news concerning a legal issue someone is dealing with. If you have children, it's highly likely this is where the information will come from. This weekend is all about getting stuff done around the house for you, as you will be energized to get things in order, or even throw a party. After spending much of the week in hiding, you're ready to get back to the spotlight.
Your tarot card: The Hermit
Virgo (21 August — 20 September)
It's a very social week for you, Virgo, and it's going to feel like there are not enough hours in the day to get everything done. Much of the first half of the week you will need to watch your schedule very carefully, so you don't overbook yourself or forget an appointment. While you are running around, it will be important not to forget to pay attention to your loved ones. By Tuesday or Wednesday, you may start to notice they need a bit more attention than you have been giving. If you thought your week couldn't get any busier, wait until the weekend. Saturday will be a whirlwind of local running around. Do yourself a favour, and try and get as much accomplished during the week as possible, as there won't be any extra time on Saturday and Sunday to get regular errands done.
Your tarot card: The Chariot
Libra (21 September — 20 October)
What a glorious full Moon for your career this week, Libra! The stars are aligning to set you up for a major advance at work. This could come in the form of a promotion, raise, or even a new job all together. If you have been thinking about changing jobs or careers, you may want to really put some effort in this week to make it happen. For Libras with siblings, or friends that feel like siblings, you could be in for a shock by the end of the week. It is possible you will hear about a pregnancy, marriage, or divorce, and your powers of diplomacy will be needed. Over the weekend, anticipate things heating up romantically. You'll get a boost on Saturday that will help you express exactly what your needs and wants are. Honestly, this could be breath of fresh air for your indecisive nature. As Uranus turns direct in your 7th house on Sunday it's like a change in the winds for your love life. Go out and get exactly what you want!
Your tarot card: Ace of Cups
Scorpio (21 October — 20 November)
Everyone knows that Scorpios love to get lost in their own thoughts, and this week you'll have the opportunity to exercise the philosophical side of your personality. Early in the week you are likely to hear from someone who is seeking advice on a situation they can't seem to make any sense out of. Your powers of research are in overdrive, and what you uncover this week is going to be very helpful to someone in need. It is also possible you find yourself yearning to go back to school this week, and it's a great time to do some digging on how to make that possible. Thursday will bring the potential to invest in this type of endeavor, so if you are deciding on a school or program, you might want to reach out to financial aid. Of course if you have already applied, you might hear back from them on Thursday. Over the weekend your confidence will continue to run high, however you will want to be cautious of minor bumps, cuts, scrapes, and bruises. You'll be more inclined to minor accidents.
Your tarot card: Knight of Wands
Sagittarius (21 November — 20 December)
No one likes to spend too much time talking about money, debt, and bills, Sagittarius. However, this week it will be your turn to deal with some of these more annoying issues of life. The Full Moon brings debts to light, and it's possible you may feel like every time you turn around, you owe more money. This is likely to manifest most strongly when it comes to your home, and expenses related to where you live. They say that you can make it through anything if you remember that it won't last forever. This is the best advice I can give you this week, and I can promise the financial stresses won't last forever. While the weekend doesn't bring much relief, it does promise a great deal of rest and relaxation. The Mars Jupiter conjunction will set off your 12th house and allow you to see the larger picture, which will help you ride the wonderfully exciting energy of Uranus direct on Sunday. This will trigger the beginning of a new and creative way to not only produce income, but also to relax and unwind.
Your tarot card: 8 of Swords
Capricorn (21 December —20 January)
The start of the New Year will bring your attention to how you interact with others, Capricorn, as the Full Moon illuminates your house of interpersonal relationships. It is likely you will need to clear the air with someone this week, and quite possibly make some concessions in the name of peace. Also, while most of the world is still licking their wounds from Mercury's retrograde motion, you may encounter a bit of a snag when it comes to your car. Fortunately it won't be a major issue, but you'll be forced to address something related to vehicles that you may have been putting off. Later in the week you can anticipate a call from a doctor, therapist, pharmacist, religious leader with some news that may change your day to day routines at home. Perhaps you need to incorporate some more rest. Either way, it's perfectly manageable and will be an easy shift to make. As Uranus turns direct in your 4th house, you may want to make sure you have backup lighting or heating in your home.
Your tarot card: The Hierophant
Aquarius (21 January — 20 February)
Often times many around the world make New Year's resolutions related to their health, and the Full Moon in this sector of your chart on the 1st, Aquarius, could certainly bring that to the front of your mind. You just want to be cautious not to put too much money into anything related to exercise and diet right away, as Neptune being activated in your house of money could prove to be wasted funds. Thursday's Mercury may bring some news about your car, though unlike Capricorn experiencing some delays, you may get some exciting news. It's astrologically auspicious for you to purchase a new car, if needed. Over the weekend you'll get a boost at work, and if you get a promotion you'll certainly be able to afford a new car. Make the most of that energy at the end of the week, as you'll be able to not only be the most productive employee, but you'll be able to assert and negotiate your needs and wants.
Your tarot card: The Magician
Pisces (21 February —20 March)
You get to start of the New Year with some very social astrological aspects, Pisces. The full Moon on the 1st falls in your house of leisure and romance, bringing some flirtation your way. As your enjoy the ability to draw attention to yourself, you may want to make sure you put yourself in situations where there are large groups of people. If you belong to any social organizations or clubs, this will be where you may shine the most. If possible, check out a local meetup. If your single, you're certain to attract the attention of someone. For those of you who are already in relationships, you can expect your partner to be paying some more attention to you than usual. They won't be able to resist the magnetic energy you'll be giving off. Over the weekend you can expect the opportunity to learn something new. It could take the form of a lecture, workshop, new book, or even online tutorial. Satisfy your curiosity by taking advantage of this. While you normally go with the flow, you'll have definite direction this weekend, so put this to good use, by being as productive as possible.
Your tarot card: 9 of Cups