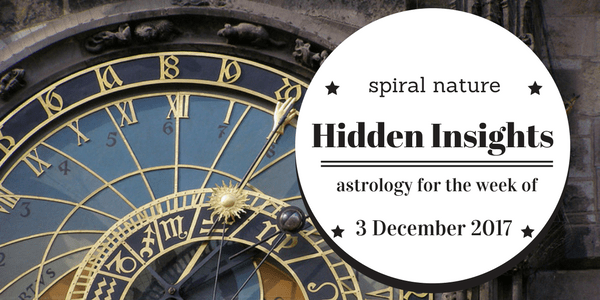 Hidden insights would like to begin this week by assuring everyone that a Mercury retrograde is not a time to panic or fear. Many of you have likely already heard this, but it's just a reminder to help keep yourself level headed and not buy into the apocalyptic hype. Actually, a retrograde Mercury can be rather pleasant, if we just learn to flow with the energy. Too many of us hear the words "Mercury retrograde" and immediately start to worry about car trouble, money issues, and signing contracts. While these certainly can occur during this period, it certainly does not need to be Earth shattering.
Mercury will be retrograde from the 3rd of December to the 22nd. As always, we should utilize this time to focus on ourselves, and plan from behind the scenes. This could be particularly beneficial for anyone who wants to make any changes or fresh starts in 2018, as this period will allow you to map it all out effectively. Mercury stations retrograde in Sagittarius before moving backward through the stars into Scorpio. This signals us to slow down. Where Sagittarius energy is freedom loving, Scorpio is a bit more introverted. Particularly important to this lesson of self-control is the fixed star that Mercury turns retrograde on, Sinistra. This star can produce blind generosity. It will be important for all of us to be mindful of who we are willing to help, and not become too emotionally involved. Remember that it's ok to think for a moment, or do some research before giving to a cause. We want to make sure our money or time is actually needed, or going to the right cause. Now don't confuse this with becoming a hermit when it comes to helping others, it just means do it consciously and well informed.
As Mercury turns retrograde it will again join forces with Saturn, just like it did last week. This will bring some repeated themes, when it comes to important or difficult conversations. However, we cannot ignore the Mercury retrograde, and we should put these off if at all possible. At this time words may seem harsh, cold, or even sharp tongued. If those around you seem to be a bit more offensive than usually, let it go. They will soon realize what they said may have been inappropriate or hurtful.
A Full Moon in Gemini also occurs on Sunday, when Mercury stations retrograde. In Gemini it brings communication into focus for the next few weeks. Not only is Mercury retrograde at the moment of the Full Moon but the Moon will square Neptune. As the planet of illusion, and most certainly delusion this becomes a fairly volatile combination for producing lies and deception. This is exaggerated by the Sun and Moon sitting on a very important fixed star axis, Antares and Aldebaran and Antares. As the Sun passes through Antares it illuminates the very worst of human deception, treachery, and fake religion. The Moon aligning with Aldebaran a more fortunate star, which can bring honor in both business and domestic matters. Unfortunately, the Sun and Moon are being affected by the square to Neptune. This only intensifies the potential for deception. The best we can do with this lunation is to bunker down, and weather the storm out.
Wednesday will bring a particularly active sky, as Mercury will sextile Mars as it conjoins Saturn, as mentioned above. All while Mars simultaneously sextiles Saturn. When these three planets dance together it can create a powerhouse of endurance and focus. While I advised against it above, Wednesday seems to be riddled with energetic debate, and steady vocal endurance. Try to fight these urges, and let them pass. There is no need for anymore drama than is necessary. On a more positive note, this is fantastic energy to get work done. If we utilize the solitude of Mercury retrograde, with the ambition of Mercury, Mars and Saturn there really isn't anything that can't be accomplished midweek.
Aries (21 March — 20 April)
This week is all about learning something new, Aries, and scratching your itch for curiosity. It's as if you won't be able to get enough information. If you find yourself surfing the web, keep yourself on track, or you'll be prone to falling down the proverbial rabbit hole and you'll wonder where half your night went. In pursuit of information you may be asked to step outside of your comfort zone. If given the opportunity to do or try something exotic or different, go for it. Not only will it satisfy your adventurous nature, but you'll also learn something in the process. It is also highly possible you may either make appointments or have chance encounters with seers, mystics, fortune tellers, or prophets. The collective destiny inspires you, and you'll be fortunate enough to find the right person to make things clear for you. This week's Full Moon illuminates your 3rd house and brings with it some difficulty with taking care of responsibilities. You must take extra care if this moon brings documents to sign, as blurred vision is ripe. The Mercury retrograde may make it difficult to deal with any kind of paperwork in the most productive way.
Your patronus: The elephant
Taurus (21 April — 20 May)
Early this week you may notice a need to address the sexual aspects of your life. Are you being sexually fulfilled? Are you a generous lover? Take time to consider these questions, as it will give you the opportunity to be a more engaged lover. If you are single, are you addressing your own sexual needs in a personal way? You may even noticed a heightened sense of sexual desire. This could easily come from someone you notice in public or work. However, keep in mind that things may not be as they seem this week, and you'll want to tread carefully before making any advances. The Full Moon this weeks also brings focus to your sexual nature, as well as joint finances. Now is the time to take care of any end of year bills, insurance policies, or budgeting. Just remember that Mercury is retrograde, so you will want to hold off signing anything until the 22nd. Take this time to organize and get financially ready for 2018.
Your patronus: The peacock
Gemini (21 May — 20 June)
Your ruling planet turns retrograde this week, and you Gemini, above all other signs, knows best way to deal with it. You turn inward and become creative. This is always the most artistic time for you, and you will enjoy indulging.  While others are trying to avoid others this week, you may want to do the opposite.  Join forces with a friend or partner to get an artistic project together. You can help them work out some of the rougher aspects of the week, and feel great about being able to help someone. Wednesday's activity could bring children to the front of your focus. Even if you don't have children of your own, they will feature prominently. It may also be time for you to start thinking about having a child, or growing your family in one way or another. This week's lunation brings focus to your own interests, though you may not know what they are. You may feel like you need some more attention self-care, but figuring out how to do that or exactly what it is may escape you.
Your patronus: The duck
Cancer (21 June — 20 July)
This week is all about ironing out responsibilities, and dealing with the important routines in your life, Cancer. One project after another seems to be popping up, or quickly approaching a deadline. Hopefully you budgeted enough time to get everything done you needed to. You are also asked to reassess your own energy levels. Ask yourself how you feel and if you are attending to your own personal needs. Make sure to take a moment this week to make an inventory of how much time you devote to taking care of work, and how much time you devote to caring for yourself. Planning this week will allow you to spend more time the second half of the month focusing on revitalizing yourself. For you, this week is not the time to start a new diet or lifestyle change, however it is perfect to do the digging to find out what changes you would like to make in a few weeks. The Full Moon brings solitude this week, and it's perfect for getting everything done you need to. You'll also want to be particularly cautious paying attention to any dreams or irrational thoughts. The illusion of Neptune to the Moon in your 12th house, can make it trusting intuition counter-productive.
Your patronus: The bumblebee
Leo (21 July — 20 August)
As Mercury turns retrograde in your house of pleasure and creative endeavours, this week may feel like a harsh return to reality. While it doesn't have to be all seriousness and responsibility, it may seem as though your inner child is yearning to come out. Take advantage of this opportunity and see what your imagination is capable of. By midweek you are likely to hear some important information from a younger family member. This is where you will be able to draw on experience from your younger self to assist someone else. As the Moon becomes full it will illuminate your 11th house of social groups and service to others. While this is usually a good time to join or lead a group, the harsh aspects of this lunation notes the need for caution with any social organization. This weekend gives you the opportunity to put your debating skills to the test, however you should not expect to win. You'll need to accept that sometimes there are no winners.
Your patronus: The dolphin
Virgo (21 August — 20 September)
It is said that sometimes the past comes back to haunt us, Virgo. Personally, I don't believe it has to be a negative experience, as the past can help us make sense of the present. If you are asked to take a walk down memory lane, go for the stroll. A family issue that has been weighing on your mind may finally have an answer. Spending money on your home may also surface this week, however you will want to avoid any large purchases right now. Instead, do some research and figure out exactly what you need balanced against what you want. If it feels like you need to make a decorating change, try rearranging your furniture before you go out and purchase something new. The change will feel like a new living space, while saving your bank account. This week's Full Moon will hit your house of career and reputation. Here you will want to be aware that gossip and lies will feature prominently in this area of your life. Try not to get too involved with anyone at work, and make sure you are guarding your reputation as a whole.
Your patronus: The turtle
Libra (21 September — 20 October)
This will be a very busy week for you mentally, Libra. It may seem as though you can't keep up with your own mind. Your thoughts this week seem to jump from one concern or idea to another. With this very active mental state you will benefit from taking some extra time to mediate this week. It will help sooth your mind, and help keep any worries in check. Your car or mode of transportation may also be brought to your attention this week. This may be heightened as Mercury is retrograde and can occasionally make travel difficult. Do your best to limit the amount of driving or travelling around town this week, and you'll be less likely to run into any difficulties. The Moon's lunation this week brings focus to your house of philosophical belief, and exploration. With Neptune's delusion also in play, you may be confronted with the opportunity to take a leap of faith. Risk taking at this time is not good for you, and you should avoid any blind leaps if necessary.
Your Patronus: The cat
Scorpio (21 October — 20 November)
It's all about showing you the money this week, Scorpio. It may be time for you to call in debts that others owe you. While it's not an easy conversation to have, you'll want to force yourself out of your shell to get back what is yours. Of course, you will not want to rely on this money, right now. But making the initial steps to reclaim it, will be beneficial soon. Traditionally, Mercury retrogrades are not the ideal time to sign any type of a paperwork, however you have the opportunity this week to open a primary or secondary savings account that would be very beneficial. This financial energy is only heightened by the Full Moon in your house of shared resources and debt. Here bill collectors may come to call, but you will want to review your account personally to make sure they have not made a mistake. Failure to do so, could end in you paying more than you actually owe. It will also be important for you to save receipts for anything you purchase this week. The chances of you needing them is likely. If saving things like that is difficult for you, perhaps you should put off doing any important shopping for a while.
Your patronus: The ferret
Sagittarius (21 November — 20 December)
Expressing yourself may be a bit of a challenge this week, Sagittarius, as you may find that you are stumbling over your words. Try to laugh it off, and don't become too frustrated when the words fall out of your mouth instead of flow. By midweek you may feel the desire for some type of change in your personal appearance. However, Mercury is retrograde and you want to avoid changing up your wardrobe or getting a haircut. Instead do some digging on the type of style you might want to present, but again do make any changes or buy clothes right now. Much of this desire to change may have to do with a partner or wanting to find a romantic relationship. While the Full Moon illuminates the love and marriage sector of your chart, it is riddled with deception at this time. Those you are close to may seem less trustworthy right now, and certainly anyone you may go on a date with will not be what they seem. Take this week get to bottom any individuals you may be romantically or professionally partnered with.
Your patronus: The bull frog
Capricorn (21 December —20 January)
While typically a practical person, Capricorn, Mercury's retrograde motion highlights your most spiritual self. The mundane world around you will become less important and you may start to feel nostalgic this week. It is not impossible for you to spend some time dwelling some regrets. You just want to make sure they don't consume you. If you have feelings of loneliness this week, it is because Mercury is asking you to take a good look at yourself and confront parts of your past you have not yet let go of. On a more positive note, this has the potential to be a highly psychically sensitive week for you, as feelings and visions may seem to manifest out of nowhere. Take the solitude of the week to embrace this side of yourself. You may be surprised what you are capable of. This is intensified by the Full Moon despite its harsh aspect to Neptune. You never know, you may find that the gifts you uncover this week could prove to be lucrative.
Your patronus: The sea otter
Aquarius (21 January — 20 February)
As Mercury turns retrograde in your 11th house this week, your social circles are brought into focus for you. Early this week some misunderstandings with friends could surface. Gossip and rumors are also likely to colour this week, so you'll want to make sure you act with a high sense of morality. You may also find out who your real friends are, as a relationship may be tested. Sometimes we need to take stock of our friends, and remove those who are no longer serving your highest good. By midweek the potential for a friend you haven't heard from in a while could flow back into your life. Of course, you always have the opportunity to reach out to someone as well. This week's Full Moon brings a playful energy to your life. Have you been putting off some of the more exciting aspects of life on the back burner because of work? You now have the opportunity this week to get some ideas in motion for some rest, relaxation, and dare I say some adventure.
Your patronus: The squirrel
Pisces (21 February —20 March)
Your work continues to be highlighted again, Pisces, as it has over the last few weeks. However, this week the influence of Mercury could provide some roadblocks in the progress you have made. It would be best if you took this week off of working towards your ultimate goals as it relates to your career and consolidate what you have already accomplished. You'll also want to be cautious of another important conversation with a supervisor or authority figure again this week. Chances are you won't be understood completely, and it could put you in an awkward situation. The Full Moon brings focus to home and family, and its harsh aspects to the Neptune may cause some conflict. As a highly sensitive sign, you may want to try and keep your emotions in check, as those in your immediate environment will be giving off an untrustworthy vibe. Keep in mind those in your home may not actually be deceiving you. It may only be your own intuition playing a trick. Brining your focus away from work, and inward towards your family, will help you avoid some of this confusion this week.
Your patronus: The stork