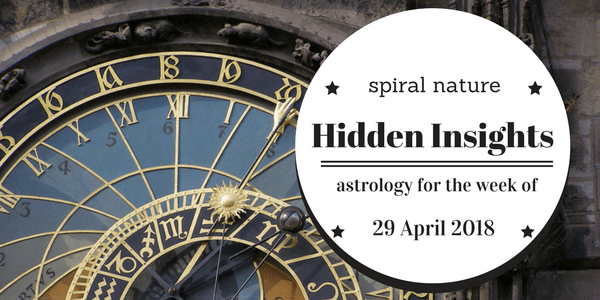 The stars are unusually quiet, and while Hidden Insights often has a great deal of information to share, there is very little going on. What's more unusual is that not only is it a silent week from the stars, but there is only one astrological event this week. Because of this rare celestial set up, this week's horoscopes may seem unusually short. Don't despair, as the rest of May is very active, and Hidden Insights has a very important astrological announcement to make next week.
Given the inactivity, we will still feel the remnant effects of the most recent Mars and Saturn conjunction and the Mercury retrograde. For many, this period feels like being stuck in the mud, and the lack of astrological activity this week isn't helping. It's almost as if everyone is waiting for something, but they are not sure exactly what that is. Of course, this can make people feel agitated and a bit more on edge. This energy will shift soon, so it's best to just be patient.
A Full Moon in Scorpio on 29 April 2018 sets the stage for the entire week ahead. The Moon will be conjunct the star Nusaken, which sits in the constellation Corona Borealis. This is a pleasant position that is often associated with a love and appreciation for beauty, art, flowers, and a fondness for pleasure. Corona Borealis is in the shape of a crown, so it rules over leaders, and — surprisingly — agriculture. As a benefic star, it is likely this Full Moon will bring a prosperous crop to areas of the world that are entering their growing season. So, it might be a good idea to give gardening a try this year, if you've worried about being successful. Ruling over leaders, we are likely to observe the more fun loving side of those in power.
Astro Homework
This week's Full Moon rules pleasure, and, in Scorpio, it also brings seduction to the forefront of our consciousness. Spend time this week indulging in things that give you pleasure. Partnerships also feature prominently, so Hidden Insights would like to challenge you to look for ways to honour and support the important relationships in your lives.
Aries (21 March — 20 April)
Most of the week ahead for you focuses on what you can do for others, Aries. At times, Aries gets a bad reputation for being self-centred. Of course, this is not always true. You'll be given the opportunity to give to others this week, and to help those around you feel supported. You'll have to deal with paying some extra bills or paying off debt this week too. Most of this is likely to surround your own finances, but don't be surprised if others reach out to you for financial support or advice. While this won't necessarily be the most financially prosperous week for you, it's still nice to settle debts and remove looming responsibility from your shoulders.
Tea of the week: Peppermint
Taurus (21 April — 20 May)
Two weeks ago, the New Moon brought your focus to your own desires and needs, Taurus. This week's Full Moon brings balance by bringing your focus to your interpersonal relationships. If you are in a relationship, you are likely to find that you'll need to compromise, especially if you find yourself in an argument. For those of you who are single, this energy will bring up thoughts of romantic relationships, and you may even find that someone from your past surfaces. This is also an excellent week to get into the dating scene, as the Moon will naturally draw romance to you this week
Tea of the week: Hibiscus
Gemini (21 May — 20 June)
Illuminating your sector of health and vitality, Gemini, this Moon casts its truthful light onto this area of your life. This sector of your chart also rules your environment at work. There is an air of honesty here, and you'll likely see more clearly what you need to do in order to make your life or health better. It's almost as if you'll wake up one morning, and be completely fed up with your weight, eating habits, personal addictions, coworkers, or even your supervisor. Inspired to make a drastic change, you'll be ready to take on these types of challenges head on. So, if you've been putting any of this off, this week will give you the fire to make the first move.
Tea of the week: English Breakfast
Cancer (21 June — 20 July)
Nothing is more exciting than when the Moon illuminates your sector of pleasure, relaxation, and creativity, Cancer. You'll be focused on having fun, and you will want nothing more than to cast away your duties and be irresponsible. This could cause some confusion, as projects you have been working on demand a great deal of your attention this week. Try to remember that the quicker you get something done and reviewed, the faster your can relax. There is also a heightened romantic energy surrounding you this week, and if you can't run off to a spa or night club, you may feel a compulsion to profess your feelings to someone you've had your eye on. With the Moon in such a beautiful position, you can anticipate any romantic advances to be successful.
Tea of the week: Oolong
Leo (21 July — 20 August)
It's time to focus on your home life, Leo, as the last two weeks have been centred on being visible to the outer world and in the public eye. Spend some time relaxing, and recharge your batteries. Chores around the home also need more attention. You don't always need to be in the spotlight, and if you spend time this week getting your home in order, you'll be able to appreciate your surroundings the next time you host a get together. Of course, family comes into focus, so you may find that these people in your life not only need your attention, but become part of your domestic activities.
Tea of the week: Green
Virgo (21 August — 20 September)
Over much of the week, Virgo, you'll be consumed with errands that keep you in a constant state of motion. This is because the Full Moon is compelling you to get busy. Along with running all over town, others seem to demand more of your attention, and they will be more chatty than usual. You'll want to make sure you give yourself plenty of time for meetings, and anticipate that you will not leave on time. An important letter or document could arrive this week, so make sure you don't miss it in your whirlwind of activity.
Tea of the week: Earl Grey
Libra (21 September — 20 October)
Slow down this week and take stock of what is important to you, Libra. The last two weeks may have caused some drama, particularly with partners in your life. These issues will seem to fade this week, and you can see the larger picture. Sometimes the larger picture isn't about the world at large, but about your own need to feel comfortable and secure. You'll be given the opportunity to honour this, and you'll need to make it clear to others. While you typically feel the need to balance and accommodate everyone, this is not the week to ignore your own needs. It's all about you, and it's ok to demand that sometimes.
Tea of the week: Cinnamon
Scorpio (21 October — 20 November)
This week's Full Moon illuminates in Scorpio, making you the most important recipient of its light. This will be particularly important for those born October 28th, 29th, or 30th. Where you are typically reserved, this week brings a heightened sense of self-awareness, where you seem to be demanding attention from others. You may also be asked to take a position of leadership, as others will look to you before anyone else. Self-confidence and emotional expressiveness flavour your identity this week, so do your best to make the most of it. On a more mundane note, it's possible you have the opportunity to receive honours, awards, or recognition.
Tea of the week: Chai
Sagittarius (21 November — 20 December)
You have a need to retreat this week, Sagittarius, and you'll prefer to spend more time alone. This provides you the opportunity for introspection, and allows you to assess your past and examine mistakes you may have made. It's an excellent week to make an appointment with your doctor, and check up on your current health. Secrets also feature prominently right now for you, and part of this Full Moon may bring these secrets out of the closet. If you've been hiding something, or waiting for just the right time to make an announcement — now is the week to do it. Do your best to fight off over-thinking or dwelling on the negative this week. If you notice this starting to take over your thoughts, break free from your need to retreat by reaching out to someone.
Tea of the week: Chamomile
Capricorn (21 December — 20 January)
Where the last few weeks have been spent taking time to connect with family, Capricorn, you now have the opportunity to get out with friends. As the Moon brightens this week, you may feel the need to get out of your house and enjoy a diversion. While out with a friend or group of friends, you could be confronted with a request for help. Chances are good that someone you know is having a bit of a crisis, and they will look to you for guidance and advice. Helping others will provide relief from some of the more sober themes you've been dealing with lately.
Tea of the week: Lemongrass
Aquarius (21 January — 20 February)
There's no hiding this week, Aquarius, as you may find yourself thrust into the spotlight. Where you typically prefer to work behind the scenes, you won't have that luxury right now. Fortunately, everyone sees the best in you right now, and none of your faults are visible. At work, you may be asked to head a project, take the lead in an activity, or to act as an expert in a presentation. Work may be going great this week, but that won't stop career opportunities from arising. You may be suddenly offered a job, promotion, or be asked to apply for a position. Enjoy the success this week, and make the most out of being the master.
Tea of the week: Orange
Pisces (21 February — 20 March)
Not all existential crises are bad, Pisces, so when you find yourself questioning the world around you, look at it as an opportunity to learn something. A realization may shake your belief system, and ask you to examine how to balance the mundane world with the spiritual world. On the topic of spirituality, you may also be exposed to a new system of thought this week that may excite you. A restlessness also fills you this week, as you feel the need to get away. It's entirely possible that you start planning a trip, examine foreign cultures you want to learn about, or even meet someone exotic. Try to step outside your comfort zone when the opportunity presents itself. Don't miss the opportunity to try something you never thought you would do.
Tea of the week: Lemon