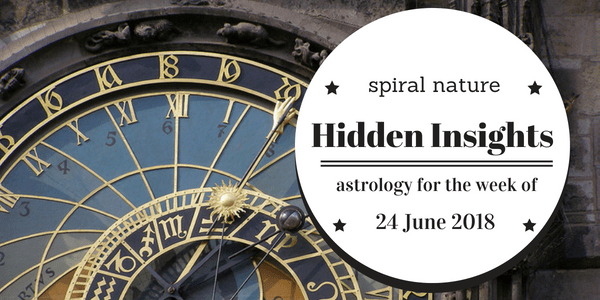 The heavens are on a warpath this week, as Hidden insights observes a retrograde, sign change, Full Moon, and two planetary squares. The Moon's illumination in Capricorn brings a need to get serious. This is emphasized by its interaction with stern Saturn. It's time to take charge of our responsibilities. Trying to avoid what needs to be done can only end in disaster, and Saturn is the great teacher of difficult lessons.
Mars turns retrograde on Tuesday, June 26, and it will remain in reverse motion for the rest of the summer. This allows us to take some time to step back and breathe. Tensions have been running high as Mars has begun to slow down. Energy around the globe will start to even out. This is a time to address anger or aggression issues. Verbal aggression and arguments will begin to fade as well, particularly ones that may have exploded last week that could have brought tension. People in power are now called to review their leadership skills, and we may see some corporate and political leaders stepping down over the summer.  It can also be difficult to stay motivated when Mars is retrograde, and many will be feeling lazy and less ambitious for the next few months. There's not much that can be done to avoid this, and we do need to learn to slow down.
The weekend starts with Mercury changing signs. In Leo, the planet of communication, makes our words, thoughts, and ideas larger than life. Dramatic expression will rule this weekend, as well as the next few weeks. Particular attention should be paid to Saturday, as Mercury will square Uranus. It might be a good idea to hold off on making important decisions or beginning serious conversations until Monday.
Astro Homework
This week's homework assignment is to reconnect with how you experience and express the more playful and childlike side of your personality. Mercury moving into Leo can be a wonderful period to rediscover our imaginative and creative tendencies. Over the weekend, put some time aside to colour, blow bubbles, play hide and seek with a friend, or watch some cartoons. Embracing our inner child helps heal some of the darker aspects of the adult experience.
Aries (21 March — 20 April)
Once again, work comes into focus for you, Aries, though this time it likely centre around financial themes. This week may see an increase in your salary, or the salary of a spouse or partner. Tuesday may present some challenges for you, especially when it comes to working with others. You prefer to lead, but you may need to relinquish control, and take a backseat. Give yourself time to allow others to lead, it will be the best move for you,  professionally speaking. Even though you're not leading, there is still a great deal of work for you to do. Over the weekend, you finally get a break from the extra hours you've been putting in on projects. Anticipate Saturday to be filled with surprise encounters, exciting strokes of genius, and you may find a way to make your hobby profitable.
Herbal mentor: Eyebright
Taurus (21 April — 20 May)
Family members seem to be taking a page out of your playbook this week, Taurus, as they to enjoy the simple pleasures in life. You want to be careful that your entire household doesn't become so self-indulgent that nothing gets done. However, it will be nice to enjoy good food and lazy evenings with housemates. By midweek, some philosophical differences are likely to come to light. The Full Moon is asking you to reconsider your perspective, and possibly adjust what you believe. Keep your ears open for opposing viewpoints that will allow you to grow as a spiritual being. Friday's planet shift brings more focus to your home, as some of the same themes from the first part of the week return. Expect to spend most of the weekend at home and getting away from society.
Herbal mentor: Chamomile
Gemini (21 May — 20 June)
Some people are born to run errands, and this week, Gemini, you seem to be one of them. Of course, you will make it a priority to do so with flare. Don't be surprised if others notice you humming to yourself in the grocery store. While you are out and about this week, make sure you jump at the opportunity to purchase anything that may spark your creative side, as this week is attuned to this side of you. If you don't find a way to express yourself, you could end up covered in food or drink that you've spilled. Friday and Saturday bring you the opportunity to get creative, particularly at home. Don't shy away from painting a room, or redecorating your yard.
Herbal mentor: Peppermint
Cancer (21 June — 20 July)
Spending money is at the top of your list of things to do this week, Cancer, and with Venus making an aspect to Jupiter in your house of gambling, you may even feel the need to purchase a lottery ticket. Go ahead and give it a chance. Just remember that with Jupiter major wins and major losses are both possible. As the Moon turns full on Thursday, you can expect this to bring romance into your life. Over the next two weeks, you will be more flirtatious and magnetic. This will allow you to not only catch the eye of strangers, but also improve relationships you're currently in. The weekend starts off with Mercury moving into the financial sector of your chart, so you'll want to be cautious not to overspend. On Saturday, that same Mercury will hit Uranus in your 11th house of friends and groups. This is a great day to go out, as you'll run into familiar faces.
Herbal mentor: Cinnamon
Leo (21 July — 20 August)
There isn't anything in the world you would love more this week, Leo, than to just stay at home and get things done around the house. You're feeling particularly inspired to make a change to your immediate environment that will help remind you of your roots. Look for a way to incorporate some family photographs into your living space. This will help honour the sense of nostalgia you are feeling. Midweek could spell some trouble with the way you interact with others, and it might be a stressful time if you are in a relationship. Mars moving retrograde for the summer is likely to put relationships to the test. Be open and honest, while at the same time understanding that conflict is never permanent. This will be particularly important to remember if the tension comes from disagreements over responsibilities, chores, and work schedules. If you have to work this weekend, do your best to meet promises and commitments to others besides your coworkers.
Herbal mentor: Yarrow
Virgo (21 August — 20 September)
A secret is revealed this week, Virgo, and it's likely to do with either a neighbour or relative who does not live with you. If you have children, this is likely where the information is coming from, so be particularly attentive if one comes to you with a concern. For those of you who do not have children, expect this to manifest as a coworker sharing some gossip. Much like Cancer, you too will have luck if you decided to gamble or play a game of chance. As always, no matter what the stars say, never spend more than you're willing to lose. Saturday brings a great deal of restless energy, and you need to keep moving. Try to make plans to go on a day trip in order to keep your mind busy. Otherwise, you may end up falling down the proverbial rabbit hole of disorganized thinking.
Herbal mentor: Hibiscus
Libra (21 September — 20 October)
Friends may challenge you this week, Libra, and it might be a good idea to stay away from social media for a few days. Differences of opinions are likely to make you feel combative. Keeping to yourself will ensure your friendships remain intact for next week. Since you'll be spending more time alone, the Full Moon offers a wonderful opportunity to get work done around the house. In Capricorn, it's time to take care of some responsibilities in this arena of your life that you've let wait for another day. If you share your living space, others might find you a bit difficult to deal with right now, as you're likely to become more bossy than usual. Remember, that just because you have decided to deep clean the closets, it doesn't mean others need to be doing the same thing.
Herbal mentor: Licorice
Scorpio (21 October — 20 November)
Your work and supervisors couldn't possibly seem more arrogant or entitled right now, Scorpio. With Mercury moving into dramatic Leo, you should prepare to stroke their egos. While this isn't in your nature, it might not be a bad idea to humour them for a few days. As a master of biding time, this shouldn't be difficult for you. Unfortunately, at home things aren't much better this week. Things here seem to have stalled a bit, and you are likely to be met with some less than harmonious challenges. Since this is in play till the end of the summer, don't make any major changes to where you live just yet. This is a time to regroup, and make some decisions about changes before the end of the year.
Herbal mentor: Valerian
Sagittarius (21 November — 20 December)
This week your tongue may feel as though it's tied, and you can't fully express what you want to say. Your mental reflexes may not be running at full capacity, so you would do well to take a break from mental exercises. Use this time to think about nothing. There is nothing wrong with some brainless reading, TV, or movies. Actually, it may help give your mind a rest. Positive financial news is possible this week as well; this is because the Full Moon illuminates your house of money. While some may feel as though they want to go on a spending spree when this happens, you will take the opposite approach. Just because you come into some unexpected funds, doesn't mean you should spend it frivolously.
Herbal mentor: Woodruff
Capricorn (21 December — 20 January)
It's time for you to take control of a financial situation that needs to be sorted out, Capricorn. This could either be the estate of a family member, debt with a spouse, or money mismanagement from one of your children. No matter how it manifests, others' money will become your responsibility this week. At the very least, you will be asked for input, as there is so much talk about finances that surrounds you this week. This gives you an opportunity to shine, especially as the Moon illuminates your sign. The spotlight is on you, and you will be expected to deliver miraculous work. Since this is typically an area you do well in, there should be no doubt about your ability to lend a hand. However, a wrench could be thrown in your plans over the weekend, when you realize that you didn't have all the information you needed to help someone out.
Herbal mentor: Tobacco
Aquarius (21 January — 20 February)
As Mars turns retrograde in your sign, Aquarius, you may start to feel a bit lethargic. You may also feel as though you're swimming against the tide. Expect delays, blockages, and cancellations to be more frequent than usual until the end of the summer. Tuesday has the potential to bring a small accident, so watch where you step. You don't want to end up with  bump on your head. Anticipate more vivid dreams this week, particularly on Wednesday. Even when it seems like a difficult road ahead, there is always a beacon of light in the darkness. Your beacon this week is your renewed connections with those you are closest to. Communications with these people will be more productive and supportive than they have been a long time. Spend time reconnecting and nurturing your one-on-one relationships —  especially if you have been neglecting them.
Herbal mentor: Lavender
Pisces (21 February — 20 March)
Over the past few weeks, Pisces, you've been working hard with seeming little relief. This week you get the chance to tie up some loose ends, and start making plans to cross the finish line of a large project, or long stretch of work. Friends and coworkers are there to cheer you on, and this week may seem to fly by. Keep your eye on the end result, so that by the time the weekend comes around, you can fully unwind. On Thursday, you can expect a co-worker to try and make the entire day all about them. Do your best to avoid this self-indulgent behaviour, or you'll quickly get lost in their drama. If you are a business owner, this will not be a coworker, but an employee who comes to you seeking your support. Again, don't let them take advantage of you. The same goes for any pets that are also prone to overly excitable behaviour on Thursday. Saturday brings an exciting announcement from a woman in your life that could lead to a wedding invitation before the end of the year.
Herbal mentor: Dill