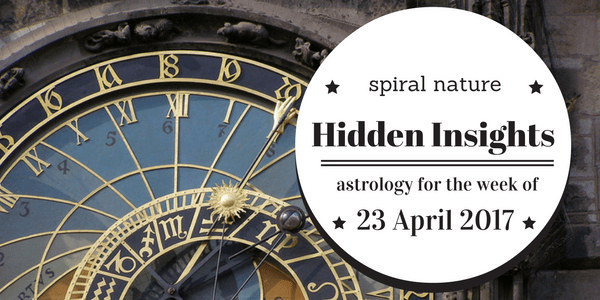 This week we welcome the New Moon in Taurus on Wednesday, 26 April 2017. Hidden Insights shows you why this is an ideal Moon to work with if you are hoping to set some intentions around work or career, abundance, love, and self-esteem.
With Saturn retrograde right now, some people out there might really be feeling pressure to bring in the necessary structure around their goals and dreams. Saturn gets a reputation for being a taskmaster, but the thing to remember with Saturn energy is that when you show up and do the work, opportunity follows.
So, this week's New Moon in Taurus can be a great time to reflect on any challenges that have come up for you lately around structure, commitment, work, and routine. What is going well for you? What obviously needs to change?
This Taurus energy can help you to create change and achieve stability in a relaxed, practical, healthy way.
On Friday, Venus moves into Aries again. This is where it was when it went retrograde in March. Aries is a funny sign for Venus to be in: They are a bit mismatched, as Venus is all about sensuality and beauty and softness, and Aries is all muscle and grit and get-it-done attitude.
But together, they can bring up important questions for each of us about personal power, boundaries, and expectations. Lessons that came up during Venus retrograde might now really be put to the test.
Here's a look at what's coming up for your sign this week:
Aries (21 March — 19 April)
When I think of you this week, Aries, the word "sharp" comes to mind. What might that mean for you? I think your mental agility is going to be on point in the days ahead. You might even receive some crystal clear vision about a greater goal in life. Just be careful not to get too carried away with your confidence. There's potential for your tongue to turn sharp this week, too. You don't want to hurt anyone in the heat of the moment.
Your power word for the week: Ready
Taurus (20 April — 20 May)
Happy New Moon, Taurus! What might you do to celebrate your astrological new year? If you're open to suggestions, I would like to offer an idea: That you make yourself the biggest, wildest promises ever. That even if you are asking for impossible things, you dare to dream about them anyway.
Your power word for the week: Open

Gemini (21 May — 20 June)
You can't expect everyone to be on the same page as you, Gemini. Besides, you might be coming to a point where you have to accept the fact that there are people in your life who will never match your pace. It's going to be up to you to decide whether to stick it out with them, or move on altogether. If you feel inevitably tied to these connections, remember that you can't make anyone change, but you can change your approach in how you connect with them. Be direct. Be honest. Do what's necessary.
Your power word for the week: Clear
Cancer (21 June — 22 July)
How connected are you feeling to your friends, community, colleagues… anyone who might be part of your greater social sphere? This week's New Moon in Taurus is offering an opportunity to invite some new faces into your crowd, or to get yourself seen and heard in a bigger way. If your social life is on point, you might want to think about whether it's time to launch a new project or connect with some like-minded souls for a collaboration.
Your power word for the week: Connection
Leo (23 July — 22 August)
What does abundance mean to you, Leo? I think this week is going to be a good time for you to think of all the ways you are already rich. Remember that riches come in many forms – we're not just talking money here. Count the ways in which the universe supports and anchors you. Send out a message of gratitude to all gifts, great and small.
Your power word for the week: Grateful
Virgo (23 August — 22 September)
What's feeling out of order in your world, Virgo? I get the sense that it doesn't have as much to do with any physical spaces you occupy. Instead, it's something that's manifesting within the head and heart. If there is a question mark growing within, listen to what it's asking. What would make you feel stronger right now? What would make you feel powerful?
Your power word for the week: Act
Libra (23 September — 22  October)
If you're off to a slow start this week, Libra, don't worry. Just float through it as best you can, because the later half of the week is going to pick up. The fog will lift. Clarity is coming. And you know what else? I think in the coming weeks, you're going to be seeking out new ways to stand tall, to feel better rooted in who you are and more independent overall. Pivot when the time is right.
Your power word for the week: Stand
Scorpio (23 October — 21 November)
I think this week's New Moon is going to be an important one for you, Scorpio. The feeling I have from it is that it's going to help you bring a certain vision into reality. You need the earth element to help make things tangible, to bring concepts to life. This one looks like it could reshape your identity in a way that will move you forward a great deal down the road.
Your power word for the week: Create
Sagittarius (22 November — 22 December)
If I have anything to tell you this week, it's this: Just go for it. Do it. Don't hold back. Don't stop yourself from trying. Trust that you will come through no matter what. Even if it's a glorious disaster, you will still be somewhere different than you are now. And even if it's a beautiful success, one day you will find yourself in the same position, wondering, "What's next?" So just go. Be free.
Your power word for the week: Change
Capricorn (22 December — 19 January)
When you're doubting yourself, do you ever wonder if perhaps there is a lesson in doubt itself? That maybe the things you're questioning are actually prompting you to develop a new kind of faith in yourself? I'm getting the feeling that part of the work you are meant to be doing right now has to do with how you talk to yourself, what you expect of yourself, and where it all comes from. Tear that old foundation out and rebuild your trust.

Your power word for the week: Faith

Aquarius (20 January — 18 February)
Your imagination might be on overdrive this week, Aquarius –and that's already saying a lot for you, I know. Expect the unexpected when it comes to your mental capacity in the days ahead. I think you'll be receptive to some of your most unusual ideas yet. They may feel impractical at first, but give them time to grow on you. You never know when one idea could change your whole life.
Your power word for the week: Receive
Pisces (19 February — 20 March)
Don't be confused about your motivations, Pisces. You know what matters to you. Even if your priorities feel a bit tired sometimes, even if you don't always feel quite so connected to your aims, it's okay. You can't be "on" all the time. Recharge with this week's New Moon. Bring in some fresh dedication around your goals if you need to. Your impetus will return sooner than you know it.

Your power word for the week: Trust