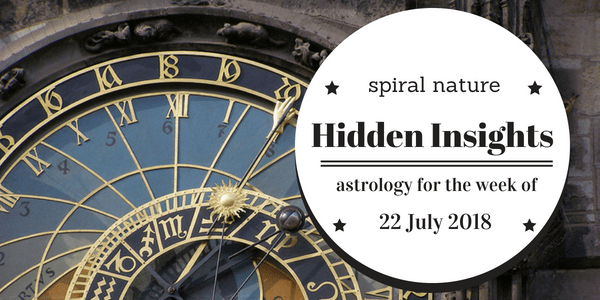 Hidden Insights hopes that everyone had a chance to rest last week, as we prepare for an intense week ahead. Not only do we have Mercury stationing retrograde, but there is also a total lunar eclipse, a sign change of the sun, and a difficult square between the Sun and Uranus. All of these events conspire to produce tension, deceit, and a number of revealed secrets before the week is over.
Mercury's retrograde station comes on the heels of Venus opposing Neptune, and the Sun making a square to Uranus. This can create some tension in our personal relationships. On Tuesday, this may produce a harsh realization relating to others, and it may bring financial concerns to the forefront. It would be wise for everyone to watch their bank accounts closely, as well to ensure no errors were made by your institution. It is also very possible that another bank or company will become the victim of a cyber-attack where personal financial information is compromised. If possible, do your best to utilize cash this week, particularly on Tuesday and Wednesday.
Friday's lunar eclipse is aligned in perfection to the fixed star Oculus, which is considered to produce changes in political affairs as well as the weather. The ancient texts also note that when it coincides with a lunar eclipse, it can produce great storms, particularly at sea. We can expect extreme water weather, storms, flooding, and accidents this week around the globe. For this reason, we should be particularly aware of challenging weather over the next several weeks, as the eclipse energy will continue to build into the first week of August. The political aspects of the star forecast major changes in the geopolitical climate during the next several weeks as well. World leaders should tread cautiously to avoid both scandal and social unrest.
The week is rounded out with a soft Venus trine to Pluto on Friday, which will set the tone for the weekend ahead. This will help dissolve tensions that may have been produced in our relationships. It allows us to love deeply and, ultimately, make amends with important people in our life. So, while much of the week may be chaotic, we get a chance to calm down and heal at the week's end.
Astro Homework
With such a powerful week ahead, it's almost difficult to decide where to focus our attention. However, with the Sun moving into Leo, the lunar eclipse, and Mercury retrograde, this is an excellent time to restructure how we experience pleasure. It's a time to think about what makes us happy.
The Sun in Leo is all about self-satisfaction and pleasure. Your assignment this week is to make a list of things you enjoy doing, or would like to do that you don't seem to have as much time for as you would like. Meditate on this for the length of the Mercury retrograde and form a plan to incorporate more play into your life.
The eclipse on Friday will help you shed away fear or uncertainty related to this area of your life, and allow you to see more clearly how embrace the simple pleasures in life.
Aries (21 March — 20 April)
You may be a little self-diluted this week when it comes to responsibilities, Aries, and you may have a difficult time finding the motivation to be productive. While you are often one of the most energetic signs of the zodiac, you need to be cautious of laziness that might get you into some trouble. Fortunately, this is not a long-term influence, but you will be fighting it until Friday evening. Midweek could bring tension to your financial world — particularly if it relates to money spent on children or vacations. A few delays or blockages here could make it seem impossible to get your money in order. Friday's eclipse strikes your house of friends and social groups. It might be time for you to consider who your real friends are, and who is not aligned with your goals, values, and sense of identity. Over the weekend, your productivity bounces back, and you can anticipate a busy period — likely due to you trying to catch up on everything you put off during the rest of the week.
Patronus: Tabby cat
Taurus (21 April — 20 May)
A longing to spend more time with friends is on your mind this week, Taurus. You may even feel some twinges of jealousy if you spend too much time worrying about what your friends are doing without you. While things may seem tense at home, the rest of the world is dealing with their own problems. Remember that social media never captures the entire situation, and it's easy to hide behind a filter of fun. This week's eclipse illuminates your house of career, status, reputation, and authorities. As a result, you may find it difficult to deal with people in positions of authority over the next few weeks. This can include supervisors, government officials, and doctors. At work you may experience a change in management, or you may even need to change physicians. You may find yourself dealing with a lawyer or the police. No matter how this manifests for you, this is a time to make some changes and stand up for yourself.
Patronus: Bearded dragon
Gemini (21 May — 20 June)
Your ruling planet stations retrograde this week, Gemini, and while the world panics about Mercury, you know exactly how to handle it. Even when your home and work life get thrown off balance, you'll rebound with grace. Wednesday brings travel and transportation issues. If something goes wrong with your car, don't fear. It's not as serious as it seems, and is likely a minor electrical issue. With any luck, it will be a cheap circuit issue and not your battery. The intensity of this week's eclipse in your house of travel could make any travel or vacation plans come undone or seriously delayed. It would not be wise to make any plans like these this week. If possible, wait until August. Over the weekend harmony is restored at home, though you may want to plan a movie marathon weekend, instead of getting out and about.
Patronus: Raccoon
Cancer (21 June — 20 July)
Travel and making plans to travel become an important part of the first half of your week, Cancer. While your mind is dreaming about getting away, you're also thinking about what you can learn from foreign cultures or even in higher education. Many Cancers may feel inspired to return to school this week or even study a new religion. Unfortunately, the Mercury retrograde brings a great deal of fear associated with financing travel and education right now. You would do best to research how to make travel and education a priority, as opposed to making concrete plans. It's true, you feel like your life's direction and even personal values are changing, though you're not quite sure where you want to go. The eclipse on Friday brings clarity, as good news related to loans or income are likely to bring you pleasant surprise. Over the weekend, you can anticipate a bit of romance as someone in your life is ready to sweep you off your feet.
Patronus: Koala
Leo (21 July — 20 August)
It's the season of the lion, as the Sun moves into Leo on Sunday, 22 July 2018. Now that the Sun is returning to your sign, you feel invigorated and ready for anything. Earlier in the year, Hidden Insights discussed the powerful ability for Leo to take charge of their professional life, or even change jobs. This could become a reality this week, so if you've been putting off applying for a new position or company, you'll want to take full advantage now. Mercury also stations retrograde in your sign, which may feel uncomfortable. However, it will allow you to rein in excessive energy that may feel overwhelming. This is a perfect time to build professional and even romantic relationships where you can be taken seriously, and not just act as the life of the party. Friday's eclipse occurs in your house of relationships, which will put your relationships to the test. If you are in a romantic relationship, you can see if it will stand the test of time with the events of the next few weeks.
Patronus: Raven
Virgo (21 August — 20 September)
For Virgos who are married, you could be facing a rocky start to your week, as Tuesday's opposition may cause some conflict with a loved one. However, this is not likely to last very long. You just need to realize that they probably don't understand what they have done to upset you. Don't get mad, just be honest about how you are feeling. The Sun, Uranus, and Mercury may make you feel like they are conspiring against you, and you feel the need to hide. Understand that this is a period of reflection and review. Used properly, you can take care of things that have been worrying you, and let them go. Taking command of your feelings will help prevent you from slipping into a depressed state. Friday's lunar eclipse strikes your house of health and well-being. So, you'll want to be particularly attentive, as the next few weeks may reveal the need to address a health concern. Surgeries are often associated with an eclipse here, so if you are not having a surgery yourself, you may be helping someone recover from one before the end of the summer.
Patronus: Wild boar
Libra (21 September — 20 October)
Something at work doesn't seem quite right this week, Libra, and you're certain that a coworker may be keeping a secret. Tuesday is likely to reveal information at work that may impact your schedule. Don't be surprised if it changes, even temporarily. Information continues to be funnelled to you, as an actual secret is shared from a close friend on Wednesday. If it's financial, remember that it's not your job to bail someone out of a difficult situation. Saying no should be your mantra this week. For those of you who have children, this Friday's eclipse could bring the need to help address a personal problem. If you have small children, there will be no way of really controlling them right now, as they will be bouncing off the walls. Keep in mind that this may lead to some bumps and bruises — stay alert to avoid broken bones. If you are a Libra without children, this eclipse is likely to be rather uneventful, though it may force you to cancel plans over the weekend.
Patronus: Baboon
Scorpio (21 October — 20 November)
An exciting week is on the horizon for you, Scorpio. You may have more to do than there are hours in the day. This is because everyone seems to be flooding your phone and email with problems they are certain you can fix. Your unique perspective on life gives you an edge over others who can't seem to find their way. On Wednesday, you may even find this to be true at work, when a coworker, client, or supervisor requests your special assistance. However, be cautious about how much support you give. It will be all too easy for others to see your kindness as unintended flirtation. You don't want to have to fend off the advances of someone you want to maintain a professional relationship with. You love the night, and eclipses hold a very special place in your heart. This week's eclipse triggers your house of home and family. You can expect its intense energy to shake things up, and even cause a few waves. Don't be surprised if your entire household seems to be stuck in crosswind of a mental storm. Keep to yourself to avoid the intensity of the drama.
Patronus: Fruit bat
Sagittarius (21 November — 20 December)
The lines between your work life and your home life may blur this week, and it may be difficult for you to separate one from the other. This energy hits its peak on Wednesday, when a dramatic turn of events at work may inspire you to take a few days off. Thursday could bring some car trouble, though it won't be your car that has the issue. When travelling, make sure you pay close attention to others on the road. It's likely you'll be on the receiving end of road rage, or need to avoid another car that has broken down. If you have to drive, stay alert, and do it carefully. The total lunar eclipse hits your house of siblings, mental processes, and communication. This is a like a compounded hit, as we are also in the middle of a Mercury retrograde. Expect relatives and neighbours to be combative and possibly overly expressive with their own problems. Only lend a hand if you absolutely must, as an absence of gratitude is evident.
Patronus: Mallard
Capricorn (21 December —20 January)
Your psychic sensitivities are on high this week, Capricorn, as Venus and Neptune allow you to get in touch with everyone. The high anxiety of the week may make it difficult, so you may want to limit your social interactions. This is a great time for you to connect with your spirituality, and spend time away from responsibility. People will try and demand your attention, and you need to politely decline. An unexpected bill is likely to surface this week as well, so you may find yourself dipping into savings. Money you may have lent to others also comes full circle, and this is the time to remind those who owe you that it's time to pay up. While death is not something typically talked about in Sun sign horoscopes, it is a theme you may encounter towards the end of the week. You are due to hear of a death, or news that a friend may be suffering from a life-threatening illness or accident. Fortunately, the eclipse allows us to transform difficult situations into miracles, so there is no need to become ridden with worry.
Patronus: Cobra
Aquarius (21 January — 20 February)
Money is on your mind this week, Aquarius, and you may be faced with disappointing financial news on Tuesday. Try not to let yourself feel too down if things don't work out exactly like you planned. Tension with loved ones or a romantic partner related to joint living space are also on the agenda. If you have recently moved in with a partner, or are discussing cohabitation, you're likely to encounter road blocks. This is because you do not understand one another, as communications break down this week. Take some time apart and regroup — before any heated conversations get out of control. Friday's lunar eclipse occurs in your sign, making it particularly personal to you. When we experience an eclipse like this, we can expect to undergo a number of small or one large transformative change. At this point, you may not feel completely comfortable in your own skin, or with who you are as a person. The eclipse allows you to shed the old you, and completely reinvent yourself.  Over the weekend, try a new look, hair style, or personal motto. It's just the change you need to keep life interesting.
Patronus: Butterfly
Pisces (21 February — 20 March)
As the most psychically sensitive sign of the zodiac, Pisces, this week may feel overwhelming to you, as everyone seems to be losing their cool. Most of the week, you can sense that if everyone was being true to their self, life would flow much more easily. You'll want to be particularly cautious on Tuesday, when you learn a harsh truth about someone important to you.  Wednesday's dramatic aspects may make it difficult for you to get to work or an appointment on time, so plan extra time for your commute. With all of the tense energy flying around, you need to be more attentive to your health, and the Mercury retrograde could take a toll on your physical body. Make sure you're getting enough sleep, the right nutrition, and be on the look-out for the first sign of a cold. Even in the northern hemisphere, a cold can rear its head in the summer. On Friday, the eclipse will hit a very sensitive part of your chart, and may further reveal the secrets of someone in your life. It is also likely to dredge up the past for the next several weeks, in order for you to deal with people or situations you haven't yet fully resolved.
Patronus: Hummingbird