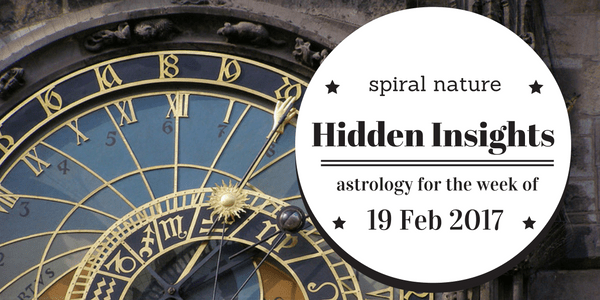 Kurt Cobain, late singer of Nirvana, would have turned 50 this week, on Monday, 20 February 2017. As I put together this week's Hidden Insights column, I can't help but let the lyrics of Nirvana's haunting song "Heart-Shaped Box" roll around in my head:
She eyes me like a Pisces when I am weak…
Cobain never shied away from the obscure, surreal, or abstract in his art, no matter what he was creating. With his Sun in Pisces, he was ruled by Neptune, the planet of poetry, spiritual connection, and intuition, and dreams.
With its watery energy, however, Neptune is also characterized by ups and downs — moods can change like the tide, and one can easily be swept up in a dark current. Illusion, confusion, addiction, and dissolution are some of Neptune's shadow sides.
The Sun just entered transcendent, divine Pisces on Saturday, February 18. In a week's time, we'll welcome the New Moon in Pisces, a chance to open up to new inspiration and spiritual insights. We'll talk more about that in next Sunday's column.
In the meantime, the Moon will be waning, which is giving us all a chance to release any themes or obstacles that might be amplified under Pisces' influence. Perhaps you have been feeling unclear, confused, or creatively blocked. Perhaps you've been suffering some illusions and are ready now to see things as they really are.
If your energy is lagging this week, take heart: Jupiter is retrograde until June 9. While the word retrograde often makes people anxious, this one is going to bring some lucky breaks. Go with the flow, and make sure you're attending to your own needs.
Here's a look at what's coming up for your sign this week:
Aries (21 March — 19 April)
Profound action is your theme this week, Aries. If I were to build out a dreamscape for you, I would envision you as standing on the edge of a new frontier. Listen to yourself right now. Don't play down your anger, your passion, or your visions. Remember that every energy can be turned into something positive and constructive.
Your Nirvana song for the week: "You Know You're Right,"  Nirvana
Taurus (20 April — 20 May)
Keep breaking away from the norm, Taurus. Do whatever it takes to wake up to a new reality. You might crave comfort, but it can be your worst enemy — and the toughest part about that is that you might not even have a clue as to how it's holding you back. Keep your complacency in check. Break something. Suggested damage: Spiritual and creative blocks, apathy, and assumptions.
Your Nirvana song for the week: "Something in the Way," Nevermind

Gemini (21 May — 20 June)
What's your next move, Gemini? I see you working away at a new master plan. Don't stick to the short-term, though. It's time to think about how today's decisions will affect you in one, two, three years from now. You have the chance to break away from old patterns right now that have kept you circling around the same scenarios for long enough. Move on, move up.
Your Nirvana song for the week: "Breed," Nevermind

Cancer (21 June — 22 July)
Overhaul. Spring is around the corner, Cancer. The Moon, your ruler, is shrinking back down to darkness all week before it enters Pisces, where you can open up to some deep intuitive hits. But you'll want to make sure you've created the space for that energy to come through. This week is an ideal time to clear away anything that's been collecting dust for you — literally or metaphorically.
Your Nirvana song for the week: "In Bloom," Nevermind   

Leo (23 July — 22 August)
I see you standing on a precipice, except the edge is hidden by thick fog. Don't fight your way through it, Leo. Any lack of clarity you experience this week is all for your own good. Push yourself to wade through it and you might end up falling fast over a cliff. Remember that the universe puts up roadblocks sometimes because we need the rest. Trust in it.

Your Nirvana song for the week: "All Apologies," In Utero

Virgo (23 August — 22 September)
Luck is found in risk this week, Virgo. I know that risk might not always suit your practical nature. What I see for you in the week ahead is a time to look at what might be hiding under any rocks you've left unturned. Kick up some dirt. You might be surprised at what's been right under your feet all this time, waiting to usher in an important change of pace.

Your Nirvana song for the week: "Where Did You Sleep Last Night," Nirvana: MTV Unplugged in New York
Libra (23 September — 22  October)
What do you know about yourself that no one else would ever suspect? I think it's time for you to reveal something about your true nature this week, Libra. Be aware of how you might be repressing yourself. There's a corner that you can turn in the weeks ahead, but only if you commit to a new kind of liberation.
Your Nirvana song for the week: "Sliver," The Best of the Box

Scorpio (23 October — 21 November)
Luck comes from self-assertion this week, Scorpio. While you might have an uncanny ability to see right through people, you don't always speak up. Challenge yourself to call something out this week. This doesn't mean you have to hurt anyone, or go out of your way to find fault. Think of it more as finding truth: How can your observations transform into dialogue?
Your Nirvana song for the week: "Serve the Servants," In Utero

Sagittarius (22 November — 22 December)
Do you need a second chance, Sagittarius? Where would you like to have a do-over? I can't promise that you'll be able to travel back in time, but I would like to encourage you to think about a missed opportunity or wrong turn you wish you could correct. I have a feeling you'll be experiencing a bit of a boomerang effect in the months to come.

Your Nirvana song for the week: "Love Buzz,"  Bleach
Capricorn (22 December — 19 January)
What mountain are you ready to move, Capricorn? You've been primed for some deep revolution for a while now. If you are still playing small in any way, I think this is the week to get clear on what still needs to get out of your way so that you can start making some serious shifts this year. You can make some impressive leaps in the time to come. Use this week's waning Moon to say goodbye to what's no longer right for you.
Your Nirvana song for the week: "Polly," Nevermind   

Aquarius (20 January — 18 February)
I see you sitting alone in front of a door, waiting for it to open. A light is glowing through the frame, and it's getting brighter. Something is coming. Yes, it's been a long wait, but that door is getting ready to unlock. Be ready for it when it does, but don't act as though you just need to sit there waiting for the key. Show that you're fit to be invited to cross the threshold and re-commit to your intentions this week.
Your Nirvana song for the week: "Lithium," Nevermind
Pisces (19 February — 20 March)
Who are you becoming, Pisces? There is something about next week's New Moon that has you primed for some personal re-invention. Or, it might be time to fully embrace some changes you've already been moving through. It's not just a phase. You are ready to grow, but you'll have to let your highest self lead the way. Open to what you're channeling now. Let it move through you.
Your Nirvana song for the week: "Heart-Shaped Box," In Utero