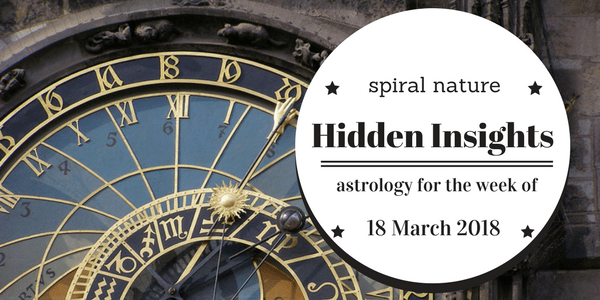 It will be a week of firsts in this week's edition of Hidden Insights. The first day of spring as the Sun's ingress into Aries signals the astrological new year, as well as Mercury's first retrograde of 2018. As the Sun changes on the spring equinox, known to many as Ostara, we have the opportunity to rebalance our lives as both day and night are equal. It's almost like a new beginning, and Aries is all about new beginnings. This will create an itching anticipation throughout the world as this cardinal fire energy inspires us to take action, and dream big.
While we feel the need to move forward and make progress this week, we cannot ignore Mercury's backwards motion, which starts on Thursday. As Mercury is also in Aries, we can expect some delays in projects that we want to get started over the next 25 days. The best way to deal with this energy is to remind yourself that while all the Aries energy wants to move forward, there may be some steps backwards in the process. Typically, it is best to finish projects when Mercury is retrograde, so we would be wise to tie up of loose ends as the beginning of something new.
Friday brings one of the most powerful aspects this week as Venus makes a harsh square with Pluto. While this typically creates power struggles, we can anticipate some dangerous passions rearing their heads, particularly in the news. This is followed by a Sun square Mars on Saturday. So, if you're looking to start or be entertained by drama, this weekend will not disappoint. Taking the Mercury and current Jupiter retrograde into consideration, it is highly possible we may hear of crimes of passion committed or see new evidence surfacing. I don't often tell people to stay at home and hide behind closed doors, but we all might want to limit how much interacting we do with others over the weekend.
Astro Homework
As the Sun moves into Aries and we experience the spring equinox, your assignment will be to use this energy to redefine the balance in your life. On Tuesday, take a few minutes to yourself to figure out what causes you stress. Then take two pieces of paper, write on one what has been challenging, and on the other write what you want to replace it with. Take the first paper and soak it in water (this is ending and rebirth energy of Pisces as its rule ends). Then take the second paper, and cover it in red ink, set in the Sun, or set it on fire to harness the initiatory energy of Aries. This symbolic act mirrors what the heavens are doing, and allow us to take full advantage of our link to the stars.
Aries (21 March — 20 April)
It's Aries season as the Sun moves into your sign this week. As a matter of fact, there are a number of planets in your sign right now, Aries. Venus and Mercury are also here and will join forces on Tuesday. You can expect to receive a lot of attention this week, and while most of it will be positive, be cautious with how you present yourself to others. The harsh squares between Venus and Pluto paired with the Sun and Mars could shine some not so favourable light on your reputation. This is likely to be most evident over the weekend, so you'll want to do all you can build yourself up before Friday. As Mercury stations retrograde in your sign, you may find it difficult to over the next several weeks to get a grip on your own identity. Fortunately, all of the other Aries energy around is likely to help soften this retrograde for you, and it may even help you solve some problems for which you haven't been able to find solutions.
Mercury retrograde insight: Repurpose and perfect your style and appearance
Taurus (21 April — 20 May)
This week is all about embracing sacrifice, Taurus. You may be confronted with a dilemma over what you are willing to give up in order to obtain what you want or need. Monday and Tuesday bring a period of inward reflection, and you may feel rather reclusive. This is because you have a lot on your mind, and you need some alone time to process your thoughts. Someone from your past could also resurface this week, so you'll want to be on the lookout to reconnect or make amends with someone you may be at odds with. Over the weekend the heavens ask you to make a final decision about how and if you are willing to sacrifice for your own self-improvement. If you get backed into a corner to make a decision this weekend, try not to spend too much time over philosophizing potential outcomes. Do what feels right.
Mercury retrograde insight: Let go of the past so you can focus on your future.
Gemini (21 May — 20 June)
Being social is in your blood, Gemini, and this week brings countless opportunities to get together with groups. The first half of the week you really get to shine in your group of friends. You may even be inspired to start a monthly meetup. The urge to lead surges on Tuesday, and if you don't start a social club, you may be asked to take an important role in one. However, your ruling planet turns retrograde on Thursday, and it may not be the wisest decision to put yourself in a place of power right now. Getting too involved could lead you to get lost in a web of conflict, lies, and power struggles. Instead, offer to give advice instead of making decisions yourself. This way you have an out when things get a little crazy over the weekend.
Mercury retrograde insight: Evaluate who your real friends are.
Cancer (21 June — 20 July)
Your reputation among others takes centre stage, Cancer. Monday's Mercury-Venus conjunction could bring some heated debates with those around you. As a Cancer you must do your best not to take conflict too seriously. Just because there is conflict between you and others, this does not mean they don't care about you or like you. Some people just enjoy a good argument as it shows they care. While this idea may feel foreign to you, by Thursday you might actually start to understand it, and even enjoy some healthy conflict. Friday and Saturday bring the biggest challenges for you this week, as the planets making squares may disrupt some interpersonal relationships. For those of you who are in romantic relationships, this weekend could bring some old wounds to the surface. Let them come up, and deal with them one final time, so they can be over and done with.
Mercury retrograde insight: Assess your career, and your professional life's direction.
Leo (21 July — 20 August)
It's all about improving yourself this week, Leo, as your 9th house of higher education and travel is activated. The Aries energy this week has you itching to get on the physical and intellectual move. You will want to expand your mind and horizons more than ever. However, you might want to consider waiting to make any commitments to learning something new or making travel plans. Instead, use this time to research what you want to learn, or where you want to visit. You'll have plenty of time in a few weeks to make arrangements. By the time the weekend comes along, it will be clear why you need to wait. Responsibility comes knocking at the door, and you'll need to spend some extra time taking care of business
Mercury retrograde insight: Discover if you're on the right path in life.
Virgo (21 August — 20 September)
You're sexually charged and all that seems taboo is no longer scary, Virgo. While you typically prefer order, you may feel the need to indulge in a little chaos. Early in the week expect to come across some of the darker sides of your personality. Those around you may perceive you as a little mysterious right now, so enjoy the mystique. As the Sun changes signs, money comes into the picture, and you may find that you or your partner is experiencing a boost in pay or earnings. However, if you are offered the opportunity to make some money on the side, you'll want to politely decline. Now is not the time to start any type of new business venture. While most of the world will be dealing with a more difficult weekend, you surprisingly will be enjoying yourself. This is because your domains of leisure and sexuality are activated simultaneously. If possible try something new in the bedroom.
Mercury retrograde insight: Redirect funds and pay off loans.
Libra (21 September — 20 October)
Others often play a large role in your life, and this week you'll have the opportunity to spend a great deal of time with those who are important to you, Libra. Monday and Tuesday bring opportunities to meet someone new through others. If you are single, this week could bring a chance romantic encounter with someone who piques your interest. Of course, you will want to be casual with them until the Mercury retrograde is over. Afterwards you can make a commitment, if you're still feeling they are a match. The energy this weekend foretells a busy home, which might a nice change of pace if you've been a bit of a loner lately. If you do have others over, be prepared for some heated conversation, and make sure you have the right food and drink for the occasion.
Mercury retrograde insight: Try not make assumptions, and mend ties with others.
Scorpio (21 October — 20 November)
Getting to work is the name of the game for you this week, Scorpio. It's time to embrace your inner Virgo, as there won't seem to be enough hours in the day for you to get everything done. While you may be particularly productive at work, you'll also seem to have more energy than usual to get things done around the house. As you are working hard, it's possible you'll run into some friction with coworkers, especially on Tuesday when Mercury and Venus align. Over the weekend you can expect to have a difficult encounter with a woman in your life. This is most likely to manifest with a sibling or neighbour. If you work over the weekend, watch your back on Saturday as tension with coworkers will be at their max.
Mercury retrograde insight: Leave your schedule flexible and expect changes.
Sagittarius (21 November — 20 December)
You're inspired to find new ways to relax and enjoy yourself this week, Sagittarius. With the Sun changing signs you're feeling particularly creative. Let those juices flow, and you'll have the opportunity to make some money with an undiscovered talent. Don't be surprised if this week doesn't seem to flow in a straight line. Much of your time will be spent flowing from one direction to the other. Friday brings some tension to your finances, so do your best not to spend any money, even if you feel that what you want to buy will make you happy. This weekend brings the potential for a last minute getaway or quick road trip. Enjoy some adventure.
Mercury retrograde insight: Ignite old hobbies.
Capricorn (21 December — 20 January)
Family and your roots surface this week, Capricorn, and you may feel curious about your family history. Don't be surprised if advertisements for heredity programs seem to be stalking you. Of course, you don't have to spend money to dig into your past. Family members are a great source of information, and you are likely to hear a story from a relative about something in your family you didn't know. As most of the zodiac is having a turbulent weekend, yours will be wonderfully pleasant. Venus brings you a sense of self-empowerment that is sure to have been caused by a renewed sense of family pride from earlier in the week.
Mercury retrograde insight: Do your best to shake up your life a little.
Aquarius (21 January — 20 February)
Nostalgia flows through your mind this week as thoughts of your past seem to creep up out of nowhere, Aquarius. Early in the week you might entertain others with stories from the past. Both your mind and your mouth may be on the run, which will be great for networking. As your mind amps up, you might want to exercise some restraint after Wednesday, as Mercury will station retrograde in your house of communication. You could end up embarrassing yourself by speaking before you think. Over the weekend your nostalgia intensifies to the point where someone you have not heard from or seen in a long time comes to call. Of course, they may not actually reach out to you, it's perfectly possible you will run into them while running errands.
Mercury retrograde insight: Find a way to remove obstacles that are in your way.
Pisces (21 February —20 March)
Money flows equally to and from you this week, Pisces. Early in the week you are more likely to spend, and it may be difficult to give up a deal. You feel the need to buy things that make you feel good, and you want to indulge and have it all. It may be difficult to only window shop, so if you can avoid hitting the store, you will do your bank account a favour. If you exercise restraint the first half of the week, you'll notice that you start to actually accumulate money as opposed to spending it. This financial theme continues this weekend, but it will be due to social gatherings or outings with friends where you will spend the most money. At some point on Friday or Saturday, you may be called upon to make a donation. Feel free to donate to a worthy cause, just don't give more than you can actually afford.
Mercury retrograde insight: Organize your funds, and make a new budget.