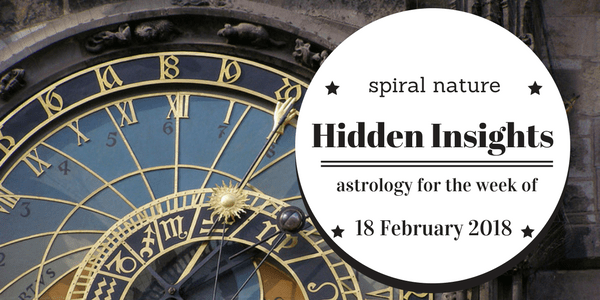 The planets Mercury and Venus take centre stage this week at Hidden Insights, as the world prepares to celebrate the season of Pisces. On Sunday, both the Sun and Mercury move into the intuitive sign of Pisces. This will colour the majority of the week with both intuition and fantasy. As these two heavenly bodies move into this water sign, we can anticipate our decisions being made because of how we feel, and not because of what we think.
On Wednesday, we see Venus joining forces with Neptune in the sign of Pisces, which might make many of us see what we want to see, as opposed to what is actually in front of us. While this is a great time to compose music and great works of art, it could prove problematic for the media, and world leaders who may have a difficult time seeing the truth. Wednesday also brings Mercury in aspect to Saturn. While this typically can bring clear thinking and clarity of thought, the abundance of water energy is likely to manifest more as mental frustration as the world attempts to make important decisions intuitively.
As most of the week is being influenced by Pisces energy, we must be on guard to not become overly emotional in our daily lives. It is possible that conversations, movies, and touching moments will bring on the water works. When it comes down to it, this week is all about fantasy, play, and getting in touch with how we feel, and our psychic intuitions. Even those who do not often show interest in metaphysics will experience and even become curious about their own psychic abilities.
Astro Homework
This week's assignment should hopefully be a great deal of fun. I would like everyone to try your hand at some form of divination that you don't have experience with. To get you started, here is a short list of things you might try: tea leaf reading, crystal gazing, rune reading, Ogham, and automatic writing.
Aries (21 March — 20 April)
Your anxiety might be running a little high this week, Aries. As the Sun and Mercury move into your 12th house of secrets, you may have to confront an issue that has been slowly coming to a head. Fortunately, the Sun's illumination will bring a positive change, confronting some of your inner demons. It's likely that this will occur early in the week, and by Wednesday you'll be back to your energetic and optimistic self. This is because an important conversation you'll have at work will renew your sense of stability and security. Given the intensity of the week ahead, you'll want to your best to get some rest this weekend. While you typically like to keep moving, if you stray too far from home, you could end up having a confrontation with someone in public.
Flower of the week: Calla lilly
Taurus (21 April — 20 May)
This week is shaping up to be a pretty social week for you, Taurus. Those battling winter in the northern hemisphere will find warmth from friends especially supportive. This week's Piscean energy will manifest in forms of play with those most important to you. Don't be surprised if you're invited to a game night, or suddenly find friends engaging you in games on social media. By Thursday you will hear from a friend that you may not have heard from in a while, which will be healing for both your spiritual and physical health. Over the weekend you can anticipate a continuation of a gathering of friends. Don't overbook yourself, and make sure you're rested, because you could be invited out to a group dinner.
Flower of the week: Sunflower
Gemini (21 May — 20 June)
Much of your week at work could feel like you are lost in a fog, Gemini. No one around you seems to be communicating clearly. This will be especially challenging when it comes to your supervisors. They will most likely be vague and appear to be making decisions that are counter-productive. However, Wednesday is shaping up to be an amazingly productive day for you. As a Gemini, you are more prone to being scattered, but Venus brings an optimistic flow to your work that allows you to greet an inevitable challenge with great skill. Later in the week you might be pulled down to reality when a supervisor, authority figure, or person in power makes a difficult announcement that will affect you. When you receive this bad news, try to utilize Mercury's creative flow right now, to overcome the issue. Over the weekend you can anticipate a call or visit from a parent as the Moon moves through your sign.
Flower of the week: Violet
Cancer (21 June — 20 July)
Let's be honest, Cancer, the last few weeks with all the eclipses have certainly been a challenge for you, and you've likely encountered others that know exactly how to push your buttons. This week the tensions you have been feeling about others will get some relief. On Monday you'll be much less emotional, and be able to rationalize why others have been making you feel on edge. While you are typically more emotionally inclined, this week's philosophical clarity will feel like a breath of fresh air. On Wednesday you may be surprised with some new responsibility or get a notice about a fast approaching deadline. Use your ability to think clearly, organize this week to your advantage, and you'll meet your deadline ahead of schedule. Over the weekend the Moon turns you inward, and while you may feel anti-social, there's no shame in staying home and binge watching your favourite shows.
Flower of the week: Tulip
Leo (21 July — 20 August)
Finances may weigh heavily on your mind this week, Leo, as you attempt to sort out some debt. Monday and Tuesday may call you to take a second look at your budget, and get ahead of some bills. If you don't take the opportunity to get this taken care of, you could be under some serious financial stress on Thursday. Expect news from your employer about a bonus or raise. My only caution with this is to keep your Leo flair under control. Now is not the time to draw too much attention to yourself. Over the weekend, family and friends come around, so you'll be not only having visitors, but may also be heading over to someone else's home.
Flower of the week: Gladiolus
Virgo (21 August — 20 September)
Valentine's Day may be over, but for you the flirtatious fun is just beginning, Virgo. Your partner or romantic interest may be more attentive than usual this week. There's also the potential for some really creative intimate play in store for you. Not only are you more attractive to your partner this week, but to others in general. With so much energy in your 5th and 7th house, you'll be able to charm the pants off anyone. Being a practical sign, you might want to use this to your advantage and use this added magnetism to enlist the help of others to give you a hand with some overdue tasks around the house. Over the weekend, the Moon illuminates the top of your chart and will bring with it the need to attend to responsibilities. So, you'll want to enjoy the fun through the week, before you are bogged down with tasks on Saturday and Sunday.
Flower of the week: Amaryllis
Libra (21 September — 20 October)
It's a busy week for you, Libra, as much of the planets' energies are forcing you to get a jump start on your spring or autumn cleaning. It's possible that you'll find yourself cleaning out closets, drawers, or even the refrigerator. You may also be facing a deadline at work or school this week, and you'll likely need to complete some of these tasks at home. By mid-week a woman is likely to make a recommendation on how to get yourself a little more organized. You'll also be hearing from a coworker who is likely to confide in you about some reservations or challenges they have been having with their own work. By Saturday you may feel like you need to rest, but there's still some more work to do, though this time it's likely to be with others. You'll have the opportunity to decide if you want to help someone out, though I'm certain you will want to be a supportive friend.
Flower of the week: Dahlia
Scorpio (21 October — 20 November)
The creative juices are flow this week, Scorpio, and all the water energy this week in your 5th house is likely to make you itch to create. It might be time for you to head to your local craft store and find a creative project to work on. The other great part of this energy is it can amplify our sexual drives, so you'll want to find an outlet for that as well. If you put your creativity to work in your sex life, you might be surprised what you can discover. While you run high midweek, it may be difficult to find someone to share your enthusiasm with. Try not to take this personally, and if others don't want to play with you, you are more than capable of entertaining yourself. By the weekend the Moon will be in your 8th house, which further amplifies sexual energy, so it might be a good idea to set yourself up for a romantic rendezvous. Of course, as a Scorpio, a quick encounter someplace seemingly forbidden could be exciting too.
Flower of the week: Lily of the incas
Sagittarius (21 November — 20 December)
While you're typically free spirited and enjoy being on the go, Sagittarius, being home could demand more of your time than usual this week. It might be a good idea to seek out adventure from the comfort of your couch through online surfing, travel documentaries on television, or books about far off adventures. There also seems to be someone or something that needs your attention at home on Wednesday. This could be a family member, pet, or friend who is staying with you. Called to care for them, expect to be busy providing a nurturing environment. If you are a Sagittarius with children, you could hear from one on Wednesday who needs your advice, likely about a car or fight they had with someone else. Over the weekend not much changes; however, you could be offered the opportunity to join a group effort or partnership. Do yourself a favour and get involved; you don't always have to do things on your own.
Flower of the week: Hollyhock
Capricorn (21 December —20 January)
It's another busy week, Capricorn, and it may be difficult for you to find time to just sit down and relax. The stars are compelling you to be on the go, and you'll want to work off excess energy by agreeing. On Monday and Tuesday you might find yourself running errands, picking up or driving others where they need to go, and generally trying to be in several places at once. You're a gifted planner, so map it all out early, before you feel caught in a whirlwind. Family or relatives will need your assistance this week. It might not be a bad idea to clean up a spare bedroom, or mentally prepare for someone to crash on your couch. This weekend you're finally able to take care of yourself. You might also want to make sure you get plenty of rest and nutritious food over the weekend, as you might be more susceptible to exhaustion.
Flower of the week: Morning glory
Aquarius (21 January — 20 February)
Are you dreaming of a new bedroom, a new phone, or new clothes, Aquarius? Chances are this week you'll have a case of "the wants," and it may be difficult to control desires to go out spend a great deal of money. They say that things can't bring us happiness, but you don't really want to hear that this week. On Wednesday these desires will be tested, as it's time for you to let go of some things that you don't really need anymore. If you don't decided to get rid of some things, the Universe could end up taking them from you anyway. You'll do best to acknowledge that there is a time for letting go, and even remember that even if it feels uncomfortable, it's important to do at times. Over the weekend, you might be surprised with an activity or outing where you can let loose and have some fun. It's also possible that this weekend could bring a trip, or plans to take a trip. Either way, you'll soon realize that experiences are more important than the things you thought you desperately needed earlier in the week.
Flower of the week: Snapdragon
Pisces (21 February —20 March)
Happy birthday season, Pisces! You'll be in your element this week as the Sun, Mercury, Venus and Neptune all play together in your sign. While most of the world is learning how to deal with the spiritual waves of your sign, you get to bathe in success. Early this week you'll have the opportunity to be the centre of attention and be the one others come to for advice. Wednesday is likely to be an exciting day for you, as you're inspired to do something special for yourself that could enhance your physical appearance. So, if you are inspired to buy a new outfit, get a haircut, or are offered a makeover, then you'll want to take it. This change to your physical appearance marks the beginning of a new phase of your life for 2018, as you have the opportunity to take the lead in your circle of friends. Saturday and Sunday turns you inward from a fairly active week, and you will want to spend some time attending to domestic affairs. Now that you are starting to move in a new direction, you'll need to make some changes at home.
Flower of the week: Gerber Daisy